Prabal Gurung Asks, 'Who Gets to Be American?' for Spring 2020
For his 10th anniversary, the designer takes a new look at Americana.
When we highlighted Prabal Gurung as one of our first-ever Fashionista Five, we did so because of his commitment to using fashion as a tool for the political. The Nepalese-American designer has never shied away from communicating his personal beliefs on the runway — something which has been a trend in recent fashion seasons, but which has been at the core of Gurung's ethos for much longer.
The Spring 2020 season marks Gurung's 10th anniversary in the fashion industry, which had the designer feeling introspective about his own journey, from his homeland of Nepal to his new hometown of New York City. Gurung himself officially became a U.S. citizen in 2013, but in his show notes, he claims that in the middle of a business meeting, someone once dismissively told him, "Well, you don't look American, so how can you define what America is?"
That sent Gurung searching for the core of the American identity, which lead him to the works of Jose Antonio Vargas, the author of "Dear America: Notes of an Undocumented Citizen." Vargas helped to consult on Gurung's Spring 2020 show, an exploration of the American identity through the power of clothing. What that looks like, in summation: stark white, crisp shirting-inspired garments, bursting with flowers or feathers; stiff denim, cut into feminine dresses or a loose, louche boilersuit; shades of red, white and blue exploding onto garments via tie-dye motifs; delicate crochet and heavy brocades in equal turns; spring-ready hues of seersucker stripes on suiting and skirting alike.
The rose — America's National Flower — figured heavily in the form of dark, romantic prints which called to mind Gurung's earlier years (who could forget that romantic red shade which has featured so heavily in some of his most important collections?) and in lighter, pastel tones which are so well-suited to spring.
In the past decade, Gurung has established a few design signatures, which made for the strongest pieces: Think dresses cut away at the center by a line of undone buttons or formal gowns exploding with delicate feathers (the latter of which came with a dose of inspiration from Charles James). But where he excels the most is that arena which heralded his debut — "femininity with a bite," or the thinking man's sex symbol — like a candy-pink top paired with crisply tailored black trousers, or a ruched, slinky dress in bright teal and acid green. These are the ideas which have kept Gurung in business for a decade, and will likely carry him through the next.
See the full collection in the gallery below: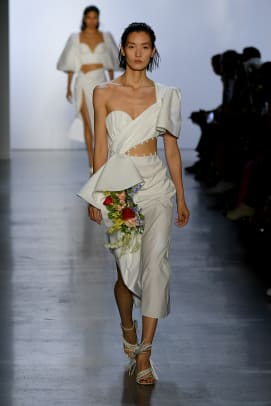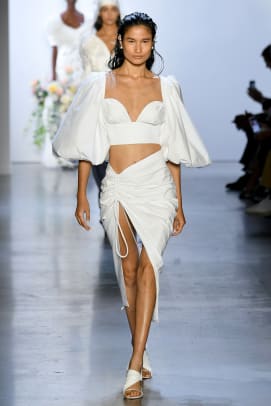 Sign up for our daily newsletter and get the latest industry news in your inbox every day.