Miuccia Prada Chooses Style Over Fashion for Her Spring 2020 Collection
The Italian house known for being one step ahead of the trends turned to classic designs instead.
On Wednesday, the fashion crowd journeyed to Fondazione Prada — a far-flung location compared to the more central-based shows and presentations — to witness what Miuccia Prada had up her sleeve for Spring 2020. Her namesake brand has been somewhat of a hot topic when it comes to fashion business talk: Though highly beloved by industry insiders, actual shoppers haven't been as receptive to the luxury brand, resulting in a steady decline in sales over the years. However, recent earnings — and a slew of changes behind the scenes — are showing improvement.
If Prada's previous runway show in New York City, which featured a pretty, practical Resort 2020 collection, was any indication, it seems like the Italian house known for being one step ahead of the trends turned to classic designs instead. For Spring 2020, that same approach was put into practice yet again. The first look — modeled by Freja Beha Erichsen — was as pared-down and pure as can be, comprised of a paper-thin, lightweight collared knit paired with breezy linen skirt and loafer heels.
"It is, fundamentally, a collection about the power of women over clothing, and of style over fashion," according to the show notes. In an interview with The New York Times, which was published the same day as the Spring 2020 runway show, Prada herself expanded upon that notion by saying, "Of course, I am interested in why people buy things, but I can only listen so much to the consumer because we have so many different types who like our company so you cannot listen to everyone."
Essentially, it boils down to personal style: who is wearing the clothes (and how) will ultimately define them. Perhaps that's why a majority of Prada's newest collection leaned more towards simple garments — tailored, wide-lapel jackets; vintage-inspired dresses that are tiered or midi-length with cuffed sleeves; and below-the-knee skirts for example — with an emphasis on separates. Bourgeoisie dressing is certainly on the rise, thanks to Hedi Slimane's '70's-tinged sophomore collection for Celine, and Prada is also leaning more towards an office-friendly wardrobe (and summer-weekending-at-the-beach looks) than casual dress.
Of course, a Prada collection wouldn't be complete without a sense of "ugliness," which seemed to have been applied to street style "It" items. Instagram-ready trend pieces were turned on their heads, like seashell jewelry now supersized and noughties-style purse silhouettes amplified with textural details, like a bucket bag with knotted rope or a shoulder style covered in croc and metal. While Prada devotees are currently coveting its platform Chelsea boots and Derby shoes from Fall 2019, they'll likely swap them for gold-buckled loafers or Baroque-swirl heels come spring. The designer took on the trendy bucket hat, too, though her version leans more towards a cloche and looks as if it's made from leather scraps. It sounds weird, for sure, but it totally works. And who else can really, actually ever achieve that than Miuccia herself?
See every look from the collection in the gallery below.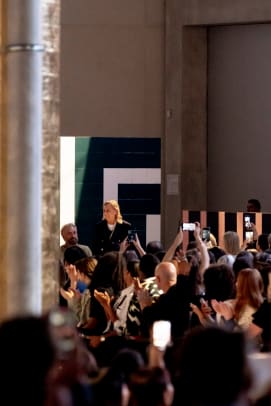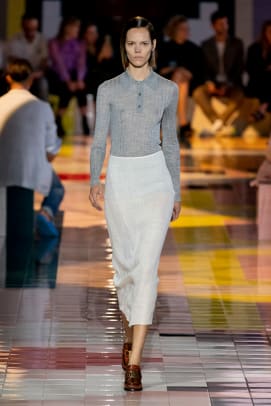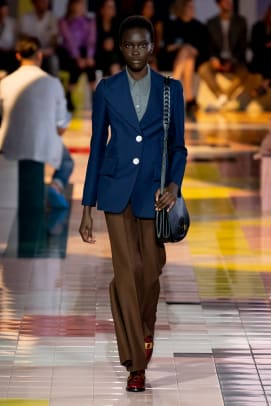 Sign up for our daily newsletter and get the latest industry news in your inbox every day.