Pyer Moss Highlights Rock 'n' Roll's Black Origins for Spring 2020
For the final installment of Kerby Jean-Raymond's "American, Also" series, the designer took inspiration from Sister Rosetta Tharpe.
At one of the top moments of his career, Kerby Jean-Raymond, whose brand Pyer Moss was awarded the 2018 CFDA/Vogue Fashion Fund, made the gambling decision to skip New York Fashion Week in February. But with two lines wrapping the corners outside of the historic Kings Theatre in Brooklyn's Flatbush neighborhood to enter a packed concert hall on a late Sunday evening for his Spring 2020 show, it was clear that Pyer Moss remains one of the most highly anticipated shows on the calendar — no matter where (or when) Jean-Raymond decides to tell his story.
For the final installment of "American, Also," a three-part series that highlights the untold stories of Black people's major contributions to American culture, the designer took inspiration from Sister Rosetta Tharpe, a queer Black female artist. Her music became the foundation of rock 'n' roll — the true origin of the genre, really — and paved the way for Jimi Hendrix, Little Richard, Tina Turner and many more.
At the start of show, "There Will Be No Miracles Here" author Casey Gerald took the stage and shared a story from Fannie Moore, who grew up in slavery and recollected those memories in 1937, as well as folklore of flying Africans. "Now I don't know if the people actually flew, but I know they knew the same thing Miss Fannie Moore's mother knew on that North Carolina plantation. The same thing we must know tonight," said Gerald. "They knew that no matter how their slave master treated them, they had a freedom on the inside that the world had given and the world could not take away. So do you. So do I. We are here tonight to claim our wings."
The Pyer Moss Tabernacle Drip Choir Drenched in The Blood — now doubled in size from previous shows — took the stage to perform a range of soul, R&B, gospel and hip-hop hits, from Donny Hathaway's "Little Ghetto Boy" and Anita Baker's "Sweet Love" to "Make Me Over" from Tonéx (also known as B. Slade) and tracks by Missy Elliott, Adina Howard, Lil' Kim and Cardi B. These songs served as a soundtrack to Jean-Raymond's rock-star-ready designs: colorful suiting, billowy eveningwear and music-inspired details, such as a brown leather bag shaped like guitar, piano keys adorning the hem of a top and the head of a guitar morphed into a print motif. 
Gold jewelry was designed by Johnny Nelson, who also collaborated with Jean-Raymond for the 2019 Met Gala. The custom portrait necklaces, earrings and hair beads featured 21 iconic Black women in music, including Tharpe, Diana Ross, Aretha Franklin, Nina Simone, Janet Jackson, Mary J. Blige, Beyoncé, Lauryn Hill, Aaliyah, Erykah Badu, Queen Latifah, Rihanna, Janelle Monae, Solange and more.
Jean-Raymond has been bringing artists and nostalgia-inducing, Black-owned brands to the forefront of his collections, and this season he teamed with Sean John, launched in 1999 by Sean Combs (then known as Puff Daddy), and recently exonerated artist Richard Phillips. At the age of 73, Phillips was freed from prison after wrongfully doing 45 years for a crime he didn't commit. During that time, he took on painting, and his watercolor works caught the attention of (and a commission from) Jean-Raymond. After a visit to the artist's home in Detroit, their partnership resulted in pieces covered in Phillips's watercolor work, including an abstract portrait of Tharpe with her guitar.
Reebok, with which Jean-Raymond joined forces in 2018 and which recently extended his role to artistic director, also made an appearance. The show's second portion debuted their latest collaboration with a star-studded model lineup. (Caleb McLaughlin of "Stranger Things" walked in the first look.) The offerings included the usual mix of sporty-casual garments — puffers, track suits, two-piece sets, leggings and, of course, biker shorts — as well as new Reebok sneaker models and colorways, which we'll provide more information on as it's available.
Immediately following the runway show, Kings Theatre was flipped into an afterparty space. (And since it was already after 11 p.m., I regrettably had to bail and catch up on sleep.) As always, Pyer Moss is still one of the best, most moving shows to attend at NYFW. While it's almost bittersweet that "American, Also" has come to a close, we'll be excitedly waiting to see what Jean-Raymond will open our eyes and minds with next — whenever, wherever and however that may be.
See the full collection in the gallery below.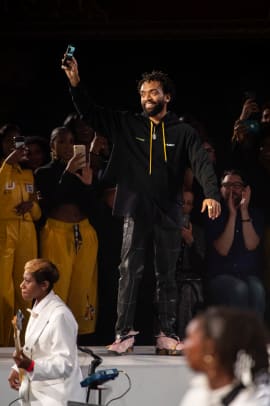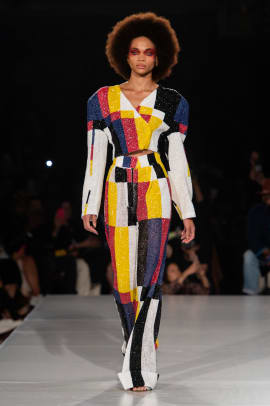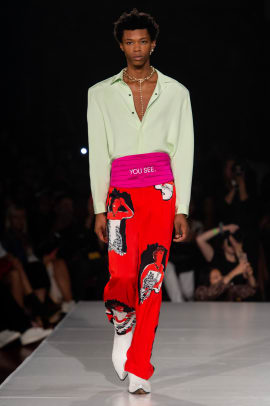 Sign up for our daily newsletter and get the latest industry news in your inbox every day.