Inside Rihanna's Savage X Fenty NYFW Blowout
The full show will stream on Amazon Prime Video on Friday, Sept. 20.
During the recently-wrapped New York Fashion Week Spring 2020 season, Rihanna created one of the most-buzzed-about events for Savage x Fenty, even though it could not be found on Instagram or any social media platform due to a strict no-phone policy. She treated guests, who included Anna Wintour and Paris Hilton, to an inclusive, dance-filled fashion show — complete with musical performances from Halsey, Migos, DJ Khaled, Big Sean, Normani and A$AP Ferg — at Brooklyn's Barclays Center. 
Up until now, much of what went down that evening — aside from first-hand accounts and glowing reviews of the lingerie blowout — has been shrouded in secrecy. So, we've spent the past week wondering what lacey bra and underwear set Normani got down in, and if Laverne Cox strut in a sleek bodysuit or a chiffon robe. 
On Thursday — a day before the full show is set to stream on Amazon Prime Video, and before the collection goes on sale — we finally got some answers. The first images taken backstage have been revealed, along with a minute-long trailer (see above). 
Laverne Cox was indeed clad in a satin hot-pink bodysuit; the look also included a pair of matching gloves. Bella Hadid modeled a bright yellow lace bra-and-panty set, which was accessorized with a lace cape. Slick Woods – who was not carrying a child this year — sported a similar get-up, but in purple. There were a fierce group of ladies in red, including Joan Smalls and Paloma Elsesser, and another in slime green that featured Cara Delevingne. Normani did not wear a lace bra and panty set, but she did wear a mesh one with lips printed all over it. 
Scroll through the gallery below for a closer look at the models backstage and to see stills from the electrifying performances.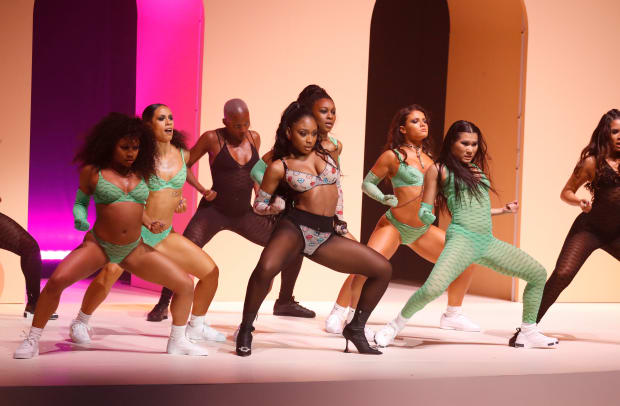 Sign up for our daily newsletter and get the latest industry news in your inbox every day.