Rodarte Unveils Spring 2020 Collection Through a Series of Dreamy Portraits
In lieu of a runway show, the Mulleavy sisters showcased their latest offering on Kirsten Dunst, Gabrielle Union, King Princess, Yalitza Aparicio, Kilo Kish, January Jones and more.
For their Spring 2020 collection, Rodarte designers Laura and Kate Mulleavy decided to opt out of the standard runway show. Instead they are presenting their warm-weather pieces via appointments in New York and through a series of dreamy portraits. Released two days before the official start to New York Fashion Week, the lookbook stars many of the Los Angeles brand's muses: There's Kirsten Dunst in a collared and puff-sleeved polka-dot number; Gabrielle Union in a storybook princess-like gown; King Princess looking too cool in a sequined teal wrap jacket and fitted skirt; Lili Reinhart as an ethereal bride while snuggling a pup; Yalitza Aparicio in some masterful swirl cloque dress; and January Jones in taffeta posing with her former on-screen daughter Kiernan Shipka. 
"As we've become more confident and comfortable in our design voice and really seeing what our personality is within the design world, it's been really nice to think artistically about creating a world behind each collection," says Laura to Vogue about her decision to present Rodarte's latest offering as a visual feast, rather than a staged catwalk performance. "We wanted to create painted portraits. In the end, the images have that quality, not knowing whether or not someone has been painted or photographed." (The designer duo has dabbled in viral-worthy, star-studded lookbooks before with their Fall 2018 collection.)
Shot by Daria Kobayashi Ritch and featuring a fairytale backdrop, the images effectively encapsulate the whimsical romanticism for which Rodarte is known. The star-studded cast is set against a dreamscape setting filled with topiaries, columns, Greek sculptures and bright blue skies. And the abundance of dramatic and bold sleeves mixed with a soft color palette and hyper-feminine details — like pearls — makes sure that the garments are just as strong as the women who wear them. 
See all the images from Rodarte's Spring 2020 portrait series below.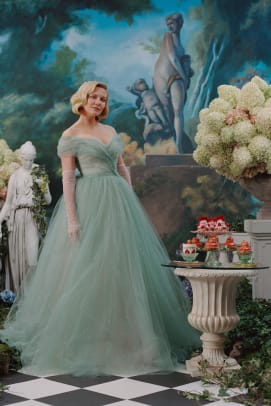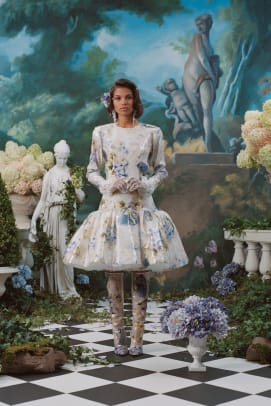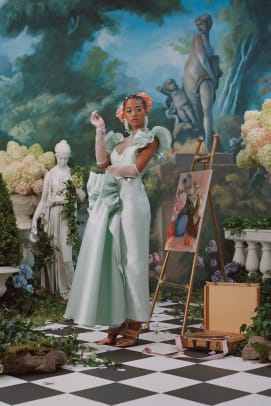 Sign up for our daily newsletter and get the latest industry news in your inbox every day.