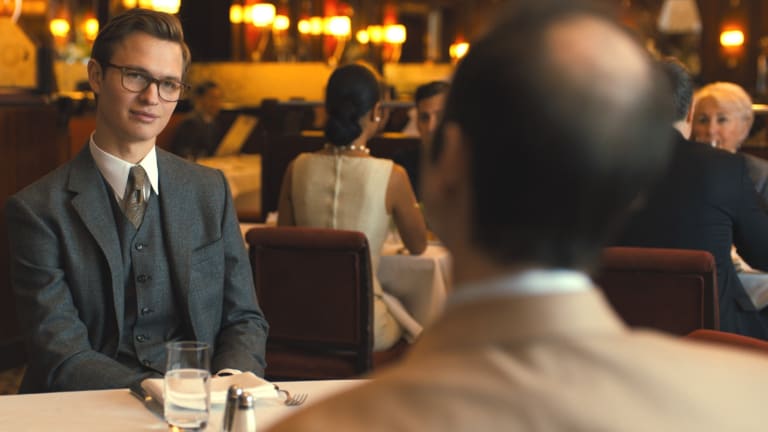 Nicole Kidman Wears Vintage Chanel and Ansel Elgort Sports '60s-Era Suits in 'The Goldfinch'
Costume designer Kasia Walicka-Maimone also discusses Finn Wolfhard's "punk" dad-blazer-and-graphic-T aesthetic.
Like the titular stolen painting in the ambitious big screen adaptation of Donna Tartt's 2013 novel, the lush costumes in "The Goldfinch" also underscore hidden, poignant messages and context.
To bring the characters to life, Kasia Walicka-Maimone — who previously costume designed Steven Spielberg's virtual reality fantasy "Ready Player One" and Wes Anderson's whimsical coming-of-age "Moonrise Kingdom" — first studied the descriptive words of the 773-page Pulitzer Prize winner. She also closely collaborated with "Brooklyn" director John Crowley and Oscar-nominated production designer K.K. Barrett. 
With the help of her "golden weapon," photo researcher Susanna Gilboe, Walicka-Maimone dove into troves of photographic imagery to create mood boards and fully conceptualize the time-jumping portrayals. "The characters start to emerge," she says. "And we go out to the real world to get it: vintage finds, rentals, acquired pieces, sometimes making stuff."
Hand-picked vintage finds played through the character backstories in the non-linear movie, too. The protagonist Theodore Decker (portrayed as a 13-year-old by Oakes Fegley and an adult by Ansel Elgort) inherited his keen eye for high-end (real or not) antiques and designer thrifting from his mother, Audrey, whose death in a bombing at the Metropolitan Museum of Art tragically sets the epic story in motion. 
"[She's] this eclectic New Yorker with probably not too much money, but with exquisite taste. A woman who probably knows how to shop a vintage Chloé coat and who knows how to choose things well from thrift stores," explains Walicka-Maimone, who turned Audrey's white silk jacket from the book into a more "grounded" and city-friendly wool version. "It couldn't be like a flow-y white coat because it would look like a silly ghost."
His mother presumably dressed young Theo in a classic shearling-lined corduroy coat over his school uniform. The adult Theo transitions into cozy, thick collegiate knits as his real self and "exquisitely tailored bespoke suits," which he also says in the script, as a disguise in rarified Manhattan circles.
"I thought that he probably would have found a gorgeous vintage '60s suit and had it remade by a bespoke tailor and that's exactly what we did," the costume designer says, about rebuilding a series of mid-century suiting to custom-fit Elgort.
Theo's surrogate mother of sorts, Mrs. Barbour — Nicole Kidman, coming straight off her grizzled, police officer role in "Destroyer" — exudes her own chilly, but motherly, and very WASP-y version of elevated style. "That coldness translated into this exquisite appearance of Upper East Side: timeless, old-time values," says Walicka-Maimone, about Mrs. Barbour's icy blue and cream palette of cashmere sweater sets, regal pearls and bouclé suits. She sourced both contemporary sets, plus vintage Chanel and Escada pieces.
In drastic contrast, Xandra (Sarah Paulson), Theo's deadbeat dad's girlfriend, visually (and socio-economically) contrasts with Mrs. Barbour's refinement in her zebra print puffy, a lace-up peasant ruffle top, too-tight jeans and sky-high patent platform pumps — none of which look comfy for a cross-country flight to the teen's new Las Vegas home. Walicka-Maimone opted for zebra over street style-favored leopard print ("almost a stereotype") to fit the "playfulness" of the Las Vegan (and yes, that's what they call themselves).
Related Articles:
The 'Hustlers' Costumes Pay Homage to 2000s-Era Britney Spears, Paris Hilton and, Of Course, J. Lo
The 'Downton Abbey' Movie Costumes Include Mary's Custom Gowns, Edith's Perfect Vintage and Violet's 16.5 Carat Tiara
The 'Ready or Not' Wedding Dress Was Inspired by Commoners-Turned-Royals Kate Middleton and Grace Kelly
"She's a mild version of where we could have gone with that character," laughs Walicka-Maimone, who spent time in Sin City researching the denizen's aesthetic. The costume designer imagined that Xandra, with her French tip acrylics and teased hair, would be inspired by whatever TV show she was watching at the time to dress in her own lively and experimental way. Plus, the costume designer doesn't consider, say, Xandra's red velvet corset crop top with denim cut-offs, to represent a compromised understanding of style. 
"Who is there to tell [her] what good taste is?" she asks. "I actually found that Xandra's taste was fabulous within her own vocabulary."
In Vegas, Theo makes friends with another transplant: Ukrainian Boris (Finn Wolfhard), whose father's mining company job brought him to the foreclosed desert subdivision. Walicka-Maimone put an Eastern European twist on Boris's "punk"-influenced persona, but avoided any specific "Johnny Rotten references." 
Per the script, Boris ironically wears a snowboarding T-shirt, but doesn't participate in the winter sport. The graphic T is his sartorially punk rock way of conveying, "I just hate the sun," as he says — while bucking the desert establishment by carrying a sun-brella. "We just tried to make the coolest looking T-shirt," says Walicka-Maimone, about his repeat piece.
Boris re-appropriates his father's workwear in his own way, like wearing an oversize dark gray and two-tone lapel blazer (above) or sporting a tweed vest and loosely knotted tie over his subversive T for Thanksgiving. (Honestly, though, the "Stranger Things" star and fashion darling just can't not always look like he's wearing Saint Laurent.)
Pippa — the little girl Theo meets on the fateful day at the Met, bonds with after the tragedy and loves into adulthood — embodies what Theo and the movie are representing. While the adult Pippa, played by Ashleigh Cummings (Dot in "Miss Fisher's Murder Mysteries") has limited scenes, her costumes really make an impact, both on-screen and off.
"She was a very challenging character because it had to be this very particular combination of sophistication, romanticism, tenderness, fragility, eclectic taste and jewel tones," says Walicka-Maimone. After a number of fittings with Cummings, the costume designer had an epiphany to match Pippa's rich velvet coats to Theo's mother's earrings that he rediscovers along the way.
"I kept thinking about the emerald earrings that are written as part of the story," she adds. "I kept thinking, 'Oh my god, [Pippa] needs to become the emerald. She is the emerald to Theo. So we made her coat in emerald."
The rich, enveloping hues and textures, plus streamlined silhouettes also illustrate the book's description of Pippa, who tends to layer up for warmth and protection. "We moved away from that into a more structured, almost armored, version of her fashion choices [compared to the book] because it made more sense psychologically and emotionally," Cummings explained to Fashionista, after a screening of the film hosted by Bergdorf Goodman. 
Pippa's beautiful velvet layers almost obscure the delicate bird and butterfly prints on her dresses, which, like "The Goldfinch" painting, holds clues and hints in the artwork. "She was such a fragile character that needed support from the world around her and nature. Those prints felt like just the right delicate level of support and flowers were not enough for that," explains Walicka-Maimone.
"It's all connected," she continues. "Pippa is, in some way, another version of that painting to Theo and she needed to be as much of a creation as that painting."
Top photo: Macall Polay/Courtesy of Warner Bros. Pictures
Never miss the latest fashion industry news. Sign up for the Fashionista daily newsletter.