Welcome Inside Thom Browne's Spring 2020 Fever Dream
We wouldn't mind living within this seersucker fantasy.
Trying to find the meaning or the inspiration behind a Thom Browne collection is a fool's errand — not because Browne isn't deep, but precisely because he is such a thoughtful designer, someone who is able to weave together seemingly disparate narratives to create one crazy, theatrical runway show which also moves commercial products. He's a fashion magician.
All this is to say that Browne's latest presentation was another one of his wild rides, or more accurately, that Spring 2020 was a trip. It opened with a quartet of models in Browne's take on a bathing suit in pink, green, yellow and blue: a blazer set over a pannier frame and briefs, complete with flat brogues and floral swimming caps. Each flitted around the set, stopping to smell the seersucker flowers, before a voice came over the PA: "It's time for your medication, Mr. Browne." In kicked the heavy metal music and it was off to the races as a series of models in demented New England-meets-Marie Antoinette get-ups strolled down the runway. 
Some carried miniature straw boating hats on a stick, à la parasols, and sported Oxford wedges with negative space where the heels should be paired with ruffled socks or dainty mules laced up with Browne's signature red, white and blue ribbon. There were tweed jackets and coats, some woven with sparkle.
A ship motif ran throughout, embossed onto coats, along with waves created from white-and-blue roped fabric on a skirt or whales sitting at the top of the hips of a pannier skirt. Oh, and the models mounted podiums wearing dramatic whale shoes — though, considering they had to be helped into and out of said footwear, "shoes" may not be entirely the right word. 
Preppy patchwork worthy of a summer at the Cape covered a seahorse-shaped backpack; Bermuda shorts were layered over ruffled pantaloons. Corsets and bustiers were layered over crisp white shirts and ties, and Browne took the sweater vest and extended it down the body in exaggerated shapes.
At one point, a model entered the runway with a Thom Browne baby carriage as the theme song to — wait for it — "Teletubbies" played. Why? Who knows. But by the time the models came out for the finale, lead by a Thom Browne princess bride wearing a white gown with his signature trompe l'oeil detailing and gold tassels worthy of Versailles, the "why" of it all didn't really matter. It was just fashion at its finest: Inventive, impeccable and fun.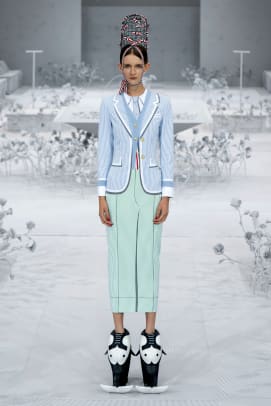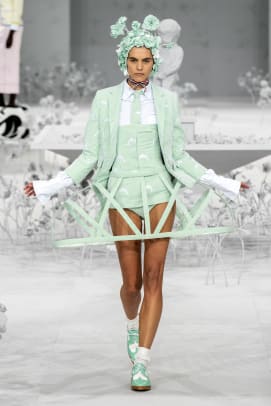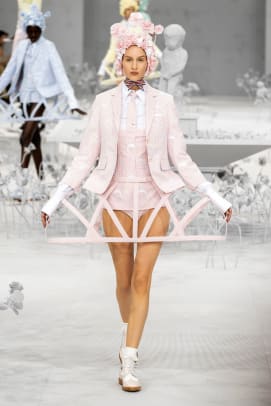 Never miss the latest fashion industry news. Sign up for the Fashionista daily newsletter.