Tim Walker's New Exhibit at London's Victoria & Albert Museum Is His Biggest Yet
"Tim Walker: Wonderful Things" is not your average retrospective.
Photographer Tim Walker's work is instantly recognizable by the fantastical worlds he creates. Overrun with magical realism, some of his most notable photos feature muse Tilda Swinton painted in all white perched next to a matching column (along with every other picture he's taken of the actress), a group of pastel Persian cats lying under falling flowers and Alexander McQueen with a skull placed in front of him that appears to be mimicking his pose — lit cigarette and all.
Walker assisted Richard Avedon, shot his first Vogue story at age 25 and has had his work run in publications like W, i-D, and Love. With 25 years under his belt, putting together a collection of his photographs would've been easy — expected, even. Instead, for his latest and largest-ever exhibition, curator Susanna Brown tells Fashionista that Walker wanted to go a completely different route. 
"We talked about in what form a collaborative project might take, and I think really quickly it became clear how important the museum is to Tim as a place of inspiration," she says. "And so, because he never does things by halves, and because he thrives on new challenges and constantly sets bar higher for himself, he said, 'I'm going to see everything at the V&A and then I'm going to produce a whole series of photographs for the exhibition.'" 
Brown was quick to let Walker know that the museum holds over two million objects, so seeing everything might not be very realistic. But he saw what he could over the course of a year, from sculptures and paintings to drawings and jewelry, raiding each collection with the curiosity of an early explorer. What he discovered and what he created from those discoveries is what makes up the majority of "Tim Walker: Wonderful Things," currently on display at London's Victoria & Albert museum.
The exhibition begins in a bright white room, walls covered with photos from Walker's past. It's not a major retrospective, Brown says, but simply "the tip of the iceberg [...] a reminder of the absolutely massive and varied body of work that Tim's created since the 1990s." It's also a tame introduction compared to what's to come. The ceilings that appear to be melting are the only hint of the surreal spaces you're about to step into and, as Brown puts it, "functions as a beautiful prelude to what you experience in the forthcoming galleries."
The first section is centered around 16th century stained-glass windows and features moody red images of Grace Jones along with a grouping of models wearing Moncler's marshmallow-like coats. Another is inspired by a 17th century little girl's jewelry box, presumably meant to hide love letters and treasure; from this, Walker has created a striking pink room filled with photographs of model James Spencer dressed in drag. The one that Brown finds most fascinating, the one where we're seated for our interview, is inspired by a tiny snuff box decorated with jewels, pearls and a tiny dragon on top, uncovered from a drawer in the museum's storage room. 
"When Tim saw that, he said, 'Oh, I can see an Empress and she's walking her pet dragon at night…picking flowers which only bloom by the night of the full moon. It blew me away, really," Brown says. "When Tim sees an object that speaks to him, his reaction to it is so instant and he often starts to draw a picture of the photograph that he wants to make immediately. Because that is how his imagination works, it's about the narrative and the story that that object inspires; it's not just about the reality of that thing. It's never just a simple transition from an object to a photo; there are always so many other threads that he weaves into the mix."
The immersive nature of the 10 different worlds is made possible by Walker's long-term collaborator Shona Heath's design work. Each photoshoot is also introduced with Walker's words and in his own voice, a move that was very much intentional. "It's not the conventional museum voice or a curatorial voice, it's very much more personal and more emotional than that," Brown explains. "From the moment our visitors enter the galleries, I think they'll feel that Tim is really taking them by the hand and guiding them on a fantastic journey through his imagination." 
Since Walker has his roots in fashion, you'll also see a lot of stunning garments throughout the exhibit, from Dolce & Gabbana to Valentino to pieces from current fashion design students. But they act as background pieces to his overall vision. "The fashion is still very much at the heart of it, but it's about using that fashion to tell these very magical stories in the pictures," Brown explains.
Another bit of the exhibition that stands out is the diversity across categories. "There's a massive range of ages within the pictures: Gwen Franklin is nearly 90, Tilda Swinton is in her 60s," Brown explains. "There's a brilliant range of ethnic diversity in the pictures as well. We've also got drag queens and transgender models." This isn't exactly surprising or unexpected for Walker, who shot the 2018 Pirelli calendar which refreshingly included an all-Black cast. Though there is a notable lack of size inclusivity, the effort is appreciated. 
"It's so celebratory in that way of beauty in all its forms, beauty in the widest possible sense of the word," Brown says. "Tim is never inspired by things that are just conventionally pretty; he's inspired by things that excite him and things that are innovative and things that he's never seen before. And that's really what you see in the exhibition, I think."
That, and a whole lot of whimsical, wonderful things.
"Tim Walker: Wonderful Things" runs at the V&A from Sept. 21-Mar. 8. You can purchase tickets here.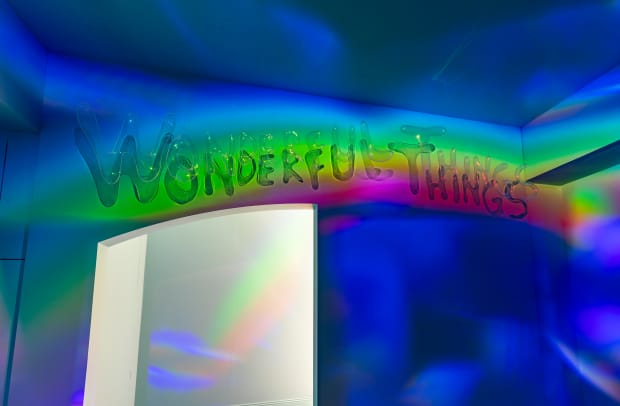 Sign up for our daily newsletter and get the latest industry news in your inbox every day.