Tom Ford Takes Over an Abandoned Subway Platform for Spring 2020
You want New York City grit? He's going to give it to you.
When Tom Ford was named chairman of the CFDA this past spring, there were some whispers as to how committed he would be to New York City; the Texan-born designer keeps residences in Los Angeles and London, only adding a Big Apple home into the fold around the time of his appointment in early 2019. It seems hard to believe, as established as he is, but perhaps the premier American luxury designer felt he had to prove he belonged in the NYC grit and grime.
Well, take it from me, a Metrocard-carrying New York transplant: When it comes to New York City, it doesn't get any grittier than the subway. Maybe that's why Ford decided to host his Spring 2020 fashion show on an abandoned train platform at the Bowery stop. (It's worth mentioning that, coincidentally, this is the same stop where Valentino staged the now-iconic shot of Naomi Campbell in a sequined couture look back in April.)
Showgoers were first corralled at the Nolita outpost of Nom Wah Tea Parlor and plied with drinks and appetizers before being led down a dark staircase, the stark white subway tiles giving way to neon lights. In an absolute coup of staging (seriously, the fine folks at KCD Worldwide, as well as longtime Tom Ford production partners CS Global, have more than earned a nice holiday bonus for this runway alone; I'd kill to know the amount of logistics that went into making this happen), Ford transformed the forgotten space into a grungy-glam runway, complete with stage lights, booming music and even portable air conditioners. Real MTA workers trolled the tracks, and while they were surely there for liability purposes, the bright orange of their vests did lend to the overall ambiance. Models like Gigi Hadid and Kaia Gerber stalked down the runway and stopped at the middle, turning to look audience members haughtily in the eye — pretty much a spot-on approximation of waiting to ride the subway, speaking from personal experience.
With a setting as cool as this, the clothes almost don't matter, but here, they justified the location: This season, Ford is trying his hand at streetwear with a luxury spin. Or was it luxury with a streetwear spin? There were ball skirts paired with satin tops cut to look as relaxed as a beat-up white tee; teeny-tiny gym shorts cut in black silk and topped with oversized pastel blazers; loose, ruched jumpsuits; black leather moto jackets and bras. The menswear here was much more successful, with its white croc jackets and animal-printed blazers in colors like purple and green in Ford's typical razor-sharp tailoring. At the end, the womenswear took a sculptural turn, with molded breastplates taking the place of tops in blue and pink metals — a somewhat literal take on the hardness of New Yorkers.
It's too early to tell if the collection itself is a success — the clothes seem too simple and too casual to justify Ford's high price tags — but the show will surely prove unforgettable to the small crowd gathered. If nothing else, it reminded them what it's like to be inside New York City's subway system — and they didn't even have to pay the $2.75 fare.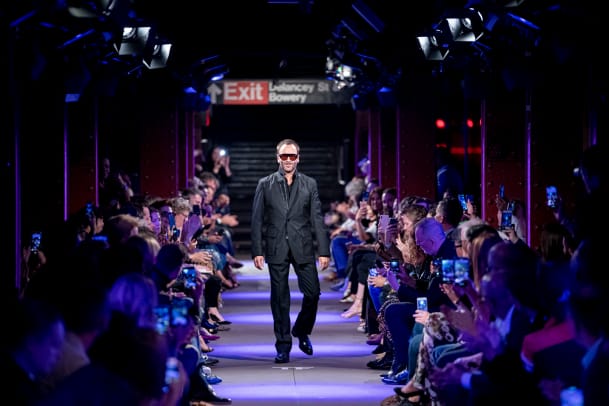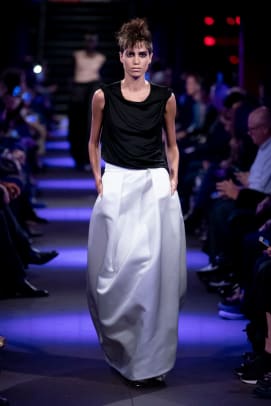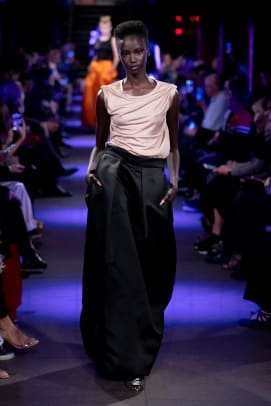 Sign up for our daily newsletter and get the latest industry news in your inbox every day.