5 Standout Beauty Trends from London Fashion Week
Featuring sunset eyes and deep side parts.
Despite it feeling like the shortest week of fashion month, London's Spring 2020 runways managed to churn out some pretty memorable beauty moments. The hair and makeup looks were far from prim and proper, channeling Riot girls and '90s rave culture by way of stunning, colorful sunset eyes and unruly hairstyles. It was a welcome change of pace from the "effortless" makeup (which actually requires a lot of effort) from past seasons; it was nice to see designers and their backstage glam teams having a little fun.
While the shows did take some cues from New York when it came to a couple of hair and makeup trends — like bold eyes and overly gelled hair — for the most part, London did things its own way. Ahead, a breakdown of the most noteworthy hair and makeup trends we spotted this season across the pond.
Wayward Eyeliner
At Matty Bovan, "deconstructed eyeliner," courtesy of makeup artist Miranda Joyce for MAC, was the main makeup attraction. Diagonal lines cut across the outer wings of the eyes, while metallic shadow was concentrated on the inner conrners. The liner at Jamie Wei Huang also went rogue, with some models receiving one colorfully lined eye paired with a singular line across the lid or down the cheek. For the models who didn't receive a feather painted in the center of their foreheads at Simone Rocha, Gucci Beauty's Thomas de Kluvyer scribbled liner both below and above the eye to create a chaotic but refined eye moment.
Sunset Eyes
The mediocre sunset content we all see on Instagram seems to have inspired handful of beauty looks from the London shows. Models at Mark Fast, Paula Knorr and Sharon Wauchob each wore stunning pink, orange and purple eye looks that would rival any serving of sherbet. The more intense of the crop was the glitter-bombed, "Euphoria"-esque looks seen at House of Holland. MAC's Dominic Skinner described it as being "1970s disco meets 1990s rave culture."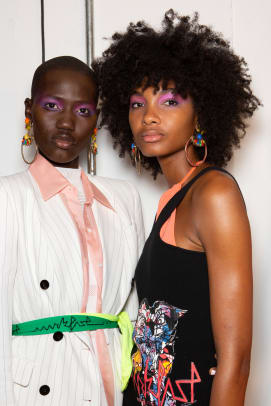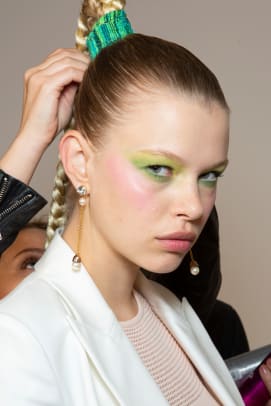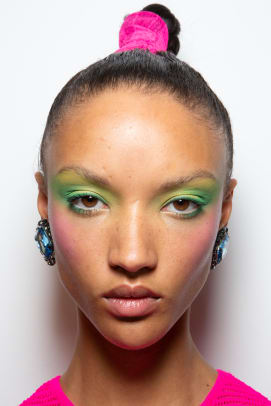 Back to Black
Aside from eyeliner and mascara, black makeup can be a little tricky for those not specifically trying to channel a goth or punk aesthetic. But this season provided a range of black makeup options fit for the shy and the more extroverted. On the subtle end of the spectrum, Molly Goddard offered up some inspiration with a matte, blended-out black lip (sometimes covering the entire lip, sometimes concentrated on just the center), while Marques Almeida sent striking glossy black lips down the runway. The boldest iterations were Ashish's glittery, dark-rimmed undereyes and Halpern's "graphic black eye with a retro spin," created by makeup artist Isamaya Ffrench.
Deep Side Parts
If you've been wanting to part ways (sorry) with your center part and try something else for a bit, this is a sign from the beauty gods that now is the time to go ahead and do it. Deep side parts were prominent across the pond, and they came with a lot of styling variety: Hairstylist Guido Palau (for Redken) took inspiration from French women for the sleek, side-swept bangs he created for the Ports 1961 runway. He accomplished the look by blow-drying hair straight and finishing it off with a flatiron to achieve a gleaming sheen. Over at Marta Jakubowski, hairstylist John Reyman created a wet, gelled effect, then added a deep side part and allowed half of the hair to hang straight down, pulling the other half into a low bun.
The hair at Marques Almeida wasn't nearly as put together as the others (proof that the side part doesn't have to be one-dimensional). Inspired by the unlikely pairing of Riot girls and '50s housewives, hairstylist James Pecis dreamed up a voluminous style that fell across models' faces, completely obscuring one eye — which, we assume, is meant to be worn with a permanent scowl on your face.
Any Braid Goes
Braids tend to be a runway staple every year, but this season showcased some welcome diversity. There was Rixo's front hippie braids and Bora Aksu's imperfect pigtails, along with Roksanda's classic cornrows. Hairstylist Sam McKnight brought something different to Ashish via a wild-child hair moment, purposefully meant to look like it hadn't been washed in a few weeks. (We can get on board with that concept.) Some shells and beads were also woven into several styles for added flair.
Sign up for our daily newsletter and get the latest industry news in your inbox every day.