Tory Burch Looks to Princess Diana for Her Spring 2020 Collection
Fashion's obsession with the late Diana Spencer shows no signs of slowing down.
Fashion is absolutely obsessed with Princess Diana. The fixation kicked off in earnest with Virgil Abloh's Spring 2018 collection for Off-White, which showed just weeks after the 20th anniversary of the tragic passing of the People's Princess, and hasn't abated since, most recently popping up as an excellent Vogue Paris editorial starring Hailey Bieber.
The latest designer to look to Princess Diana for inspiration is Tory Burch, whose show notes indicated that her Spring 2020 collection was all about Diana Spencer. But where others have been fascinated by her highly-papped styles — bike shorts and oversized sweatshirts, for example, or the infamous revenge dress — Burch mined from Princess Diana's early days as a Sloane Ranger. In the dreamy Beaux-Arts Court at the Brooklyn Museum on Sunday morning, show-goers were greeted by a table groaning under the weight of breakfast foods and benches nestled into makeshift bushes, a nod to cozy brunches tucked away in English gardens.
The collection was all about soft, vintage florals and subtle nods to '80s shapes, like a poof-sleeved dress or oversized, menswear-inspired suiting. Handkerchiefs — like the delicately monogrammed ones left on every seat — dominated the collection, whether they were patched together with lace for flowy maxidresses or "stitched" onto handbags. There was plenty of prep, but Burch found a way to work in her love of art too, weaving in looks with a bright, geometric pattern which wouldn't have been out of place on an episode of "Golden Girls" (in the best way possible, of course).
Burch literally grounded all that feminine whimsy by pairing many looks with sneakers, flat sandals or buckled loafers. But if you're looking to go full-Princess Diana, there were polka-dotted slingbacks and bow-bedecked pumps, too. And while the looks were less literal than others the fashion industry has copied of late, they all certainly captured the grace of the late, great Princess.
See the full collection in the gallery below: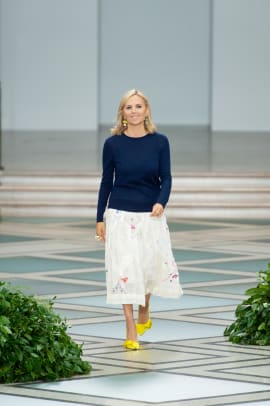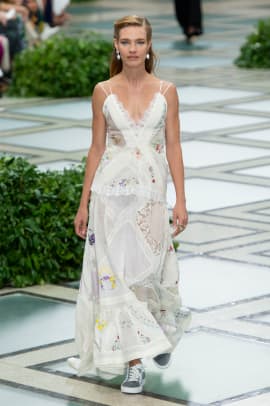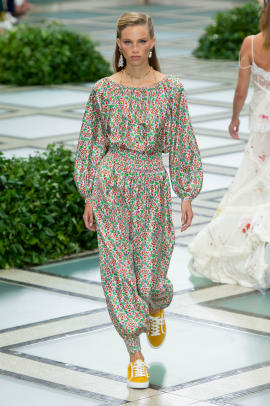 Want the latest fashion industry news first? Sign up for our daily newsletter.