Birkenstock Is Launching an Unexpected Skin-Care Line Featuring Its Hero Shoe Material
As it turns out, cork can do a whole lot more than just cushion feet.
A 240-year-old shoe company that's graced the soles of millions across the globe, Birkenstock is now trying to get its foot into the beauty-buyer door with their latest launch: a skin-care line. 
From feet to face, the new line sounds rather strange, but according to Louise Caldwell, President of Birkenstock Natural Skin Care, the extension made complete sense for the German footwear company. "Cork has always been a core material for us and our brand has always had a commitment to health, wellness, high-quality materials and comfort," says Caldwell. "Discovering the benefits of cork oak (the same tree from which our footbeds come from) to the skin made this a natural extension for us."
Unexpectedly, the tree actually does offer benefits beyond a comfy cradle for your feet. Found in cork oak extract, suberin is a waxy film that creates a barrier on the plant and gives the cork considerable elasticity. "Studies have shown that suberin is made up mostly of hydroxycarboxylic acids and is endowed with many special mechanical and chemical properties that evoke a possible smoothing effect on the surface of the skin," explains Ni'Kita Wilson, a cosmetic chemist.
Before my interview with her, Dr. Hadley King,  a board-certified dermatologist and clinical instructor at the Weill Medical College at Cornell University, had never heard of cork oak extract being used in skin care, nor was she aware of its use in other skin-care products. "I think it can be an effective emollient due to its water-impermeable characteristics, though, and can smooth the skin by helping to lock in moisture," she noted. "Ferulic acid is also present in suberin extracts, [acting] as an antioxidant to help protect skin from free-radical damage."
Related Articles
Refillable Packaging Is the Trend Quietly Taking Over Luxury Beauty
Beauty Product 'Capsules' May Be the Cutting Edge of Sustainable Skin-Care Innovation
The Enduring Appeal of the Skin-Care Ingredient Origin Story
Of course, cork oak extract isn't the only ingredient used to formulate the 20 SKUs across this skin-care range, which includes products for both the feet and the face. Loaded with avocado oil, jojoba oil, aloe vera and more, every formula has been awarded the COSMOS NATURAL seal of approval, an international natural cosmetics standard that represents one of the world's largest certification systems for natural and organic cosmetics. According to a press release, COSMOS NATURAL "only allows ingredients that are extracted from renewable resources and manufactured in an environmentally friendly way."
And because environmental sustainability is of top concern recently (we love you, Greta Thunberg!), Birkenstock's packaging promotes a sustainable solution, too. Produced in Europe, the bottles are crafted with high-quality materials and have an airless dispenser which contains interchangeable cartridges — once the product is empty, just purchase another refill for the original container. According to a press release, this will save "packaging, protect natural resources and shows how straightforward sustainability can be."
Deforestation is a non-issue with these products, too — no trees were harmed in the making of the line. Birkenstock uses the cork oak bark to extract the star ingredient, so the trees are never actually cut down or harmed in any way; the bark is a renewable resource harvested from both natural and planted stock of the tree. When used in cosmetics, the first cork oak bark harvest occurs when the tree is 43 years old, and then can be harvested again in intervals of nine years, once the bark has completely regrown. This can be repeated for approximately 150 years. "For Birkenstock, the responsible and sustainable cultivation of cork oak forests is a top priority," says Caldwell.
Currently, there are nine products available for sale online (mostly foot balms), but the brand is expanding to encompass face and body products, including a body scrub, eye cream, lip balm, face mist, multiple moisturizers and a cleanser. "All Birkenstock natural skin-care products are made in Germany and the full range launched in Europe during spring 2019," says Caldwell. "We believe the time is right to bring this range to the US now — we launched the collection initially at our Venice Beach, CA store and will be expanding distribution over the next year in the U.S."
Click through the gallery below for a preview of the forthcoming Birkenstock skin-care products.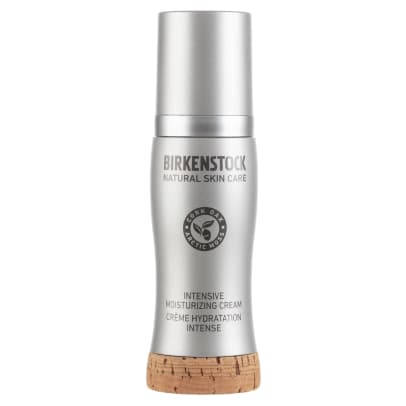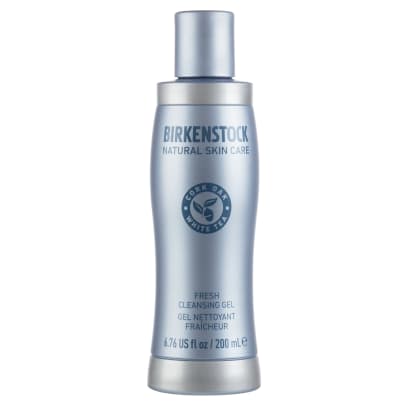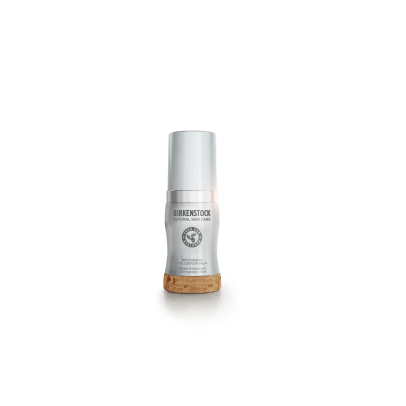 Please note: Occasionally, we use affiliate links on our site. This in no way affects our editorial decision-making.
Stay current on the latest trends, news and people shaping the fashion industry. Sign up for our daily newsletter.