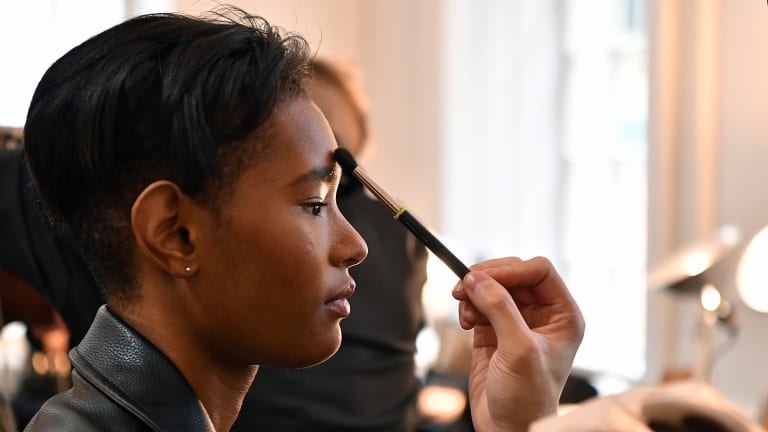 The Backstage Beauty Experience Is Still Lacking for Black Models
"It's bullshit if we call it 'diversity' and we can't get representation backstage."
Although inclusivity has started to improve in some areas of the fashion industry, Ashley Chew, model and creator behind the viral "Black Models Matter" handbag, feels it hasn't exactly translated to backstage beauty, believing it to be a trend that often feels phony. The industry has alluded to an inclusive future, but models of color have found that its proposition falls short.
The fact of the matter is, inclusivity isn't synonymous with diversity — which is something most people tend to forget. So just because one darker-skinned artist or model is in the room (hello, diversity!), doesn't mean the industry has met its inclusivity commitment. There's an alarming lack of artists proficient in ethnic hair and makeup, which often leads to the doubling of their workload or even worse, models doing the work themselves. At a recent shoot, Chew resorted to doing her own hair after two different stylists (who were not people of color) attempted and failed to put it into a bun — a style she could've easily done at home.
Many other models and artists of color have come forward with stories detailing their experiences backstage and their opinions about whether or not they believe the industry's move toward inclusion is a fad or something that will stick around.
Like Chew, Ebony Jackson — whose modeling credits include the Pyer Moss Collection 2 runway show — has faced her own adversities throughout her six years in the industry. During our conversation, she notes a time on set for a major beauty brand when the makeup artist made her "the ashiest thing you've ever seen" and how disappointing it was for her to experience that. Jackson went on to recount a hair shoot when a hairstylist straightened her naturally curly hair for hours and then later joked that her hair "would never be able to curl up after this." She says that sometimes it can be intimidating to speak up, even when stylists claim that her hair is difficult and that she should've brushed it beforehand.
It's known that the lack of diversity backstage is a huge problem, but stories like this perpetuate the idea that it may never change. While Jackson has had her fair share of traumatic experiences on the job, she still believes the modeling world is evolving as the culture does, too. She comments on the differences she's noticed in the industry since she started modeling and says even her natural hair is more accepted than it used to be.

Related Articles
How Backstage Beauty Pros Can Step Up Their Inclusivity This Season
What Backstage Beauty Prep Really is Like For Models of Color in 2017
Why Does The Burden of Creating Inclusivity in Fashion Fall Largely on Marginalized Groups?
Obviously a model's job relies on their appearance, but a backstage experience gone awry could very well ruin their ability to book other jobs. Like Jackson, fellow model Nehemie Pierre recently cut her hair because of the severe heat damage she experienced while on set. Though she was known for her large Afro, Pierre now rocks a short hairstyle she says she's grown to love. 
"I was forced to cut my hair, which made me upset," she says. "It wasn't pleasant at the beginning, but I learned to love it short. But still, I was forced to cut it because of someone's lack of regard for my hair which is not fair for me. I had to change my whole portfolio and do all of that stuff." 
WMBA reporter and model Arielle Chambers recaps her recent experience from this season's New York Fashion Week, during which she had a lead hairstylist try to use a teasing comb on her coils (which she categorizes as 3B/C) in order to put her hair into a slicked bun. "I had to go to the bathroom to fix my hair — me as well as the other Black girls — because the same girl that was looking ghostly with me was like, 'I got some eco styler in my bag,' and so we went to the bathroom and fixed our hair which, shit, that's not my job, I'm there to walk," says Chambers.
Chambers notes that especially because most hairstylists are briefed before a show, the lack of care seems to be a willful choice, rather than a lack of preparation. She adds that she believes the indifference some brands have when it comes to casting models of color is because of their skewed representation on the runway. "I just think that it's bullshit if we call it 'diversity' and we can't get representation backstage. Sometimes we go out on the runway looking crazy because there's no one who can maintain our aesthetic backstage," she says.
Raisa Flowers, makeup artist, model and muse, has her own thoughts on the subject, having experienced multiple roles in the industry. She's mostly been in inclusive spaces, having walked in Savage x Fenty's latest runway show and often assisting on Pat McGrath's elite makeup team. When questioned if she's ever been the only Black makeup artist on set, she says "all the time, about maybe 80% of the time — and that's a lot." Even though Flowers usually works with her friends and other Black artists, there are times where she's had to tell a hairstylist to change a model's hair because she noticed how uncomfortable the model was and how bad the hairstyle looked.
"You can tell by someone's face if they don't like the way their hair looks, or it's not done right, or it's done incorrectly," she says. "One thing that I hate about working on set with people who think they know how to do Black hair is they say, 'Oh, I've done Black hair before'. You don't have to say it... you can say you've worked with Black girls, but is your work valid?" 
Regularly working alongside Flowers is hairstylist Latisha Chong. Although she went to cosmetology school and is proficient in doing all types of hair, she's often singled out to do Black models' hair because she's an exceptional braider. Chong frequently finds herself re-doing another artist's work because it isn't done properly and makes it a point to say that she doesn't think the industry needs to hire more Black artists, but that it needs to hire more artists who are experienced in doing Black hair. 
"When you're in cosmetology school, for instance, you're spending, like, eight months learning about hair, and 98% of that curriculum is on straight hair or wavy hair... you're not learning about Afro-hair. For Afro-hair, the curriculum is only a week — only a week you are learning about how to do people of color's hair, and I feel like it's unfair," she says.
Chong feels as though the beauty industry needs to change in order for the fashion industry to follow suit and emphasizes that when an artist can't braid, it's not because they aren't Black, it's because they never learned how to do so. When asked what the industry needs to do in order for models of color to feel more represented backstage, Chong replies, "It's not only about hiring more people of color, because [the fashion industry] can hire more people of color who can't braid or who can't do Black hair. I feel like it needs to start from the basic training when you're in school, or when you're learning how to do hair. You need to learn about every texture equally."
Even after so many articles, panels and brand statements that pontificate on what the industry needs to do to make a lasting change, there still seems to be a tone of exclusion that lives on. For years, the conversation mainly focused on having more Black and Brown models on the runway, but now that they're present, how is the industry going to better represent them behind-the-scenes? 
Homepage/main photo: Slaven Vlasic/Getty Images
Stay current on the latest trends, news and people shaping the fashion industry. Sign up for our daily newsletter.