Chanel's Spring Beauty Look Included Drawn-On Freckles, Lazy-Girl Blowouts and Natural Curls
And a handful of floral hair accessories, of course.
The Chanel runway is never without drama, but for the Spring 2020 show in Paris on Tuesday, there was plenty of it: The brand created an elaborate rooftop set; a runway crasher created a bit of chaos (Gigi Hadid took action to rid the catwalk of the interloper); and, of course, Virginie Viard continued to establish her vision for the House of Chanel after the passing of Karl Lagerfeld via a collection that riffed on many classic standbys of the label. But amidst all of that, there was also a beauty look worth noting. 
Makeup artist Lucia Pica, who is also Chanel's Global Creative Make up and Colour Designer, along with hairstylist Sam McKnight, created a look that melded ease and laziness with a bit of Chanel polish: The makeup was sun-kissed, freckled and dewy; the hair was soft and billowy or voluminous and curly.
"[It's] Chanel luxe — we're inspired by the ladies in the '60s and '70s who had heavy, gorgeous hair like curtains that just fell down," said McKnight backstage (and on his Instagram stories, a huge help to those of us covering backstage beauty from the Paris shows while not actually in Paris). "But it's done in a natural way — it's brushable."
For most of the models, that meant McKnight and his team added extensions for length and fullness, then cut them into blunt, precise ends. "We're blow-drying, we're using a lot of my dry shampoo [Hair by Sam McKnight Lazy Girl Dry Shampoo] and we're blow-drying the hair, it's very clean," explained McKnight. He then curled the ends of the hair under with a large-barrel curling iron for a polished, flipped-under effect.
More noteworthy than this undeniably pretty hairstyle was the fact that not all of the models wore it. The casting for the show was markedly more diverse than past Chanel presentations (and as Tyler noted in her review) — and therefore, a refreshingly diverse range of hairstyles also appeared on the runway. A handful of Black models, including Blésnya Minher, wore their natural curls in all their voluminous, textured Afro glory; a few others wore tight cornrows. Models with natural waves, like Felice Noordhoff, wore them loose, while Kaia Gerber's recently cropped blunt bob became A Look all on its own. 
Overall, it felt like a celebration of individuality in a way we haven't typically seen on the Chanel runway, and perhaps a positive signal of what's to come from a Viard-helmed house. But of course, the classic Chanel elements remained; many models wore bright floral blooms in their hair, on hats or on their jackets.
For the makeup, Pica focused on creating dewy, glow-y skin with Chanel Les Beiges Eau de Teint, then adding concealer where needed. "Even if it's subtle it's quite strong — so we're paying a lot of attention to the skin being super polished and amazing but natural," said Pica backstage (and, again, via Instagram Stories). Brows were "groomed and boyish," and lashes were coated in several layers of Le Volume Révolution de Chanel mascara. As for the pink, just-ate-a-popsicle lips, Pica created those by first painting Chanel Rouge Allure Liquid Powder in Radical toward the center of the mouth, then topping it with Rouge Coco Gloss in Crystal Clear for a shiny gleam. And finally, she dotted freckles across the bridges of models' noses and toward the tops of their cheekbones using an eyeliner pencil.
In the gallery below, see more of the beauty looks from the Chanel Spring 2020 runway.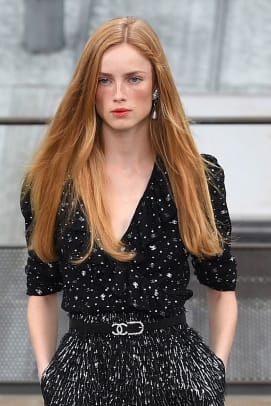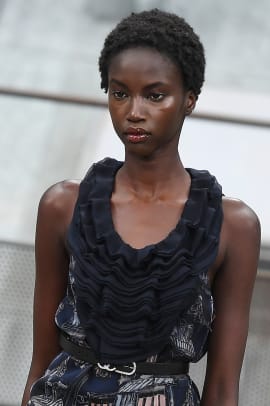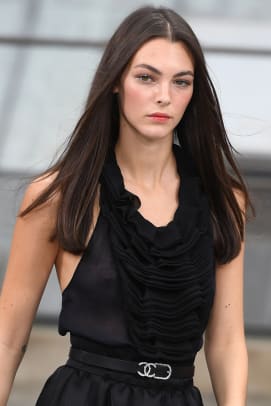 Click through the gallery below to see all of the looks from the Chanel Spring 2020 collection.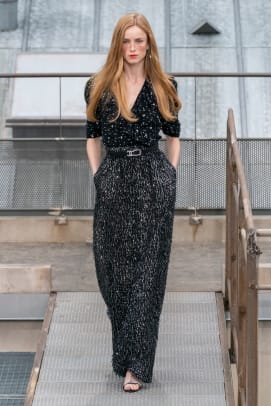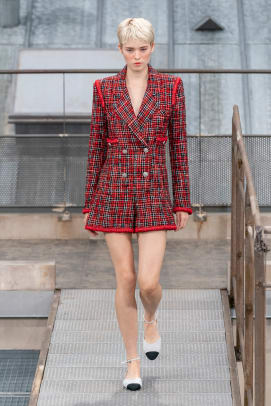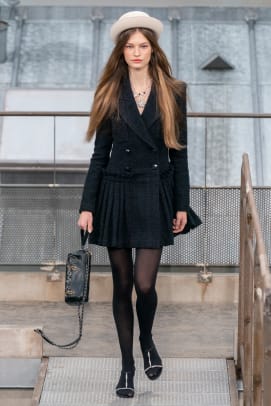 Please note: Occasionally, we use affiliate links on our site. This in no way affects our editorial decision-making.
Never miss the latest fashion industry news. Sign up for the Fashionista daily newsletter.