The Fantasy Is Missing at Chanel Spring 2020
Yes, there are plenty of practical pieces, but where is the fun?
It's been a few seasons since the passing of Karl Lagerfeld left Virginie Viard in charge at Chanel; there was Resort 2020, the Fall 2019 couture collection and, presented in Paris on Tuesday, the Spring 2020 runway. So far, Viard has established herself as a fine successor to her longtime mentor, providing the brand with a seamless aesthetic transition. It's clear Viard was taking notes while working with Lagerfeld.
The Spring 2020 collection is full of Chanelisms and Karlisms, from the cap-toed flats to the piles and piles of tweed jackets. Viard put an early '90s twist on the look, serving up drop-waisted dresses, tweed onesies, loose cardigans and flower-decorated hats which called to mind "Blossom." There were voluminous taffeta skirts, sequined jackets, tapered-leg denim and tailored short-shorts. When you break down the styling, there were plenty of wearable pieces in the collection.
But where Viard seems to veer away from the legacy of her predecessor is that she does not bring much in the way of fantasy to the runway. Chanel showgoers have grown accustomed to increasingly-fantastical sets, and while recreating a Parisian skyline, as the brand did on Tuesday, is nothing to sniff at, gray skies don't hold up well against a snow-covered chalet or a sandy beach. Viard also shies away from over-accessorizing any looks with fun jewelry and bags or from delivering show-stopping eveningwear, seemingly preferring to stay grounded in daywear.
It may not seem like such a terrible thing to lack, especially in today's market, but the truth is that the fantasy is what inspires customers to dream, to reach for the Chanel perfume or the Chanel bag, the items which fund the entire operation. And besides, as over-the-top as they were, Lagerfeld's shows made fashion fun. It would be lovely to see Viard loosen up in her new role.
One thing she gets right, however, is diversity in casting; one editor remarked that she couldn't remember a time she had seen so much natural hair on a Chanel runway. If Viard can add in size inclusivity, she'll be well on her way to making Chanel an even better, more modern brand. 
See every look from the collection in the gallery below.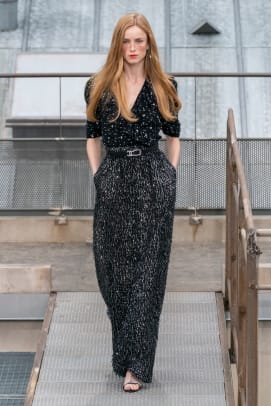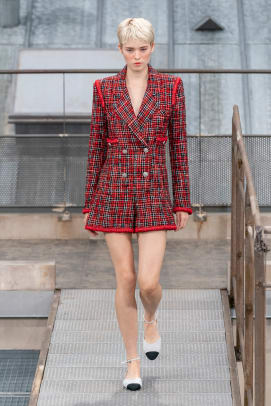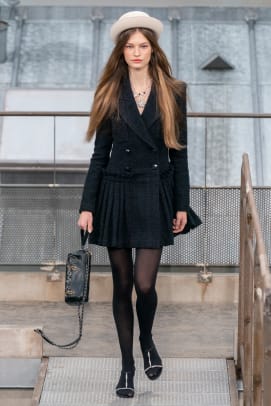 Never miss the latest fashion industry news. Sign up for the Fashionista daily newsletter.