See Gucci Mane, Sienna Miller and Iggy Pop Star in Gucci's Resort 2020 Campaign
Alessandro Michele threw a Gucci-fied house party in a Roman villa.
Though we're at the tail end of fashion month for Spring 2020, the seasonal calendar is still trucking along. Currently, we're in the midst of Resort 2020 campaigns and on Tuesday, Gucci debuted its new imagery for the season.
You may have seen photos floating around the internet earlier this week, thanks to Gucci Mane, whose stage name is an obvious homage to the Italian house. Finally, the luxury brand has teamed up with the rapper for the cover art of his upcoming album "Woptober II," which is also part of Gucci's ad campaign. Alessandro Michele, who created an eclectic, '70s-inspired collection with political messaging woven in for Resort 2020, teamed up with art director Christopher Simmonds and photographer/director Harmony Korine to throw a Gucci-fied house party at Villa La Furibonda in Rome. 
Titled "#ComeAsYouAre_RSVP" (yes, hashtag included), the campaign also features Sienna Miller and Iggy Pop alongside Gucci Mane, as well as an eclectic crew of party people dressed in what might be the last pieces of Michele's signature "Guccification." With a FOMO-inducing campaign like this one, the creative director might as well go out with a bang, right?
"Gucci's party is permanent because it represents, first of all, a state of mind: Everything is possible, there are no boundaries, everybody goes with everybody and what goes around comes around," reads the campaign's press release. "The clothes offer endless possibilities to be whomever you want or to appear as you prefer, without any barriers or limits whatsoever." Hey, Alessandro, throw us an invite next time, won't you?
See Gucci's entire Resort 2020 campaign in the gallery below.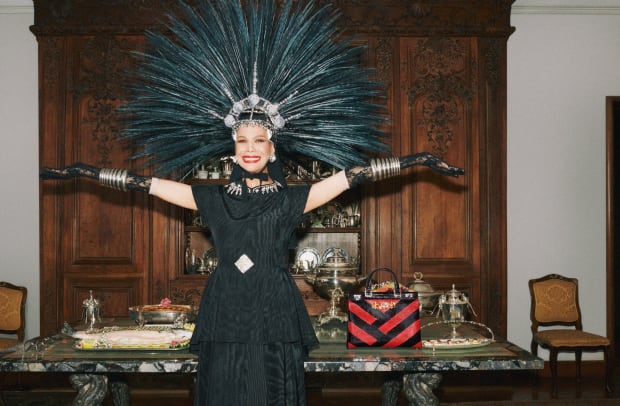 Sign up for our daily newsletter and get the latest industry news in your inbox every day.