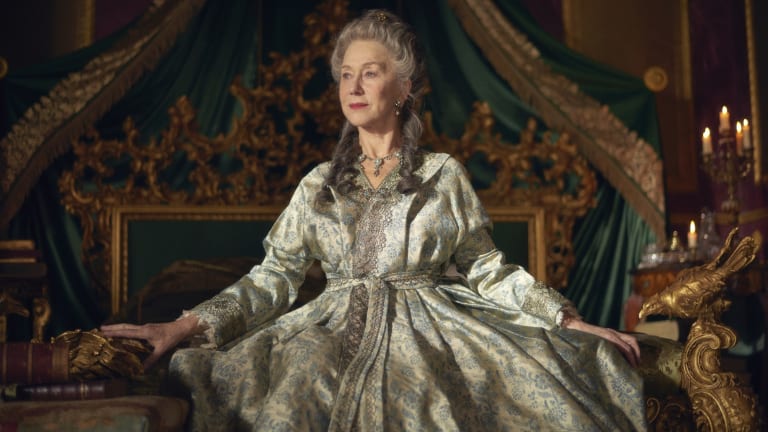 Helen Mirren's Costumes in 'Catherine the Great' Are a Gorgeous History Lesson
Emmy-nominated Maya Meschede talks us through the 18th-century royal gowns, jewels and corsets — for everyone in the court.
Sweeping period costume dramas on the big and small screens always make for the most beautiful, gorgeous and accessible ways to learn about different eras throughout history. Joining a season filled with gritty, based-on-true-life chronicles, fantastical epics and a tiara-filled meeting of real and fictional aristocrats comes HBO's "Catherine the Great," starring Dame Helen Mirren, whose 18th-century majestic gowns and glorious at-home robes help illustrate the power, strength and status of Russia's longest reigning female ruler.
"What's most valuable is the historical context," says costume designer Maja Meschede, about her research and inspiration-gathering process. After overthrowing her husband from his brief six-month rule (and following his still-mysterious death), Catherine ruled from 1762 to 1796. During this time, she expanded the kingdom to become one of the most powerful in the Western World, supported the arts and enjoyed a liberated and empowered — especially for the time — personal life, which sometimes crossed over into politics.
For the full picture, the costume designer actually went a couple generations back in time to study 17th-century czar Peter the Great, whom Catherine admired, and her mother-in-law, Empress of Russia, Elizabeth I. Meschede devoured multiple biographies of the long-ruling empress and made a private appointment to analyze Catherine's preserved gowns and military regalia at The State Hermitage Museum in St. Petersburg. 
"It was really important to me to get to the essence of Catherine the Great and how she dressed," she says, adding: "I designed the costumes to portray Catherine as a woman: very powerful and very intellectual, but at the same time very feminine. How did I combine that? With silhouettes, color and embroideries."
Meschede custom-designed all the gowns authentic to the period, with "one corset, a big petticoat, a big pannier [side hoops] underneath and then a big over-robe." She spent three weeks sourcing 18th-century fabrics in Italy: Florence, Milan, Rome for brocades and Venice, which apparently has the best velvets. The ornate ensembles were produced over a period of six months in Vilnius, Lithuania, where the four-episode limited series filmed.
Catherine's color palette involved "lots of Russian colors," mainly refined blues and resplendent gold. The spectacular gown above took two weeks to build and approximately 15 women to hand-embroider the complex patterns based off of 18th-century portraits. Meschede used the lavish gowns to illustrate another fun fact she learned about ultra-privileged Russian wardrobes.
"Catherine and all the aristocrats who lived at her court had their own clothing factories in a different castle. So they had clothes made-to-measure for different occasions, especially official ones, to show off their wealth and status within society," she explains. "It was really important to embroider very detailed and very heavily because the more embroidery there was — and the more brocade and diamonds — the wealthier the person was."
Under her reign, Catherine's and her ladies' gowns were also very specifically Russian. She's essentially credited with establishing and dictating the Russian imperial style of dress, which endured to the end of the empire. The silhouettes and accoutrements took inspiration from the Russian people and also sartorially emphasized Catherine's national pride and legitimacy. See, she was actually born in Prussia to German royalty (and she did lead that successful coup d'état to claim the throne.)
"What's very specific is the ruched sleeve," says Meschede. "That was based on Russian farmers' folkloric Sunday dresses." The costume designer also points to the elaborate gold ceremonial gown (above): "There's always a big braid going from the neckline down the corset and down the center front of the skirt. It's like a [sarafan] dress, but much more elaborate." 
Meschede also explains that German, French and English gowns involved more feminine and floral motifs, while the Russian dresses, which she designed for Mirren, evoke a more "strict and solid" aesthetic — also conveying Catherine's power and legacy.
Meschede reimagined period and royal ensembles for Catherine, but she remained authentic when designing the Empress's military regalia, housed at The Hermitage. "She was a military lady. She was the leader of one of the biggest armies ever," says Meschede. Catherine would color-coordinate her military riding suit according to the uniforms of the regiment. In greeting the prestigious Preobrazhensky Guard — also the main military backers in her coup — she wears green, replicated from The Hermitage archives, to match their uniforms (above). 
Of course, we can't discuss the longest ruling Empress of Imperial Russia without talking about her many diamond-encrusted crowns and brilliant gemstone necklaces, bracelets, earrings and rings. Plus, "she got so many presents from her lovers," says Meschede, who researched official portraits to recreate royal baubles with glimmering Swarovski crystals and gemstones. "We also made some pieces from the 17th century because they look extremely Russian: a lot of little pearls and colors and anything you could find in the rivers of Russia." 
For the well-accessorized members of the court, Meschede sourced from jewelry rental houses in Italy. "They have the most beautiful 18th-century collections," she says gleefully. "I felt like a magpie in there."
For a historical epic set in 18th-century Russia chronicling very rich royals living in very cold climates, copious amounts of fur had to be incorporated into the costumes. But wait! Meschede estimates that 80% of the trims, muffs and ushankas (the oversize caps) are indeed painted and reworked faux. The remainder is real, but sourced secondhand from flea markets and thrift shops to be recycled into the costumes. So no new fur. "I'm personally vegan," says Meschede. "I am very much against animal cruelty."
For all the behind-the-scenes political machinations and private moments happening in the upstairs private quarters — and outside of the restrictions and formal dress codes of the court — Catherine wears less structured, but just as regal, beautifully embroidered and gilded brocade robes. But images of the real Empress's non-official moments weren't documented in any royal portraits. So, Meschede studied the work of Baroque painters, including her favorites Théodore Rokotoff and Verona-born Pietro Rotari, who captured more comprehensive aspects of castle life.
"They painted Russian women: peasants, maids working at the court and ladies-in-waiting," explains Meschede. Catherine's biographies also revealed her penchant for wearing banyans: 18th-century European dressing gowns, which were influenced by the Japanese kimono. "She basically got up, made some tea — she was very self-sufficient — wore a lovely banyan and would write to Voltaire and French philosophers. It was really important to bring across the private Catherine." 
For Mirren, filming those scenes also provided a relief from the binding period-authentic foundation garments. "[Mirren] always went 'Yay, it's not a corset day!'" laughs Meschede. "She's amazing."
Related Articles:
The 'Maleficent' Sequel's Battle Costumes Include 'Hundreds of Thousands' of Swarovski Gems
Timothée Chalamet Wears the 15th Century Version of a 'Cool Denim Jacket' and Real Armor in 'The King'
The 'Downton Abbey' Costumes Include Mary's Custom Gowns, Edith's Perfect Vintage and Violet's 16.5 Carat Tiara
Mirren, and the supporting female cast members, weren't the only ones suffering through the bindings. The premiere episode features one of Catherine the Great's famed "Transvestite Balls," an extravagant party tradition established by her mother-in-law Empress Elizabeth. 
"They took it very seriously," says Meschede, who enjoyed depicting the commitment the aristocrats put into their gala outfits, which would have been custom-made for the occasions in their aforementioned ateliers. The women would don traditional men's suiting — from tricorne hats to breeches, which, according to lore, also offered a loophole for ladies to circumvent the patriarchal and restrictive dress codes.
"Apparently, Elizabeth I had beautiful legs and so did Catherine the Great," says Meschede. "There was no way to show off their legs in long dresses. But when women wore breeches, they could. Plus, life was so decadent and they were always looking for some new entertainment and heightening of everything: life and experiences." The men of the court — and the actors playing them — piled on the jewels and wore ornamented gowns, full makeup, billowing wigs and, yes, all the foundation garments. 
"[The actors] were swearing and cursing when I was in their dressing rooms lacing them up in their corsets," says Meschede.
'Catherine the Great' premieres on Monday, Oct. 21 on HBO.
Top photo: Hal Shinnie/Courtesy of HBO
Never miss the latest fashion industry news. Sign up for the Fashionista daily newsletter.