'Drag Race''s Kim Chi Is Finally Ready to Supply Makeup to the Masses With New Cosmetics Line
"This is makeup made so that a range of different people can wear [it], from office workers to construction workers to drag queens."
It wasn't a matter of if "RuPaul's Drag Race" season eight finalist Kim Chi would release a makeup line; it was about when. After all, there's been no shortage of interest from her nearly 2 milli​on followers on Instagram, many of whom have turned to Kim, known for her meticulously precise and exaggerated makeup, long before her memorable tenure on the Emmy-winning show.
"Everyone's like so-and-so has released a makeup line before you, but it's not a matter of who gets it out first," Chi (real name Sang-Young Shin) tells Fashionista. "I've been working on this makeup launch for a year and a half now, ​so it was really hard to keep quiet the whole time, but I couldn't reveal any information until everything was fully realized and ready to go." This week, KimChi_Chic Beauty made its official debut.
A born-and-raised Chicagoan, Chi relocated to L.A. in early 2018 to begin the journey of getting this longtime dream off the ground. It all began when Toni Ko, the founder of NYC Cosmetics, reached out about a meeting with Kim, soon after his move west. "We were just talking and she was like 'why did you move to L.A.?' and I was like, 'Well, I want to start my own makeup line,' and she was like 'That's really funny that you say that because that's the reason why we're having this meeting now.'"
KimChi_Chic Beauty isn't Kim's first foray into makeup. "Originally before season eight had aired I was working on liquid lipsticks, but it was just so much work and with touring and whatnot, there wasn't time for me to fully flesh that out even though I had components and the labs lined up." Then, in 2016, Kim released an eyeshadow and a donut-flavored liquid lipstick in collaboration with Sugarpill Cosmetics. He did this to satiate fans, all along knowing that this was the springboard for the future.
Yet Kim sees his entry into makeup a complete accident; his journey is rather happenstance. "For Halloween 2012 I got in drag for fun and then I ended up getting booked for a show that night. And it just kind of escalated from there. It was never my dream to be a drag queen or a makeup artist but then one thing happened after another and it was like discovering a passion I didn't know I had." His story might be particularly resonant for beauty newbies, saying he didn't know anything about makeup when he first started doing drag seven years ago. "I probably didn't get good at makeup until two or three years into doing drag." But having been an artist his whole life, he discovered that though the canvas had changed, his skills translated. "I used to work with oil paints and watercolor and this for me was just a different medium."
Related Articles
Drag Queen Willam Launches a Beauty Line Perfect for Any Gender
Trixie Mattel Is Ready to Be 'Exposed' With Her New Cosmetics Line
How Mimi Choi Went From Preschool Teacher to Instagram's Most Sought-After Illusion Makeup Artist
Now, he's releasing the cruelty-free, vegan collection — comprised of an eyeshadow palette, eight glitter eyeshadows and three high-shine liquid lip glosses — in partnership with Ko. "I could do this on my own, but to be able to work with a legend in the makeup industry, who already knows all the backend stuff of it, I jumped at the chance," says Kim.
The 18-shade eyeshadow palette features a range of hues that coordinate with different skin tones. "I wanted a wide range of as many neutral shades as possible as a starting base so that when I release new colors in the future you'll have your neutrals set. But because I love color, I had to add a few fun puffs in there," explains Kim.
And speaking of color, there's the high-gloss liquid lipsticks, which Kim promises is an easy application. "Even if you're a girl on the go and don't want to deal with lipstick and lipliner and all that, just smear this on your lips and you're good for the day."
One of the key pillars of the brand is accessibility. Whereas many luxury lipsticks retail for between $18-$20, Kim Chi's costs $9. And with many palettes launching at upwards of $70, Kim Chi's is less than $30. "When I first started doing makeup the biggest hurdle that I had was finding good, pigmented products at a good price. You want to try out different products, but it's usually really expensive, thus making it hard to experiment. So for my makeup line, I wanted to create something that was affordable for everyone and has much variety in shades as possible."
That message of accessibility goes beyond the price point, and is imbued into who Kim sees as the demographic for this collection. "I want to be able to provide makeup to the masses. I want people to realize that this is not drag queen makeup. This is makeup made so that a range of different people can wear [it], from office workers to construction workers to drag queens."
Kim's quirky wit is evident throughout many facets of the line, from the packaging (which was created in collaboration with viral teenage cartoonist Ketnipz) to the product names, like Diamond Shart. "I as a person just don't take anything seriously. And there are so many products out there called, like, liquid eyeshadow, so I just imagined what the persona of Kim Chi's shit would actually look like: glitter and sparkly shit."
I couldn't complete the interview without asking about the possibility of seeing Kim on a future season of "RuPaul's Drag Race: All Stars". Is there any possibility of Kim springing up to try vying for the crown once more? "I'm definitely not ruling anything out. Stay tuned next year. You might see me!"
Click through the gallery below to see the full collection of KimChi_Chic Beauty Products and merch, available now on kimchicbeauty.com.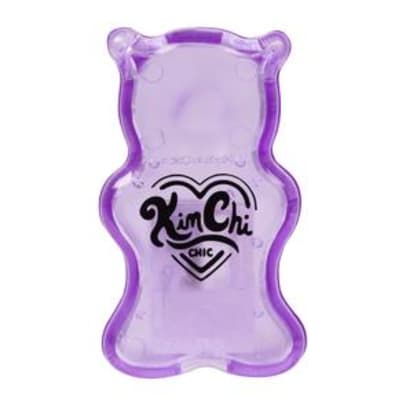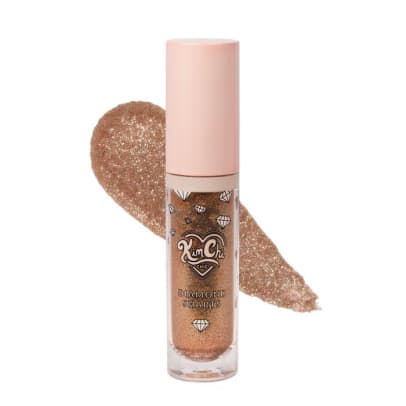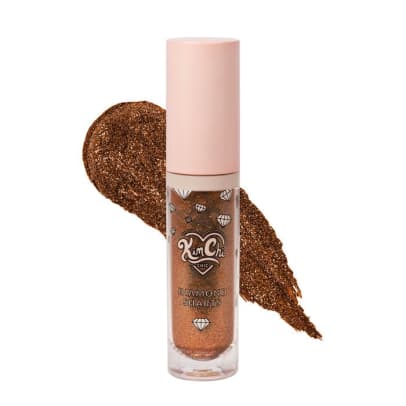 Want the latest fashion industry news first? Sign up for our daily newsletter.