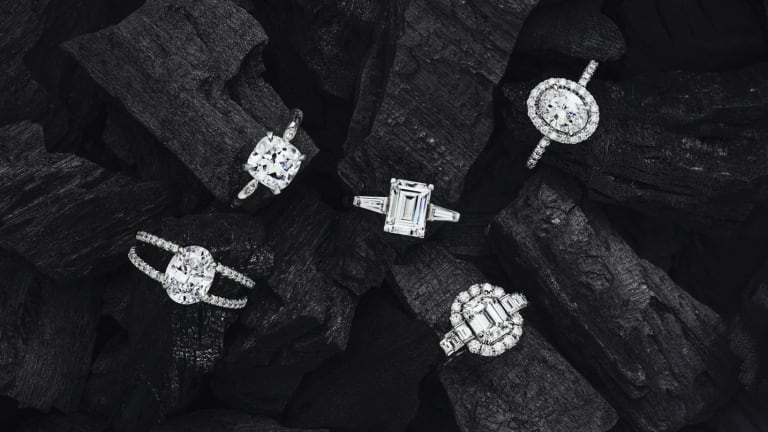 As Lab-Grown Diamonds Near Mainstream Acceptance, the Entire Industry Is Changing
The lab-grown and mining industries may even be pushing one another to become more transparent and ethical.
Long before streetwear brands like Supreme popularized a business model built on limited-edition drops, the diamond industry used scarcity to drive up the desirability and perceived value of diamonds. There have always been a finite number of these sparkling chunks of carbon in the earth, making them feel all the more special.
However, in the past few years, technology has evolved to the point that those same sparkling hunks of carbon can be grown in labs, where scientists have managed to recreate the environment in which diamonds were formed in the earth. And the increasing availability of lab-grown diamonds is fueling widespread change across the industry, with a big influx of jewelry brands using them (and often branding them as a more ethical and sustainable alternative) and at-times-aggressive opposition from proponents of mined jewels. Those on both sides of the lab grown vs. mined debate are often impassioned in their points of view.
But first: What exactly is a lab-grown diamond? First of all, they aren't "fake." Like a mined one, a lab-grown diamond is a tetrahedral crystal of carbon. Despite being grown in a lab, of which there are several across the U.S. and abroad in China, Israel, Singapore, India and beyond, they are chemically and physically identical to a mined diamond.
"It's like getting ice from your freezer versus getting it from a glacier," explains Anna-Mieke Anderson, founder of OG lab-grown diamond company MiaDonna. "It doesn't matter the origin, they are still chemically, physically and optically identical." Only a reputable diamond grading lab with advanced equipment would be able to distinguish a lab-grown diamond from a mined one.
Related Articles
How a Massive Gender Gap Is Hurting the Diamond Industry
Is This the Future of Engagement Ring Shopping?
Can Old-School Fine Jewelry Brands Woo Fickle Millennials?
That wasn't always the case, though. Early iterations of lab-grown diamonds, which were used for industrial purposes rather than jewelry, tended to be brown or yellow in color. Only in the last three to five years has the technology advanced to the point where truly clear or "white" diamonds could be produced, and then cut and polished the same way — and potentially by the same experts — as mined diamonds.
There emerged an opportunity for disruption that has been seized by a number of entrepreneurs and investors, especially over the past couple of years, and especially with goals of luring millennials away from the mined industry with promises of better prices and better treatment of people and the planet. While lab-grown diamonds are 30-50% cheaper than mined ones, the issue of one method being more ethical and sustainable than another is less black and white. But more on that later.
One of the trailblazers in the lab-grown space was MiaDonna; Anderson launched the brand in direct response to the conditions she'd observed in the mined diamond industry. After realizing she had unwittingly purchased a conflict diamond, she decided to sponsor a child who lived in a diamond mining community in Africa, with whom she developed a close relationship via letters. 
"I will never forget the day he wrote to me, and he said he had a great summer because only one of his classmates was killed," she tells me.
As a mother, she says, she couldn't let this go on. So, she decided she would start selling conflict-free jewelry and use the profits to sponsor more children. She only ended up looking into lab-grown because, at the time, around 2006, she couldn't find any mined diamonds that she felt 100% confident positioning as conflict-free. She had to experiment with not-quite-clear diamond "hybrids" combining lab-grown and crystals until the technology improved around 2014. 
On the philanthropy side, her foundation The Greener Diamond recently purchased 10 acres of "prime diamond mining land" in Liberia, which is being given back to the locals, whom they are training to grow their own food — a trade that had been lost over many years of civil war — so that they don't have to resort to diamond mining to live, according to Anderson. MiaDonna is also a certified B Corp. 
Another business that makes good on its promises of ethical and environmental soundness is Diamond Foundry, which is quickly making a name for itself as the gold standard of lab-grown diamond production. It's also one of the most famous companies in the lab-grown space because of its famous investor: the "Blood Diamond" star himself, Leonardo DiCaprio. Based in San Francisco and founded by engineers and scientists from MIT and Stanford, Diamond Foundry operates a vertically integrated lab and headquarters in SF and recently opened a second, hydro-powered lab in Washington State. They both house proprietary plasma reactors, in which the diamonds are grown.
"We start with a seed of a diamond inside the machine and the actual diamond grows layer by layer over time in these machines and that becomes the rough diamond. Then we polish and cut it," explains Mona Sadat Akhavi, a representative for the company. "We really pride ourselves in having a full supply chain from the moment the diamond starts growing, to the moment it's in the hands of the consumer. We actually manage and control the whole process. And that's why we can tell the customer that 'Our diamond's origin is absolute. You know exactly these diamonds came from America.'" Diamond Foundry also claims to be the only certified carbon neutral diamond lab.
While Diamond Foundry does sell its lab-grown diamonds and engagement rings directly to consumers, it also supplies them to outside retailers and collaborates with designers like Balmain, which partnered with Diamond Foundry for its Spring 2020 runway show. Diamond Foundry also supplies diamonds for Vrai, the Los Angeles-based direct-to-consumer jewelry brand it acquired in 2017.
Another growing direct-to-consumer fine jewelry brand using lab-grown diamonds is Antwerp, Belgium-based Kimai, which gained visibility thanks in part to being worn by influencers and celebrities including one Duchess of Sussex Meghan Markle. Founders Jessica Warch and Sidney Neuhaus both come from diamond trading families in Antwerp and saw lab-grown as a way to bring more transparency and inclusivity to the industry.
On Wednesday, another promising company threw its hat into the lab-grown diamond ring (see what I did there?). Great Heights is a direct-to-consumer, AI-based fine jewelry company founded by Alexander Weindling, a third-generation (mined) diamond merchant, and Ryan Bonifacino, a veteran of the DTC space who was once the acting CMO of Outdoor Voices. With branding by Red Antler featuring inclusive and ethical messaging and imagery starring real, diverse couples, Great Heights is positioning itself as the quintessential diamond company for conscious millennials — disrupting practically every old tradition that has dominated the mined industry. 
Great Heights, Diamond Foundry/Vrai and MiaDonna all focus on engagement rings, targeting millennial couples who are looking for a more affordable and/or ethical option, and for whom lab-grown doesn't carry the stigma it might for older generations.
"We have two different types of customers," says MiaDonna's Anderson. "We have that customer that is definitely looking for a savings. They don't want to spend an inflated amount on a diamond... And then we have the other consumer that's really looking for an environmental and humanitarian diamond."
Personalization is also a big part of the engagement ring buying process at Diamond Foundry and Great Heights, both of which have online engagement ring "builders" where you can essentially design your own ring.
While this may not have been the case in MiaDonna's early days, the various brand founders I spoke with now find it relatively easy to get consumers, at least millennial ones in the U.S., on board with the idea of lab-grown diamonds. A 2018 study found that 70% of millennials said they would consider buying a lab-grown diamond. And for those who are still skeptical, influencers and celebrities may be the path to further mainstream visibility and, thus, credibility. Meghan Markle and Emma Watson have both made it a point to wear ethical fashion labels for public appearances, perhaps more than any other celebrities, and both of them have worn lab-grown diamonds by Kimai. 
"We didn't have much funding to invest in marketing or branding, so Meghan Markle wearing this is really helped us get the word out there," says Warch. "It gives a lot of credibility, not only to our brand but also to the [lab-grown] industry."
Diamond Foundry has also placed its diamonds on the red carpet via A-listers like Drake, Reese Witherspoon, Julia Roberts and Kacey Musgraves, to name a few — none of which were paid placements, says Akhavi. "I think we're going to see a lot more sustainable luxury on the red carpet coming up in this award season," she predicts.
Diamond Foundry also sees its collaborations with other well-known brands and retailers like Balmain, Dover Street Market and Jennifer Fisher as helpful in mainstreaming lab-grown and in elevating its own brand above others in the space.
From the branding to the pricing to the promises of social and environmental responsibility, all the pieces seem to be in place for lab-grown diamonds to take a big chunk of market share from the mined industry, but the latter isn't giving up without a fight. 
"There's strong resistance to put it mildly," says Great Heights co-founder Weindling who, again, comes from a family of traditional diamond traders. "This is existential for them." 
Much of this resistance is led by the Diamond Producers Association (DPA), which counts seven diamond mining companies as members, representing 75% of the world's diamond production. In 2016, just as the lab-grown space was heating up, the DPA launched a global marketing campaign dubbed "Real is rare" to strengthen millennials' connections to mined diamonds.
"It's really about revitalizing the diamond story, and the diamond dream among the new customer of today," Kristina Buckley Kayel, managing director for North America, tells me. A couple of years ago, according to Kayel, the organization submitted an alert to the FTC "that there were consumer protection risks associated with the lack of clear terminology" around lab-grown diamonds. Last year, for the first time in decades, the FTC revised the rules in its Jewelry Guides with the requirement that lab-grown diamond companies may not use the term "diamond" to describe their product without some sort of modifier (like "lab-grown") to differentiate it from mined diamonds. Earlier this year, it sent warning letters to eight lab-grown diamond marketers who it felt were violating those rules.
Then, in August of this year, the DPA released Total Clarity, a first-of-its-kind extensive report produced in partnership with independent research company Trucost highlighting the ways in which the diamond mining industry has evolved in recent years to become more regulated, the positive socioeconomic impact it's had on mining communities ($16 billion of positive impact, it estimates), and its plans for a more environmentally friendly future. It reports that De Beers plans to establish the world's first carbon-neutral diamond mine in the next five to eight years, and its path to creating that mine would then be shared with all members. While the report as a whole could be a bit skewed in favor of diamond mining (the research was done by a third party, but the findings were presented by the DPA), it signals an important move towards transparency for an industry that has historically been shrouded in secrecy.
"There's a lot of outdated narratives, and misconceptions, and there's been tremendous progress in the modern diamond mining sector," says Kayel, who adds, "[Lab-grown companies] claim they're more ethical and eco-friendly, but if you scratch the surface, there's still many, many questions and little facts of transparency in that area."
The Total Clarity report also directly targets the lab-grown sector, claiming that the mining of natural diamonds emits three times less greenhouse gas than producing diamonds in a lab.
Weindling rebukes this. "Here's my favorite, that somehow mining diamonds consumes less energy or something than lab-grown diamonds, but they're not sure. But that's what they think. This is like a Trump tweet, you know?" he says. "They've got a lot more money than us and they spent a lot of it putting out this information about lab-grown diamonds."
Either way, asking questions about lab-grown companies' sustainability claims is valid. There are certainly some in the lab-grown diamond space not substantiating their "eco-friendly" claims publicly. Just because a diamond wasn't mined from the ground doesn't mean its production was harmless to the environment, given the amount of energy required to power these machines. While labs like Diamond Foundry are doing the due diligence to reduce and offset emissions, there are others who may not be. As the lab-grown industry continues to grow rapidly and brands work with outside contractors to source their diamonds, it could become even more difficult for brands to substantiate their eco-friendly claims.
Mined diamond companies abide by the Kimberley Process to ensure diamonds entering the market are conflict-free, but many feel it's insufficient. "If you're in a war zone, although your mine might not be conflict, there might not be a conflict in it, but it doesn't necessarily make it conflict-free if the diamond chain exchanges a lot of hands," notes Akhavi.
And then there's the question of value. While mined diamonds retain their value, some experts say lab-grown diamonds have no resale value as of yet. 
"The value proposition is very different," says Kayel. "Natural diamonds retain, and hold their value. They have enduring financial and emotional value over time. Whereas lab-grown diamonds, because they're being produced at scale, they're an industrial product, their value continues to drop."
"The price of lab-grown diamonds continues to drop, as the producers are able to make more of them faster and more cost effectively," confirms Gemological Science International (GSI) President and Co-Founder Debbie Azar. "As of now, there is no resale value for lab grown diamonds."
Those in the lab-grown industry unsurprisingly feel differently.
"The answer is no one knows yet," says Weindling, who argues that everyday mined diamonds don't retain much of their value either. "If you want an investment, call a stock broker."
Anderson agrees. "Whether mined or lab-grown, you calculate resale value the same way," she argues. "Unfortunately, there is a misunderstanding set forth by earth-mined diamond jewelers over the last 50 years, that your diamond can be resold for an amount equal to or greater than what was originally paid. Diamonds are not an investment. They are purchased for the love of the product, an emotional investment, an heirloom piece to pass down to future generations, not a monetary investment to be sold later."
In the end, both the lab-grown and mined industries have advanced to the point that neither will be disappearing anytime soon, and both parties can acknowledge that. 
"The mined diamond business will always be around and particularly the luxury brands," says Great Heights' Bonifacino. "We are not attempting to position this brand as high-end luxury."
"Our goal is to educate the younger generation, 13-to-40-year-old people," says Kimai's Warch. "I'm not going to educate people that have been around [mined diamonds] for years."
Even Kayel concedes that, "I think there is a place for lab-grown diamonds — it's fashion, or costume jewelry." Ultimately, it's about having a choice. De Beers even launched a line of lab-grown diamonds in addition to its mined options.
"I do feel there's a place for both," says Anderson. "I don't think people are going to stop buying the earth mined diamonds as well. I just feel like this is a diamond industry and now consumers have two different options that will represent who they are."
Take our sustainability queen Markle: While she may wear lab-grown bling, her engagement ring was made with mined diamonds: two from Princess Diana's personal collection and one from a mine in Botswana that is known to follow strict labor and environmental standards.
If you're a consumer trying to decide which way to go, the best advice is to do your research and ensure the diamond you're buying, wherever it grew, has third-party certification. But there's no denying that lab-grown diamonds have a bright future. 
"This is purely just the evolution of the diamond, because you think about businesses and societies, they evolve as we know better, and we have better technology," says Anderson. "So that's simply what's happening with the diamond."
With the lab-grown industry being pushed to substantiate its environmental claims and the mined industry being pushed to become more transparent when faced with competition, one could even argue that the battle between the two is actually pushing both industries forward, which ultimately benefits everyone.
Homepage photo: Courtesy of Diamond Foundry
Never miss the latest fashion industry news. Sign up for the Fashionista daily newsletter.