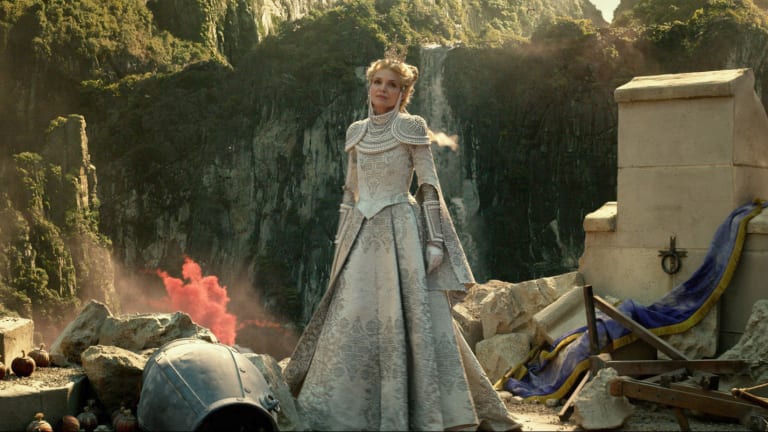 The 'Maleficent' Sequel's Battle Costumes Include 'Hundreds of Thousands' of Swarovski Gems
Plus, costume designer Ellen Mirojnick shares how she brought Elle Fanning's updated Sleeping Beauty dress to life.
Five years have passed — in real life and in the Moors — since we last saw sorceress fairy godmother Maleficent (Angelina Jolie) and her former curse target and now surrogate daughter Aurora (Elle Fanning) in the 2014 Disney hit "Maleficent." 
So, understandably, the much-anticipated followup, "Maleficent: Mistress of Evil," brings a few big-time changes: Aurora's all grown up and double royalty as Queen of the Moors; Ulsted, the then-burgeoning hometown of boyfriend Prince Phillip, is now a territorially greedy kingdom overseen by his imposing — and impeccably-accessorized — mother Queen Ingrith (Michelle Pfeiffer) and the titular star sports her majestic wings for the entirety of the movie, which posed an extra challenge for costume designer Ellen Mirojnick. ("Maleficent" was designed by Anna B. Sheppard.)
Mirojnick, whom we last spoke with for the also magical "The Greatest Showman," jumped on the phone with Fashionista to discuss the story-telling costume updates and behind-the-scenes fun facts for the trio of powerful leading ladies in "Maleficent: Mistress of Evil."
Related Articles:
Angelina Jolie and Elle Fanning Look Like Actual Royalty
What It Took to Turn Angelina Jolie Into Maleficent
'The Greatest Showman' Costume Designer on Dressing Zendaya and Michelle Williams for a Magical 'Fashion Editorial'
Maleficent (Angelina Jolie)
To reestablish Maleficent, Mirojnick introduces the spell-casting antihero in a reptilian collared (and horned) "bronze-y, ochre-y, taupe-y green" nature-referential ensemble, instead of aggressive black or red. "Because there isn't anything ominous that we wanted to telegraph," Mirojnick explains. "It was a friendly reminder: 'Remember Maleficent? Here she is again and everyone has grown.'" See, Mal is just misunderstood. 
Also, Maleficent has been reunited with her wings, which are CGI, but still involved prosthetic "nubs" and hidden harnesses for Mirojnick to design around starting from the inception. "'OK, I like this kind of dress, but now how do the wings fit?'" she explains. "And what do I have to remove or include? Or is it going to look silly if it looks like the dress is falling off?'"
Maleficent also spends a fair amount of time soaring through the skies. So for her gowns, Mirojnick selected soft, airy and fluid fabrications that could be layered for extra effect and dimension. "So they could flap, take flight and look really beautiful in the air. Don't forget: Leather doesn't fly," she adds. Even though most of Maleficent's ensembles may look opaque black, the gowns and capes are made from a spectrum of varying shades on top of each other. "Layers of silk, layers of chiffon, layers of different types of habotai or georgette.
The action and drama kicks off when Maleficent accompanies Aurora to meet the future in-laws — and she power dresses for the part. "It was queen meeting queen," explains Mirojnick, about the striking (if not threatening) all-black cape and gown with bird skulls lining the collar, the front of the dress and one lone embellishment on her horn-cap. 
"All of the accoutrements are a Maleficent language of accessories," the costume designer explains. Since she's deathly allergic to iron, all of Maleficent's accents are organic and made of natural gemstones. 
As expected, dinner involves a bit of tension. Maleficent, after an unintended dip in the rushing waters, ends up in the secret lair of her fellow Dark Fey, winged refugees from various communities within the fairy tale universe. Her dinner gown also goes through the ringer, emerging as a simulated bandage bodice and strategically tattered floor-dusting black skirt, which reveals Angie's right and left legs — setting off a costume evolution that wouldn't be out of place on an Angelina Jolie red carpet tour. 
"It felt organic to what would have happened because we did many practices with it," explains Mirojnick. 
The bandage dress evolves into Maleficent's "battle costume" (above) with a body makeup-reminiscent design. Mirojnick studied paintings of African tribes and their face and body painting rituals before going into combat for the crow-like, Rorschach-y pattern. "We asked the extraordinarily talented team at Ralph & Russo to develop a painting technique that could be applied onto a nude mesh," she explains. "The brush strokes that appear to feather on the costume was refined over a short amount of time. The floating skirt element of the costume is the final result of layers stripped away from the original dinner dress."
Aurora (Elle Fanning)
While her sometimes dark fairy godmother was reintroduced as a reminder of matriarchal love via costume, the now grown Aurora debuts as Queen of the Moors dressed for the role.
"The dress was inspired by nature, her environment and by what the fairies would make for her," explains Mirojnick, about the nature elements adorning the ethereal, soft blue and gossamery-y leaf-embroidered gown that honestly fits into next season's bridal gown trends — which also is pretty spot-on considering the plot. But most importantly: "It really had to be a fairy tale dress." 
So Mirojnick enlisted embroiderer Cathryn Avison from the get-go — first jointly looking through samples of her work and then illustrating Aurora's dream royal dress. Avison then took over to hand-embroider two versions of the blue gown, which was also an endeavor. She wasn't working off a bolt of original patterned fabric, like, for example, Hopper's obsessed-over original Hawaiian shirt in "Stranger Things 3," which was also a huge challenge. Therefore, replicating the exact positions of countless hand-embroidered finespun leaves proved quite a feat. "She is a master," says Mirojnick. 
The newly engaged Aurora makes her grand entrance into Ulsted castle wearing a pink collared and empire waist gown, which also brings Fanning's whimsical-cool Rodarte red carpet moments to mind. But the inspiration is even more straightforward. 
"[Fanning] said — I'll never forget this — 'Can I have the Sleeping Beauty dress?'" Mirojnick recalls, about the first fitting and character brainstorm with the young star.
However, the animated iconic off-the-shoulder white collared and pink tonal ballgown felt too "courtly" for that point in the movie — when free-spirited Moors-dwelling Aurora hadn't yet entered regimented and rarified Ulsted royal life just yet. So Mirojnick translated the white starched collar from the cartoons into a more "innocent" boatneck silhouette on soft rose pink and once again enlisted Avison's handiwork for delicately cut flowers sprinkled on the bodice and covering a spectacular cathedral train that needed way more screen time.
"If you looked at it, you would say, 'Oh those were laser-cut fabric,'" says Mirojnick. "Well, no it wasn't. It was hand-cut fabric. All flowered and so on and it trailed down the back and the overlay on net was all hand-embroidered flowers." (Psst: The live action update of the iconic Sleeping Beauty dress — or the top of it anyway — has a moment at the conclusion of the movie, so keep an eye out.)
Queen Ingrith (Michelle Pfeiffer)
"Queen Ingrith has come in and she wants it all," says Mirojnick, about the power hungry royal, who's really in charge over in Ulsted. Ingrith's killer walk-in closet and its contents reflecting the kingdom's colonization of neighboring villages — and the spoils. "She's a character about money, power and greed, so it was best represented through stuff." In other words, Ingrith wears her power and excess.
For the polite dinner party-turned-matriarchal face-off, Queen Ingrith is "decked out from head-to-toe" — from the bodice down the entire interior of the skirt — in near-blinding Swarovski gemstones. The concept of the bejeweled 17th century-inspired gown began before Pfeiffer was perfectly cast to play Ingrith. Mirojnick recalled a painting she saw in the past, which was maybe Dutch Baroque. "It had a bejeweled stomacher and [the image] stayed with me," she says. (Fashion history lesson from "The Favourite:" The stomacher is the decorated triangle piece on the bodice of a dress dating back to the 16th century.)
With the hand-done artistry of a professional costume jeweler on the team, the dress began as a gold pattern encrusted with colorful crystals inspired by the painting. "But it didn't work," Mirojnick explains. "So we took that apart and made it all crystal and platinum. We made the pattern very, very geometric and very precise. Because that's what she is: very precise."
So is Ingrith's battle gown, which, unlike Aurora's Rodarte-esque dress, does feature some contemporary style inspiration. Mirojnick, who's constantly soaking up costume references, remembered a recent fashion book in her collection. "I just went: pearls, pearls, pearls,'" the costume designer says. "She wears pearls in the beginning [of the movie]. I love pearls for her." The confirmation of Pfeiffer in the role finalized the decision. Plus, the "softness" gems balance out the "edge to diamonds," making an interesting alternative to traditional armor, which the extravagant Ingrith would never wear.
To create the opulent military armor effect, the also-Swarovski pearls are actually various tones of white and gray. Mirojnick also ingeniously designed the gem-encrusted protective gear as functional separates to wear over the custom-designed silver gown made in Italian fabric and also lined with delicate pearls. "She has gauntlets, her collar piece and her shoulder pieces, all of which are removable," explains the costume designer. 
Understandably, all of Ingrith's original couture-level gowns and accessories required a stunning amount of crystals and pearls. Mirojnick actually lost count, which is pretty apropos for Ingrith's character, too.
"We kept on ordering them week after week after week after week," she says. "Hundreds of thousands of pieces. Hundreds of thousands. I would love to know how much we ordered. There was excess."
Top photo: Courtesy of Disney
Never miss the latest fashion industry news. Sign up for the Fashionista daily newsletter.