Meghan Markle Wore a Thing: Aritiza Purple Dress Edition
The dress is currently available in black and is on sale for $50.
Ever since announcing her engagement to Prince Harry, the world's eyes have been fixed on Meghan Markle — and her style. We'll be following the Meghan Markle Effect™ with our column, "Meghan Markle Wore a Thing."
Meghan Markle, aka the Duchess of Sussex, had to relinquish many of her former freedoms and passions when she married into the royal family last spring. But there are a few things that the Duchess did not give up on, such as the charity One Young World, a U.K.-based not-for-profit organization that gathers young leaders from around the world to develop solutions to the world's most pressing issues. 
Last week, Buckingham Palace announced that One Young World had partnered with The Queen's Commonwealth Trust to bring 53 young leaders from across the Commonwealth to attend the #OYW2019 Summit in London. For the opening ceremony of the event, which was held Tuesday evening at the Royal Albert Hall, the Duchess chose to champion another pre-royal love: Aritzia. 
The Duchess has worn the Canadian label on many occasions and most recently sported an indigo button-front midi dress from the brand in Africa. For this particular event, the Duchess was clad in an açaí-colored, high-slight midi dress. Sadly, the $138 dress is already sold out online, but it is still available in black and it's on sale for only $50. She paired the reasonably-priced frock with navy blue suede pumps by Manolo Blahnik, which you can purchase for $625. 
See more things the Duchess of Sussex has worn in the gallery below: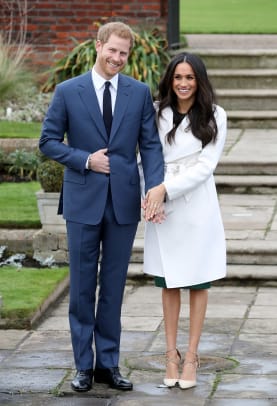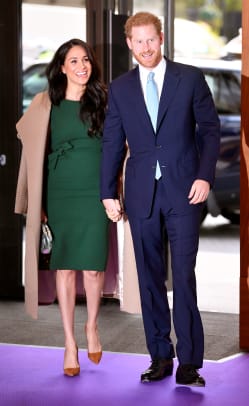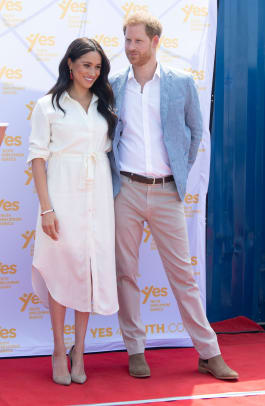 Please note: Occasionally, we use affiliate links on our site. This in no way affects our editorial decision-making.
Sign up for our daily newsletter and get the latest industry news in your inbox every day.