Meghan Markle Wore a Thing: White Shirt Dress in Africa Edition
The royals are nearing the end of their South Africa tour.
Ever since announcing her engagement to Prince Harry, the world's eyes have been fixed on Meghan Markle — and her style. We'll be following the Meghan Markle Effect™ with our column, "Meghan Markle Wore a Thing."
Duke, Prince Harry, and Duchess, Meghan Markle, of Sussex have reached the final day of their whirlwind tour of South Africa. For one of their last stops, the royals visited an organization called YES, or Youth Employment Services, in Johannesburg. The goal of the organization is to create jobs that keep young people from being "shut out of the economy." 
The Duchess wore a simple belted shirt dress by ethical local label Hannah Lavery that hit at mid-calf for the occasion. (According to reports on Twitter, the dress is currently available in stores and will be online soon.) With the sleeves rolled up and the top few buttons left open, the dress made for the perfect mix of professional — fitting for a job-creation organization — and unstuffy. 
The Duchess paired the look with nude pumps, a multi-colored beaded bracelet and a pair of reddish tasseled drop earrings by Madewell. (The earrings are currently sold out, but you can see similar ones here.) Meanwhile, the Duke went with a pair of khaki pants, a white button-up and a blue blazer paired with a brown belt and brown Chelsea boots. Here's hoping the royal couple get a bit of time to relax back home once their tour is officially over.
See more things the Duchess of Sussex has worn in the gallery below: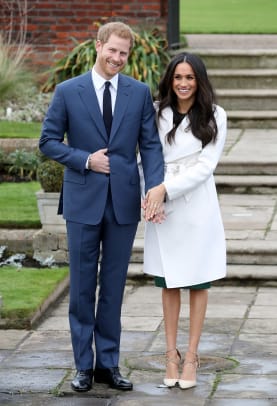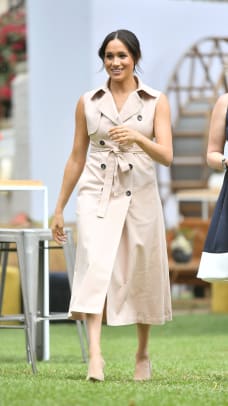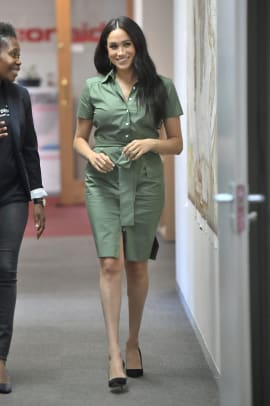 Stay current on the latest trends, news and people shaping the fashion industry. Sign up for our daily newsletter.