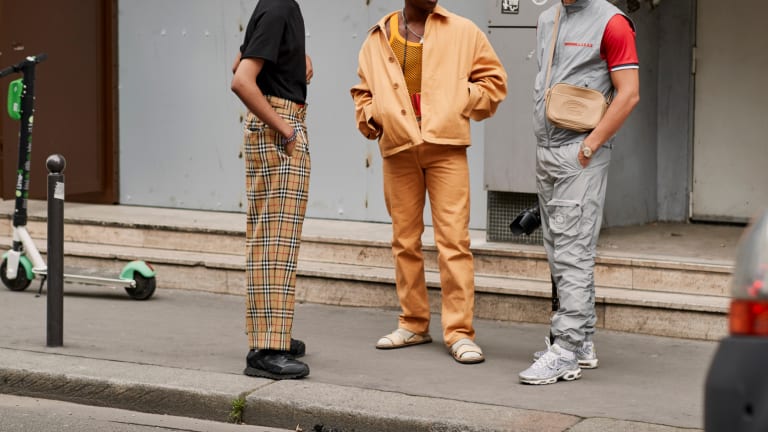 Experts on the Best Menswear Labels to Invest in Now (and Resell Later)
With archival designer clothing commanding staggeringly high prices on the secondary market, predicting which brands will pop off next isn't easy.
For a not-so-brief period in 2017, Kanye West memorably wore a camo Raf Simons bomber from the Belgian designer's 2001 "Riot Riot Riot" collection for several weeks straight. Shortly after, a version of the jacket sold for nearly $50K on Grailed. Simons's garments have long been some of the most sought-after pieces on the secondary market, where buyers collect rare men's clothing the way they might with baseball cards or comic books in an earlier era. 
The market for archival menswear has recently reached a critical mass. Archival designer clothing routinely resells for staggeringly high prices, yet which archival pieces command the highest prices sometimes seems completely arbitrary. Specific collections (see: Simons's "Riot Riot Riot") and specific pieces (see: most of the many, many leather jackets Hedi Slimane designed during his tenure at Dior Homme from 2001 to 2007) are consistently safe bets, but beyond a few telltale signs, sussing out what's worth what when it comes to sizing up the current market can be a complete crapshoot. Which under-appreciated designer pieces of today will carry the same cachet as the choicest Simons or Slimane grails in the resale market of tomorrow?
According to Lawrence Schlossman, the brand director at Grailed, archival clothing is particularly appealing now for two reasons. Firstly, the ease of online shopping (and the popularity of platforms like Grailed) means pieces that would've been nearly impossible to track down a decade ago have never been more readily available — to a point. "If you have $25,000, you can buy a Raf bomber," Schlossman says. "Maybe 10 years ago, while [that bomber] was much cheaper, it was also super hard to find."
Secondly, Schlossman notes, for a lot of archive enthusiasts today, there's no better way to differentiate themselves from the rest of the fashion flock than to buy a piece that's no longer in production, effectively ensuring they'll be one of a rarified few wearing it. Saving up to spend well over a G on, say, a Raf Simons sweatshirt from his seminal 2002 "Virginia Creeper" collection appeals to the type of person who wants to stand out from the pack. That type of enthusiast, Schlossman adds, "might share the general interests of collecting or clothing, but for the most part, they're not trying to wear stuff that everyone else is wearing. That's important to a lot of people."
Related Articles
A Deeper Look at the Difference Between Men's and Women's Resale
Here's How to Make a Living Off Resale Sites
The Next Generation of Menswear Designers Might Be on YouTube
Schlossman also refers to "flexing culture" and the proliferation of 'fit pics in describing social media's influence on how Cool Teens™ in particular dress today. "The most reductive take is: Who's wearing it on Instagram that I want to emulate? For the average kid, you're being exposed to culture through the lens of influential gatekeepers," he says. (Today, those gatekeepers largely tend to be connected to hip-hop in some capacity, which, as Schlossman points out, speaks to fashion's long-standing fetishization of street culture.) "Obviously Rocky rapping about shit, Kanye wearing stuff, Virgil shouting you out in an interview, moves the needle and especially moves the needle now, in 2019, more than it ever has before," he adds. "There's always going to be the kid that does the research, has the cool older brother, goes to the fucking rare bookstore and dives in themselves. But that's few and far between."
For Fernando Rangel, the 20-something founder of Silver League, an online outlet of carefully curated archival clothing that launched in 2018, the internet has played a pivotal role in making men's archival clothing more accessible. Rangel is popular on YouTube, where his videos frequently feature his latest pickups, including particularly rare pieces from Undercover, Number (N)ine, and Comme des Garçons. As the site has grown, Silver League has been hugely influential in introducing once-niche men's designer clothing to a younger generation of collectors. "Certainly, there are those who see a piece on a rapper or some celebrity and are attracted to it," Rangel concedes, citing the recent craze for (you guessed it) Raf Simons as an example. However, Rangel also notes the extensive backlog of runway images now available online as a resource for archive enthusiasts to reference, and emphasizes that many burgeoning collectors genuinely care about the stories behind their favorite pieces.
Rangel insists that specific designers stand the test of time in part because of the associations they develop with the subcultures that inspired them. Japanese designers like Takahiro Miyashita, whose beloved, now defunct label Number (N)ine heavily referenced the underground music scene, developed ardent cult followings for his cerebral, intricately-detailed interpretations of the classic subcultural silhouettes he and his followers were likely exposed to from an early age. (Miyashita's 2004 "Dream Baby Dream" collection, for example, included a tee printed with the logo of a fictional band called the Number Niners.) "A lot of Takahiro's work is memorable because of the music attached to it," Rangel says. "Art that references other art tends to provoke more long-term interest. There are people out there who sincerely care about these garments and the many different subcultures that influenced the designer's work."
No conversation on the current state of archival men's clothing would be complete without input from David Casavant. It was Casavant who initially lent the Raf Simons bomber to West in 2017, kicking off a craze on the secondary market for the designer's pieces that's yet to fully abate. Casavant's extensive collection of archival clothing is legendary, and he's widely credited with popularizing the earlier work of not only Simons, but Slimane and Helmut Lang, too. He was one of the first to appreciate the cultural significance of many of the pieces now added to his collection, and spent years sifting through the primordial digital ooze of the early internet to track them down. According to Casavant, their appeal is fairly straightforward: the work holds up. The designers he collects weren't focused on chasing trends. Their designs, Casavant notes, "came from a deeper place and a more insightful perspective that still speaks to us today." He also emphasizes that for many of the designers he collects, commercial success was not necessarily the be-all and end-all objective. He sees the pieces in his collection as prime examples of fashion as an art form.
For Casavant, these designers are iconoclasts willfully defying the fashion cycle's grueling demands for constant newness by adhering to their own set of signature aesthetic principles, lending their designs relevancy today. "When you think of the Rafs and the Hedis of the world, you have to realize that the reason they're so important now is because everything happening in contemporary fashion is extremely influenced by the work those guys did," says Schlossman. "So it's not so much that all this clothing is still wearable, which it is, but wearing it is a chance to own an artifact that's informed a generation of designers that have come after these guys."
For archive enthusiasts, splurging on an original piece, instead of buying something similarly inspired by the one they want, is akin to going straight to the source. "Raf has always been making streetwear pieces to some degree, whether that's hoodies or bomber jackets or T-shirts," Schlossman points out. "That's really important. That appeals to a lot of people more so than just getting some type of carbon copy that's been traced over and over again to get to whatever's on the shelf at your average retail locations."
It's funny to think of fashion fanatics buying up the likes of Fear of God in bulk 10, 20 years from now, firing off reviews on how ahead of its time the line was and how relevant the silhouettes still seem. But it doesn't feel entirely improbable that, say, Virgil Abloh's early designs for Louis Vuitton might experience a resurgence in demand in a decade or two, long after they were first sent down the runway. It's painful enough picturing a giddy Gen Z'er with a latent appreciation for peak 2010s streetwear geeking out over a luxe tracksuit in their size, let alone imagining designers from the fashion mainstream who were hastily dismissed in the moment one day informing the look of men around the world. (Cut to me, begrudgingly escorting my teenage child to the Costume Institute's 2050 blockbuster Philipp Plein retrospective before completely breaking down on the Met's steps and refusing to go inside.)
Will the elevated streetwear that represents a defining aesthetic of this decade eventually be rediscovered and repopularized by some prodigious group of wealthy cool-whisperers who grew up harboring a healthy disdain for the designers they associate with their parents? According to Schlossman, that reality is far from a given: "The 'capital F' fashion industry accepted streetwear because that's where it saw where the money was. If streetwear cycles back in 10 years from now then some of the originators, your Jerrys, your Virgils, the OGs of synthesizing these two worlds, then yes, their stuff will have value. The only way an Off-White piece is going to hold value, or appreciate in value, is if Virgil continues to be the culturally impactful person that he currently is."
Rangel is equally skeptical. "From a collector's point of view, the fundamental factor in selling what is categorized as 'archival' clothing is the sheer innovative nature of these designers," he points out. All of the designers selected for the Silver League site share a certain cultural significance. Rangel sees that their work is important and valuable because they cared deeply about their designs from the outset. That's not to say the work of contemporary designers will never appreciate in value, Rangel notes, but for that to happen, designers "really need to put something new on the table." They need to create not only a community but a "subcultural relevance."
Casavant is inclined to agree. He's not sure that in the off-chance any streetwear stalwart of today is somehow rediscovered and revived back into popularity — it'll be one we saw coming. Most brands that are currently popular, Casavant forecasts darkly, will likely go the way of Ed Hardy, and wearing the brand in a decade or so would call for the same sort of sardonic irony involved in rocking an Ed Hardy hat today (gulp). Although, Casavant recalls a time when his collection of Helmut Lang was almost viewed the same way: "Dated, irrelevant clothes that were a waste of money because they were by a designer in our recent past who had left the industry," he explains.
When it comes to predicting which pieces will pop off in the future, all three demur. (Although both Schlossman and Casavant mention the British wunderkind and industry darling Craig Green as one to watch). "I don't really believe in predicting the future," says Casavant. "I believe more in making it." He recommends that aspiring collectors should invest in what they like, and to hell with what anyone else says. "It's hard to say what will last and what the future holds," he admits. These days, he doesn't buy much in the way of new clothing. 
Schlossman likens blindly guessing which garms to buy to a gamble in the vein of any iffy investment. "It's just as much speculation as if you were investing in a fucking crypto or the stock market or commodities or whatever," he says. "If it was obvious, then me and you would've bought up Supreme box logos for a couple of hundred bucks as recently as, like, five years ago and would be sitting on a gold mine today. It's impossible to know for sure."
Homepage image: On the street at Paris Fashion Week Men's Spring 2020. Photo: Imaxtree
Sign up for our daily newsletter and get the latest industry news in your inbox every day.