There Was Something Sinister at the Edges of Miu Miu Spring 2020
What have these femme fatales been up to?
Miuccia Prada has long been inspired by femme fatales and the shapes of the '40s, especially when it comes to her younger line, Miu Miu. But for Spring 2020, she took things to a darker place; there was something slightly off about the heroines (or villains?) of this story.
First, the beauty: Eyes were rimmed with sloppy mascara, like it had been cried off, and the hair was styled and then matted down, as though it had been slept on. All the models sported wristbands bearing the Miu Miu logo, like the kind you might get backstage or at a music festival.
The clothes, too, had something off about them, whether it was sweaters gaping at the buttons, as though quickly thrown on, or skirts with ruffles pulled up at one knee. Rows of mismatched buttons were set off-kilter on oversized blazers; the colors were just slightly wrong, in sickly coral or an acidic teal. Even a floral print, used on lace-up boots and a coat, featured imperfections, as though hastily painted on, splatters and all.
But whatever these women were up to, they were wearing some pretty desirable pieces. There were platform wedges and boots set on top of carved wood, and the pinafore dresses are bound to be a hit for their versatility come spring. Bamboo wood details served as handles on bags or connective pieces on large pearl necklaces. There was excellent color and texture play of slick lace-up boots and ruffled silk skirts, and shiny vests with furry details at the sleeves are begging to be worn with spring's big denim and crochet pieces. Sometimes, being dangerous just feels good.
See every look from the collection in the gallery below.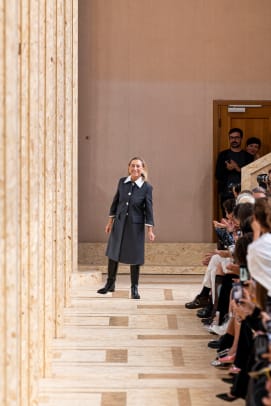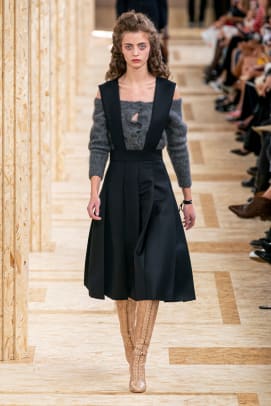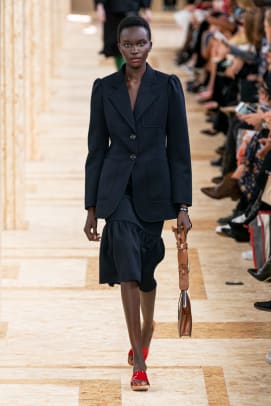 Never miss the latest fashion industry news. Sign up for the Fashionista daily newsletter.