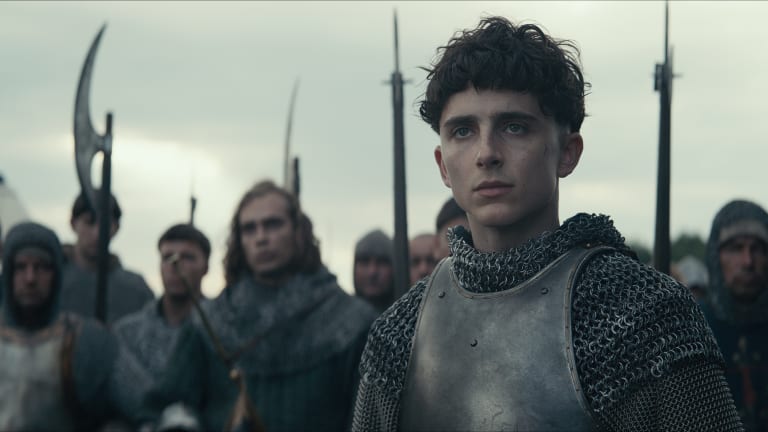 Timothée Chalamet Wears the 15th Century Version of a 'Cool Denim Jacket' and Real Armor in 'The King'
Costume designer Jane Petrie also discusses Lily-Rose Depp's sculptural headpiece and Robert Pattinson's sleek armor that gave him the "giggles."
Recently, portrayals of royal families — real or fantastical — include spectacular double-digit carat jewels and crowns, lavish gowns and all sorts of opulent finery. But Netflix's 15th century historical epic, "The King," starring our king Timothée Chalamet, remains steeped in gritty realism. Loosely based on a series of Shakespeare's work (and history), the movie follows medieval party bro Prince Hal (Chalamet) as he evolves into powerful King Henry V, while exploring contemporary, if not timeless, themes: coming of age, abuse of power, daddy issues and male toxicity. 
"We wanted to create a world that was raw, dirty and felt historically authentic, but also felt slightly otherworldly," explains director and co-writer David Michôd, in the production notes. 
So, for the period costumes, he looked to a designer whose resumé is stacked with projects rooted in realism from a spectrum of eras: Jane Petrie, who also won an Emmy for dressing British (and American) royalty, albeit hundreds of years later, in the swinging 1960s in the second season of "The Crown." Conveniently, she had just finished Chris Pine's 14th century Scotland-set "The Outlaw King," and reached an advanced level of period appropriate costume research. Petrie effortlessly progressed into 1413 England, roiled by civil war and conflict with France, and looked forward to revisiting intriguing costume ideas she wasn't able to use in her previous film.
When we first see a hungover Hal — still with his long, floppy curls — he's not wearing much (sorry, spoiler). But for an official court visit to his war-mongering father Henry IV (Ben Mendelsohn) and younger brother Thomas (Dean-Charles Chapman, a.k.a. Tommen Baratheon from "Game of Thrones"), he's layered up in a navy doublet and shirt. For the criss-cross, chevron-like motif, Petrie took inspiration from the wood frame architecture style of the Tudor period by production designer Fiona Crombie.
"I thought, 'That's brilliant. It's so textured, it looks like patchwork,'" says Petrie. The linear pattern is both authentic to the 15th century, but also resonates with the tastes of modern audiences. The zigzags remain a consistent theme throughout the film — keep an eye out for Sir John Falstaff's (Joel Edgerton) also Missoni-reminiscent prints — along with a consistent palette for each character. 
Hal's dark blue ensemble establishes not only his color theme, but also hints at his more bohemian and progressive leanings, as compared to his other male family members. Plus, it's true to the period. "It was indigo, which was available at the time, and had a feel of a cool denim jacket or something," explains Petrie. "It was washed through and all this texture allowed me to break down and make it look worn, as though it was something he went out in to party." 
Petrie designed Hal's costumes to progress through three periods: pre-King, King transition period (also when Chalamet's "anxiety-inducing" haircut happens) and full-on King. "I held onto those colors when we moved into the next period, but we cleaned it up and simplified it," she says. Petrie used the same shapes and silhouettes, like the doublets and mandarin collared linen shirts, but transitioned into solids and more regal details, like shearling lining during the middle arc. "You need to feel it's the same person. People don't change overnight."
An actual armorer, Nick Jeffries, "tapped away" at pieces of metal in his own workshop next to the costume department to create authentic suits of arms, worn for dialogue scenes, which were also duplicated into flexible polyurethane for action sequences. The chainmail, albeit made from a lighter metal for film, is legit, too. "The stuff that isn't real just doesn't hang properly," explains Petrie.
But even the rubber armor was arduous to wear for fight scenes, especially in the Hungarian summer heat. The actors were all game, though, especially since the extra effort added to their performances. But getting into the suits also proved an endeavor, usually requiring two dressers to help. "They were really quick — probably done in about 45 minutes," says Petrie, about Chalamet's daily routine.
Limothée shippers may need a moment when King Henry V meets his future wife Catherine of Valois (Lily-Rose Depp), especially when the two flex their fluent and steamy French conversational skills (and this image immediately pops into your head.) Reflecting the fashion of the era, Catherine wears her hair half-pulled back into a magnificent white headdress (or a "hennin"), which frames the actress's expressive eyes to emphasize her strong words to Henry — and fulfilled one of Petrie's longtime ambitions. 
"I've had a little personal project going on for years and years and years and I was waiting for those women to come into my life one day," explains the costume designer, who has been sculpting medieval headpieces with linen and wallpaper paste at home. Relieved that Michôd was open to the idea, which could be distracting if not done properly, Petrie enlisted a milliner to bring her DIY experiments to the screen. "She did exactly what was in my head," Petrie says.
Since the hennin is such a statement, the costume designer kept the rest of Catherine's outfit streamlined —  sort of. "I thought the best way to not steal from it and clutter it up was to keep the rest of the clothing just clean and simple, but for there to be a lot of it," she explains. "So the sleeves are huge and pooled into tiny, tiny little cartridge pleats on the cuff. We were just very plush with the amount of cloth, but we kept it to calm colors and calm shapes and not really any decoration on it at all."
Related Articles:
The 'Downton Abbey' Costumes Include Mary's Custom Gowns, Edith's Perfect Vintage and Violet's 16.5 Carat Tiara
The 'Ready or Not' Wedding Dress Was Inspired by Commoners-Turned-Royals Kate Middleton and Grace Kelly
The Costumes in the Live Action 'Aladdin' Include Authentic Middle Eastern References and Modern Day Streetwear Influences
Henry V's dilettante nemesis, The Dauphin (Robert Pattinson) also awaits a meeting with the young king over in France. In comparison to his adversary's rugged chainmail and armor, The Dauphin's matte black and gilded metal suiting and luxurious gold embroidered silk layers almost make him come across like a medieval glam rock vampire. But the subtle realism pulls audiences back into the movie's world.
"If you look at the pattern on the armor, it looks like medieval architecture," says Petrie, about the chevron graphics, continuing the through-line from Hal's denim-like doublet. The pattern was first carved into the metal and then filled in with gold paint, offering modern, contemporary detail to the authentic 15th century armor design. Combined with Pattinson's performance, the whole decadent package also brings some comic relief to the battle-worn scenes.
"I suppose you could say we camped it up, but it wasn't so much camp," says Petrie. "He was more louche." Honestly, Pattinson seems like he's having the best time ever, with his sleek armor and long beachy waves while delivering French-accented burns to a bowl-cut Hank.
"When you're fitting [Pattinson], he really giggles," laughs Petrie. "He had a really good chuckle to himself as it all came together. I could see that he was really thinking, 'ok, let's take this a bit further. Let's push it a bit.'"
'The King' opens in select theaters on Friday, Oct. 11 and streams on Netflix on Friday, Nov. 1.
Top and homepage photo: Courtesy of Netflix
Never miss the latest fashion industry news. Sign up for the Fashionista daily newsletter.