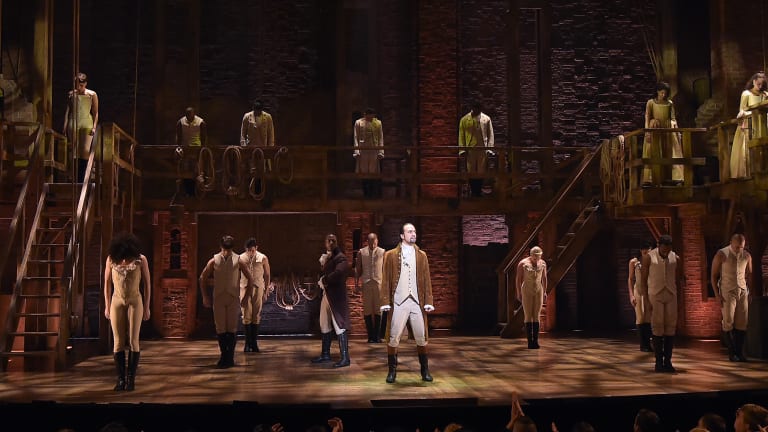 Paul Tazewell Tracks His Career From Midwestern Theater Student to Costume Designer for 'Hamilton' and 'Harriet'
The Emmy and Tony winner also shares how he created storytelling costumes for powerhouse Cynthia Erivo in the Harriet Tubman biopic.
In our long-running series "How I'm Making It," we talk to people making a living in the fashion and beauty industries about how they broke in and found success.
If Paul Tazewell wasn't a prolific stage, film and television costume designer (you may have heard of a little musical called "Hamilton"?), he'd consider being a psychologist. That's an idea the Tony and Emmy winner has "toyed with," anyway. Both professions do have a crucial aspect in common.
"I analyze people and I analyze characters to understand what they are going to wear. It's a specific exercise," Tazewell says while on a brief break from one of his many ongoing projects. (The national treasure is also cherished for his exceptional multitasking skills and enthusiasm for assisting remotely — as documented on Lin-Manuel Miranda's Twitter.) 
Tazewell's ingenious and near-scientific approach is essentially an equivalent of a doctorate-level-status in costume design. After all, four Helen Hayes and two Lucille Lortel Awards also sit alongside his aforementioned Emmy for "The Wiz Live!" and the Tony for, of course, the Pulitzer-winning "Hamilton."
Tazewell's love of the theater began in his youth in Akron, Ohio, where he both acted in and designed costumes for high school productions. After graduating, he moved to New York to study fashion design at Pratt Institute out of practicality, or, as he says, "a fallback scenario." But, along with experiencing a bit of culture shock, Tazewell felt dissatisfied with the lack of freedom to be imaginative and experimental in fashion during the early '80s. So he decided to make the jump and pursue his true passion.
Related Articles:
The Costumes in the John Legend-Starring 'Jesus Christ Superstar Live!' Reference Rick Owens and Issey Miyake
The Unsung Challenges of Contemporary Costume Design
How Mary Zophres Went From Unpaid Intern to Designing for Emma Stone and Ryan Gosling Three-Times
"I [realized] I would be able to express myself creatively and be much more expansive through theater," he says, about transferring to North Carolina School of the Arts as a sophomore. "I found a home in theater, which was really my original intent." Tazewell initially double-majored in performance and costume design, but narrowed his focus to the latter to graduate with a B.F.A. in 1986. He then returned to New York to earn an M.F.A. in costume design from N.Y.U.'s Tisch School of the Arts.
After thinking a moment on what he considers his big break, Tazewell lands on his experience at the lauded Arena Stage, in Washington, D.C., where he worked from 1990 to 1997. "It provided a creative home where I could really hone my talent as a professional," he says. Tazewell credits the theater's top-notch resources for the opportunity to practice and sharpen his skills, express his creative vision and collaborate with acclaimed actors, directors, writers and backstage craftspeople. Tazewell hit the ground running at Arena Stage; receiving his first (of 13, snap) Helen Hayes Awards nominations a year in and his first win in '93 for "The African Company Presents Richard III."
In 1996, George C. Wolfe, playwright, director and Artistic Director of New York's cutting-edge The Public Theater, tapped Tazewell to costume design his innovative and thought-provoking "Bring in 'Da Noise, Bring in 'Da Funk." 
"[Wolfe] at some point heard word of me," says Tazewell, ever so modestly. Through tap dance choreography by Savion Glover, the musical revue told the story of African-American history from slavery through the Black Power movement to contemporary times.
"That was my first nationally visible production and my first Broadway show," the costume designer says about "Noise," which won a total of four Tonys and received five more nominations, including Tazewell's first (of six). "Then that set me on my way."
Over the course of his 25-year-strong (and going) career, Tazewell has been sought after by influential writers and directors to contribute his costume design ingenuity to critically acclaimed and groundbreaking projects. He's also established a strong commitment to applying his distinctive design approach to socio-culturally impactful and influential works that tell essential African American stories — which, as we know, aren't explored enough in our history books — and celebrate writers, directors and casts of diverse backgrounds.
"It happened kind of accidentally, but it also makes perfect sense for who I am and how I see people," Tazewell says. He hopes his artistic expression through costume design continues to help tell stories that provoke thought and disseminate "the importance of humanity, of people and of how stories affect people." 
"Or bring joy at the very least," he adds. "That's always been important and a part of me. I know that my race — and my personality — invite other artists and producers to ask me to be on a particular show." 
Ever curious and challenging himself to expand his "visual expressions," Tazewell applies his skills and talents to all mediums: stage, television and film — and, as he aspires, projects beyond costume design. "For me, it's more about not locking down my expectations, but, quite the opposite, and going as far as I can with what I do — what I love to do — where my life passion is," he says. "If I have an ability and talent to make the most of it, [I want] to be able to express it in many different ways and hopefully tell stories that make a difference to people, people's lives and how they see living."
Starting with stage, a scroll through Tazewell's portfolio shows an extensive and ever growing list, including his five other Tony-nominated outings: 2005's Oprah Winfrey-produced "The Color Purple," 2008's Miranda-written "In the Heights," 2009's "Memphis: a New Musical," the 2012 revival of "A Streetcar Named Desire," and this year's "Ain't Too Proud — The Life and Times of the Temptations."
His television projects include two of Wolfe's productions for HBO: the '60s New York-set "Lackawanna Blues" and the Winfrey-starring "The Immortal Life of Henrietta Lacks," about the African-American cancer patient whose cell samples were taken without consent in 1951 to be used for crucial cancer research still ongoing today. Tazewell also merged his stage- and TV-design skills — and quick-change brilliance — for musical performance broadcasts of "The Wiz Live!" and the contemporary reimagining of biblical times in "Jesus Christ Superstar Live!" (above), for which he received his second Emmy nod.
For the big screen, Tazewell just wrapped Steven Spielberg's much-anticipated "Westside Story" and "Harriet," the Harriet Tubman biopic, starring powerhouse Cynthia Erivo, which hits theaters on November 1. Considering that the two are such Broadway heavyweights, it's kind of a surprise it took film to bring Tazewell and Erivo together. 
"This is the first time that I've actually dressed her," he says. "It was quite an honor." 
Researching with "Harriet" director Kasi Lemmons, Tazewell studied archival images and official portraits of Tubman, who stood at five feet and two inches tall. "What became important was to see the power of this woman and, in some ways, the super humanness of this tiny woman and figure out how to represent her within this story," Tazewell explains, giving viewers a peek into his process.
The movie begins depicting Tubman's harrowing escape from slavery as a teen and her risk-filled journey to freedom in Philadelphia, bustling with free Black Americans and a growing abolitionist movement. Her dress, worn from working the fields on a Maryland farm, grows increasingly tattered to illustrate the grueling physicality and emotional toll of her 90-mile journey on foot. Free and working a paying job in Philadelphia, Tubman transitions into a wardrobe fitting her new surroundings, including a blue floral-printed and lace-trimmed neckline dress, inspired by a rare portrait of Tubman as a young woman. 
"I found a photo of her, at the Smithsonian, that's less solemn and serious," says Tazewell. "She is in a dark blouse and a checked skirt and you look at that and you realize: obviously this was a woman who had the desire to have some style and present herself as we all would."
Tubman realizes her higher calling and begins her first of 13 courageous trips back to the South to eventually liberate approximately 70 slaves, including her family members. Known as the mythical "Moses," she needs to hide in plain sight on her perilous missions. "This woman was a shapeshifter and takes on disguises in order to become a chameleon within the world of going back to the south and then bringing slaves up to freedom," explains Tazewell. 
So he created a series of of rescue ensembles, from a lace-collared and pleat-front city dress to rugged men's duster coats and breeches to a superhero-like caped Union Army uniform (above). As a scout and spy during the Civil War, Tubman became the first woman to lead an armed expedition to rescue 700 slaves from South Carolina plantations during the raid on Combahee Ferry. 
"I've created an arc with the design that starts from a very humble beginning, obviously, as a slave, but then creates this super human persona — that she becomes a Superwoman," he says.
Erivo is garnering major Academy Award buzz, which would make her the youngest EGOT title-holder; Tazewell already has that E and T, just saying. (Could we just switch out the Helen Hayes and Lucille Lortel trophies for a G?) Witnessing Tazewell's thought process and analytical approach to character development through his costume design is a thrilling and thought-provoking experience. But behind his academically inquisitive method lies one fundamental principle, which the former Associate Professor of Costume Design at Carnegie Mellon also shares as advice to aspiring costume designers.
"Keep your eyes and heart open," Tazewell says. "Understand the power of storytelling and how clothes help tell stories."
Top photo of Lin-Manuel Miranda and cast of 'Hamilton' during the 2016 Grammy Awards: Theo Wargo/Getty Images
Never miss the latest fashion industry news. Sign up for the Fashionista daily newsletter.