Reformation and New Balance Collaborate on the Sports Brand's Most Sustainable Sneakers Yet
And Reformation's first sneakers ever.
Another brand has thrown its hat into the ring in the stylish, sustainable sneaker space — well, two brands, technically: Reformation, the Los Angeles womenswear label that made sustainability sexy, and New Balance, the Boston sports label that made dad sneakers that became sexy. 
For their collaboration, the waitlist for which goes live Thursday, Reformation "reinvented" New Balance's 574 and X 90 styles, dressing them up in exclusive colorways and using more sustainable materials and production methods than what is typical for New Balance. Those materials include: post-consumer recycled polyester in the linings, laces and labels, chrome-free suede and soy-based inks for the printing. The inserts are made from a combination of EVA foam and BLOOM algae. While EVA foam is very commonly used in sneakers, BLOOM is a more environmentally friendly form of foam made from algae that purportedly actually helps clean the environment while reducing the amount of fossil fuels traditionally used in shoe manufacturing. 
Reformation also worked with a tannery that uses a chrome-free tanning method to eliminate the substance (which can become carcinogenic if handled improperly) and has Gold Leather Working Group status. Prices range from $80-$110. While you can waitlist them now, they'll be available for purchase on Oct. 10.
In the event that you're done with the shoes, you can send them back to Reformation via its RefRecycling program, which allows users to see where their donations are going via an online dashboard. "The clothing, shoes and related materials that are collected through RefRecycling are destined for reuse to over 50 countries," said a rep for the brand. 
"At Reformation, our mission is to bring sustainable fashion to everyone. Part of that is continuing to innovate across categories and partner with brands to offer consumers more sustainable product choices," Reformation Founder & CEO Yael Aflalo wrote it an email. "We're just getting started in the shoe category – our first collection of Ref Shoes launched in May — so we wanted to work with a partner that was awesome at sneaker design." 
Reformation is no doubt in expansion mode after a recent acquisition, and while its existing footwear is more in the slinky-sandal realm, it's easy to see the same customer reaching for these on days that call for sneakers. And with New Balance joining the ethical production conversation, and seemingly reversing its once-positive stance on Trump, perhaps it will win back a few more leftists who hadn't forgiven the brand's comments on the latter back in 2016. As for whether this collaboration might continue, Aflalo says she'll be waiting to see how customers respond.
Of course, for shoppers looking for sustainably made sneakers, this is far from the only option. There are companies that have built brands around this like Allbirds and Veja, and others who have gotten on board more recently like Everlane and Adidas. Still, they all have varied aesthetics and approaches (you can read more about the latter two here), ensuring that more consumers can now find a sneaker that aligns with both their style and standards when it comes to sustainability. That is, if they're not sticking with the most sustainable principle of all, which is to wear what you already own rather than buying anything new. 
See Reformation's sneaker collection in collaboration with New Balance in the gallery below.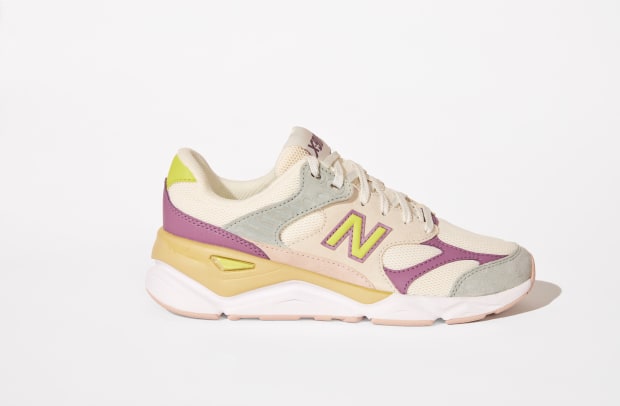 Never miss the latest fashion industry news. Sign up for the Fashionista daily newsletter.