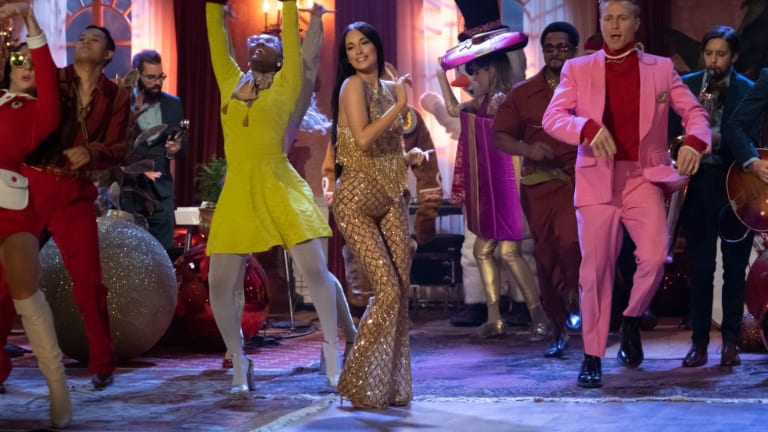 'The Kacey Musgraves Christmas Show' Is a 'Wes Anderson-Meets-Gucci-Meets-Cher' Fashion Spectacular
The six-time Grammy winner and her stylist Erica Cloud share behind-the-scenes style moments in the new Amazon program.
After coming off a year filled with four Grammy wins, double Country Music Awards honors and sold-out shows for her "Golden Hour" tour (nevermind absolutely nailing the tricky 2019 Met Gala theme, killing us dead with another live duet with Harry Styles and supporting small, family-owned businesses), Kacey Musgraves found the time to give us the best present ever: a holiday special.
"In the middle of making it all, I've been like, 'What the fuck am I doing? I need this to be over right now,'" Musgraves joked to a group of reporters (and super-fans) at the New York premiere of "The Kacey Musgraves Christmas Show," streaming on Amazon this Friday, Nov. 29. "It's been a very long process, but I got really inspired by it. In my mind, I pictured this Wes Anderson-meets-Gucci-meets-Cher-meets-a live theater production."
Musgraves released and toured to support her 2016 holiday album, "A Very Kacey Christmas," but she wanted to take the concept to the next level this time — while revisiting the nostalgia of holiday shows past. Last year, while on the road during the "Golden Hour" tour, Musgraves and longtime band leader Kyle Ryan came up with the initial idea.
"What if we create a Christmas old-school TV special, à la the 'Judy Garland Show' or 'The [Sonny and] Cher Show'?" she explained, also low-key referencing legendary designer Bob Mackie, who designed costumes for both of those variety series. "Where there's freeform, comedy bits, pretty sets, little vignettes and the music flows throughout with a live band." 
After Amazon gave the go-ahead and free creative license ("basically the keys to my dream"), she assembled an eclectic and ultra-talented group of friends to appear, including Musgraves's very own Nana, narrator Dan Levy, Camila Cabello, Troye Sivan, Leon Bridges, the Radio City Rockettes and Kendall Jenner, who — no spoilers — impresses with comedic timing during an homage to a cinematic classic of the season.
"We just asked and she was down to be a part of it," explained Musgraves, who also just brought mutual friend Gigi Hadid as her date to the CMAs. "I love the idea of having people from all walks of life, all different talents."
The superstar also enlisted friend and longtime stylist Erica Cloud to help bring her fashion fever-dream of a holiday vision to life. "We both have very similar taste in a lot of ways and, so when you say, 'Christmas,' our brains think exactly the same," said Musgraves, while nodding toward Cloud, who was on hand with her glam-team Giovanni Delgado and Moani Li. "The Christmas aesthetic can go many different directions, so it was important for it to give a nod to the past, but not be cheesy."

Musgraves changes costumes for specific numbers throughout, but spends a fair amount of time hosting in a sartorially festive, silver ruffle-trimmed dress by The Vampire's Wife. "[The special] was all about past-meets-present-and-future, and [designer] Susie Cave does that perfect dress silhouette," explained Cloud. She accessorized the look with matching strappy heels, which Musgraves doesn't wear the entire time, either.
"We had to be realistic, too, because I was literally on my feet for 16-hour days sometimes," said Musgraves, as Cloud interjected, "Sorry," adding, "I tried to get you comfortable shoes... "
"They were, but not for that long!" Musgraves responded, with a laugh.
Cloud also adds "vintage" to the list of aesthetic inspirations, especially for Musgraves's opening rendition of "Let It Snow" with James Corden — not in cat costume — also featuring the star's pretty deft physical comedy skills. The '70s-vibe of her actual vintage sheer puff-sleeve jumpsuit and crystal-embellished vest "tonally" fit the throwback feel of the living room set.
"We added the Gucci little crystal bow to it," said Cloud of the contemporary, high-fashion accent at the waistline. "We went classic there, but we tried to go on both ends of the spectrum." 
Related Articles:
Kacey Musgraves Puts a Fresh Spin on Winter Whites in David Koma
With Vintage Style and a Love for High Fashion, Kacey Musgraves Is a Different Kind of Country Star
Bob Mackie on 'The Cher Show' Costumes and His 50-Plus Year Collaboration With the Superstar
Cloud also pulled a beautiful vintage Western shirt and trouser set emblazoned with rhinestone-embellished music notes (above) for Grammy winner Leon Bridges — next to a cozy fire in the library. "He's just incredible because he wears vintage, but makes it so modern — kind of like his music," said the stylist. "You feel like you've heard this song before, but you haven't because it's [done in a] new [way]."
"I'm a triple threat," Musgraves joked while greeting the audience before the screening. Because she also flexes her comedy talents, notably in her bit with Fred Armisen, while dressed in another hallowed holiday tradition: the "ugly sweater." But since this is a Musgraves x Cloud production, her oversize knit is accented with glitter sneakers — also giving her feet a break. But, the choice of functional footwear speaks to the storyline, too. 
"We wanted to keep it a little Wes Anderson funky, which is why we did the tights," explained Cloud. "But also, Nana's in [the show] and Nana wears her sparkly Jimmy Choo sneakers that Kacey got her. So that's why Kacey's wearing those."
Musgraves puts her own twist on an eclectic range of classic songs — from "Rockin' Around the Christmas Tree" with Cabello to Bing Crosby's ode to the season, Hawaiian style, "Mele Kalikimaka" with Zooey Deschanel — but she also debuts an original tune for the special and accompanying album. 
"There's a little dip of sadness in the show because I also feel like the holidays aren't always happy and consumerism makes you feel like you should be and that's not always possible," said Musgraves. "So I wrote a new song that I'm singing with Troye Sivan, called 'Glittery.'" 
Although, the pretty pink and sparkle-filled room feels quite upbeat and festive — and the duo's glimmering Gucci Spring 2017 looks really lean into glamour. "We just went literal," admitted Cloud. "He also has a suit from the women's collection on, which I loved. Suits are for everyone."
Musgraves also dons a double-dose of Giambattista Valli, including her very holiday-appropriate bold red high-low gown (second from top) with a train of billowing ruffles. "I just liked that she looked like a present," said Cloud. "It was so grand — and it has a huge train — and she's got it coming down a huge staircase. I thought it was an amazing way to open up on that scene."
Musgraves also wears a floral and feather-trimmed robe over a matching mock-neck dress from the designer for a stripped down, acoustic version of "Christmas Makes Me Cry," from her earlier holiday album. "[The scene is] set in a bedroom, so it's boudoir-meets-old-school country: a little Loretta Lynn," said Cloud. "It was just so much of who Kacey is. She loves high fashion, but she also really, really loves paying tribute to the past."
Speaking of, the Cher inspiration is pretty apparent in the blow-out finale number, backed by very Wes Anderson-esque dancers. Musgraves wears a custom-built, geometric patterned and crystal- and feather-embellished illusion jumpsuit (top), which is guaranteed to convince the Grinch-iest to embrace the holiday spirit. 
"It has so much movement to it," said Cloud. "It was like the confetti at the end. The champagne toast is what she looked like."
Friiend and fashion buff Levy didn't need any nudge to join the festivities. He jumped right in — or more specifically, into his green elf outfit accessorized with a matching hat, red and white stripe tights and fuzzy buckle shoes. A far cry from the Rick Owens and Margiela that he regularly wears on "Schitt's Creek."
"It's so funny. I had other suits for him, like proper clothes, and he went with the elf costume," laughed Cloud. "Actually, the other costumer had pulled the [elf] costume because she was doing the backup dancers and he committed. He really committed to character."
Top photo: Anne Marie Fox/Courtesy of Amazon Studios
Never miss the latest fashion industry news. Sign up for the Fashionista daily newsletter.