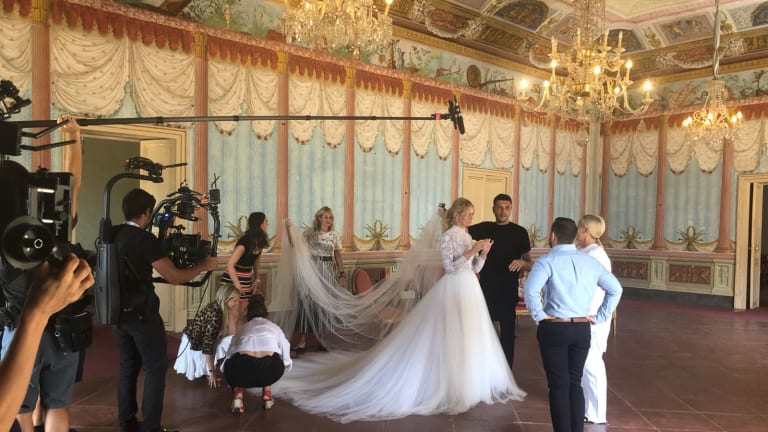 A Review of 'Chiara Ferragni: Unposted' by a Chiara Ferragni Superfan
The documentary hints at a veil between the public-facing persona and the private individual behind the Instagram.
This is precisely how influential Chiara Ferragni is, at least to me: The opening of her documentary, "Chiara Ferragni: Unposted" sees the Italian mega-influencer returning to a tattoo parlor to have her nipple pierced. As it's happening — Ferragni talking herself through the pain, even while she grimaces against the sharp sting of metal through skin — I found myself, a noted baby with a fear of needles, thinking, "Do I need to get my nipple pierced?"
As someone who works in fashion, it is pretty much a part of my job to, at the very least, be aware of what influencers are doing, which is why I follow many of them from my personal Instagram. I've interviewed them about brand launches, I've covered their businesses, I've even defended them right here on Al Gore's Internet; all of this is to say, I know how the proverbial sausage gets made. 
And yet, at some point between her very public engagement to Fedez and the birth of their son Leone, I crossed over from being a neutral observer of Ferragni to a full-blown fan. I spent the day of her wedding on my couch, obsessively refreshing her social media channels and checking in on people I knew were attending to follow along with every custom designer dress and every Instagram-worthy moment of the night — for work, I justified to my boyfriend, but also because I felt personally invested in their nuptials. I wept at their vows even though I don't understand one word of Italian. (Yes, I did go on to download Duolingo to better understand Fedez's Instagram stories. No, I did not stick with it long enough to learn anything beyond, "Io sono una donna.")
Related Stories:
How I Shop: Chiara Ferragni
The Most Extravagant, Instagram-Worthy Moments at #TheFerragnez Wedding
Is It Possible to Become a Mega-Influencer Anymore?
I'd be hard pressed to explain just why I feel so connected to Ferragni, which is why I was thrilled to hear that she'd be the focus of a documentary. I hoped perhaps it would shed some light on my own fandom, that it would unveil some side of Ferragni I had subconsciously connected with. I wouldn't say I walked away from "Chiara Ferragni: Unposted" with what I was looking for — but maybe that's not a bad thing. 
Director Elisa Amoruso spends a lot of time explaining both Ferragni herself and the concept of influencers in general; designers like Alberta Ferretti, Jeremy Scott, Sylvia Venturini Fendi and Maria Grazia Chiuri weigh in on Ferragni while insiders like Stefano Tonchi, Derek Blasberg and Eva Chen discuss how social media has changed the industry. Numbers are tossed around about how her wedding earned more media value than that of Prince Harry and Meghan Markle, that Chiara Ferragni Collection raked in 40 million euros, that she scored 30,000 visitors in her first month blogging at The Blonde Salad. It seems almost unnecessary, if you consider that the target audience for this documentary is likely a group already familiar with her impact. 
But an undercurrent of "Chiara Ferragni: Unposted" is Ferragni's own near-insatiable drive to prove herself in a field which always underrated her. She talks about how she encountered her very first haters on Flickr, how she could hear people talking about her at her first fashion events, saying that she wouldn't last six months. (Surprisingly, none of those people were interviewed for this movie.) She says she often dreams of falling into the void, waking up just before she hits ground, a symptom of her fear that she won't leave a mark at the end of her time on earth. 
I was impressed at what a shrewd business woman Ferragni appears to be throughout the documentary. It would be easy for someone in her position to delegate decisions to others and merely slap her name on a product. Instead, she points out spikes in sales and notes that they happened in months where she promoted Chiara Ferragni Collection on her own Instagram page; in one meeting, she requests that samples be made in her size, so she can try everything on herself. A recurring theme in "Chiara Ferragni: Unposted" is the struggle of being a woman at the top, underscored in a (truthfully, somewhat contrived-feeling) conversation she has with Diane von Furstenberg. 
The better part of the movie is the back half, which gets more into Ferragni's personal life. It details her relationship with her sisters, the difficulty she faced in the wake of her parents' divorce. She and Fedez openly discuss why they share photos and videos of their son Leo on their social media; he emphasizes that they have never used him commercially, and that being in control of their own narrative is a salve against aggressive paparazzi. Ferragni confesses that she doesn't feel guilty about traveling for work, because she wants to be an example of a mother who desires to always be with her son but isn't forced to do so. 
Still, it was frustrating to circle so close to interesting, truly "unposted" things from Ferragni's life without unpacking them. The movie discusses the fact that Riccardo Pozzoli, Ferragni's ex-boyfriend who often photographed her at the beginning and helped her build The Blonde Salad, attempted to sell his shares of the company behind her back just days before she would give birth to her son Leo, a move which would have effectually sold the company out from under her. But beyond a few terse words from Ferragni, the film doesn't try and parse what it means to launch something of this magnitude with an ex-boyfriend or what this betrayal meant to her. In one scene, Fedez proposes that when he finishes touring, the two of them could buy a house in Los Angeles where they could live for a year or two while taking a sabbatical from work engagements. Ferragni politely skirts the issue, but it is never discussed what challenges they face raising a family between their busy schedules.
Which is a shame, because some of the loveliest points of the documentary are the most personal ones. There is a moment during a fitting of Ferragni's Dior wedding gown, with a breeze coming through a nearby window, which makes her look like a fairy princess. Childhood footage — which is interspersed throughout movie — of Ferragni rolling down a hill with her dad is spliced together with that of him walking her down the aisle. Ferragni discusses her decision to share with her followers that she had a scare during the later part of her pregnancy, involving placenta issues which affected the growth of her baby, and she weeps thinking about the response that she got from her followers. 
The most vulnerable moment comes at the end. Ferragni talks about "The Chiara I would like to be," a mantra which guides her decisions. She chokes up admitting that sometimes she has a hard time being fully present in the things happening to her — "Sometimes when things are going well, you get scared," she admits, owning up to feelings that it could all be taken away from her. 
But she also confesses that, despite the ubiquitousness of social media, she knows she doesn't have to share everything; it's her who is in control, who chooses what to share and what to keep private. "Chiara Ferragni: Unposted" is an hour-and-a-half-long exercise in that delicate balance. At one point, filmmaker Francesco Vezzoli calls Ferragni a mix between Marina Abramovic and "Big Brother" — "a concept." She is, in essence, performing her life for a public audience while still maintaining a veil of privacy. There's something respectable in that control. 
So it's true that perhaps I didn't finish "Chiara Ferragni: Unposted" with a sense of who Chiara Ferragni is behind the Instagram, but it almost doesn't matter. I have a deeper admiration for what she has built and for what she represents, for her ability to shamelessly embrace all sides of herself in the face of criticism and against a society which says women aren't allowed to be sexual and be a mother, to be ambitious and raise a family, to be interested in fashion and to also be intelligent. There was a lot I felt influenced to do and to become after watching the documentary — though, I suspect my mom will be relieved to hear that nipple piercing ultimately didn't make the list.
Want the latest fashion industry news first? Sign up for our daily newsletter.
Homepage Photo: Courtesy of Amazon