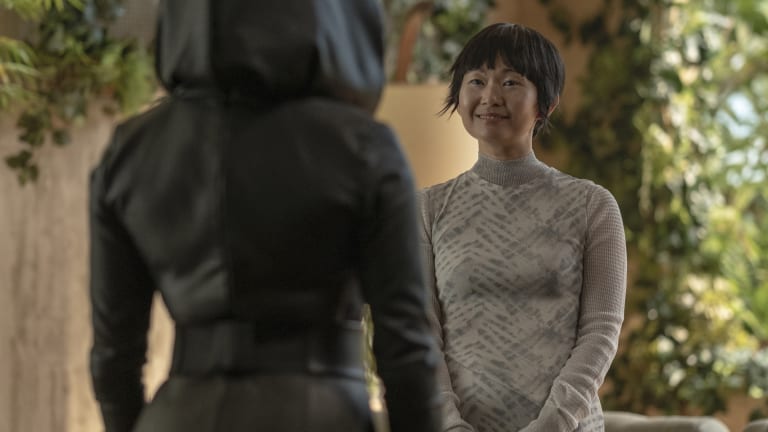 All the Fashion Influences Behind the Latest Character Reveals in HBO's "Watchmen"
Plus, costume designer Meghan Kasperlik drops a hint on a major costume Easter Egg you may have missed.
Warning: Spoilers for 'Watchmen' episodes one through four below.
As expected, the fourth episode of HBO's "Watchmen" dropped more revelations and brought forth new burning questions. Since the premiere, creator and "Lost" alum Damon Lindelof's vision of the superhero and super-vigilante series, set 30 years after the graphic novel ended, has consistently kept viewers guessing — all while tackling a specifically American brand of right-wing extremism and racism.
Sunday night's episode began with the arrival of Lady Trieu (Hong Chau), the trillionaire tech titan, living in her balmy Vietnam climate-controlled penthouse in an orb-topped skyscraper tower. Aside from her fancy digs and bank account presumably subject to President Redford's wealth taxes, there's another reason we know the mysterious newcomer plays a powerful role going forward.
"She never wears the same costume twice," says Meghan Kasperlik, who earned her superhero bonafides assisting Lindy Hemming in "The Dark Knight Rises" and Deborah Lynn Scott on "The Amazing Spider-Man 2." Plus, she earned an Emmy nomination for suiting up Michael B. Jordan in "Fahrenheit 451." The costume designer also has a legit fashion background — not just working under Patricia Field on "Cashmere Mafia," but also studying fashion merchandising and working in PR for DKNY before changing careers. 
So, along with the original "Watchmen" graphic novel "bible," current events, history (well-known and some nearly erased from our lesson plans) and environmental references, the costume designer also looked to fashion throughout time for inspiration. Lady Trieu's futuristic spa-like aesthetic was especially influenced by avant garde Dutch couturier Iris van Herpen for the architectural mix of textures and nature elements, including her "opulent oyster and green" palette.
In her debut, Lady Trieu also feels especially imposing in her very precise caped vest-robe ensemble (above) while making a farm-owning couple an offer they can't refuse. The silhouette artfully frames her spritely, yet severe wispy bowl-cut that, according to Kasperlik, Chau suggested herself. 
"I was imagining, 'what would a praying mantis wear as her coat?'" the costume designer explains. "How can we sculpt this around her and give her a structure around her face — almost like a sphere — because I knew she was going to sit down for a lot of the scene and have a discussion with the family." Kasperlik then sourced a heavy faille upholstery fabric for the robe — at Jo-Ann Fabric and Craft, no less — brought it to the on-set tailor shop and started draping it on a body form. For a texture contrast, she designed a silvery gown with delicate ruching on the sleeve and neckline.
"Then I found these amazing Proenza Schouler shoes that had a very odd point and a different heel and it really pulled outfit together," adds Kasperlik, who custom-designed most of Lady Trieu's wardrobe. She did shop some pieces, though, like the silver-gray tie-dye-esque dress (top) from Zara. While Lady Trieu doesn't practice outfit repeating, she does maintain one consistent sartorial theme: white leather gloves. "Lady Trieu never shows her hands," says Kasperlik. "It's a mystery."
Lady Trieu is even guarded with her precocious young ward, Bian (Jolie Hoang-Rappaport). The pre-teen briefly popped out of a chauffeured SUV in episode two wearing an adorable beret and layered vest outfit to pick up a print newspaper — because websites and apps are not part of the Trieu Industries hi-tech portfolio in this smartphone- and Internet-less alterna-2019. But the inspiration behind Bian's animé-meets-Cool Teens™ aesthetic is very IRL 2019.
"There is a girl in Instagram: Coco Pink Princess," says Kasperlik, about the Harajuku-based seven-year-old, with 675K followers and serious accessorizing skills, who served as the foundation for Bian's look. As filming progressed, more details about Bian's and Lady Trieu's characters were revealed to Kasperlik. She then "reined in" the Insta-inspo to add in storytelling details and Easter Eggs in more ways than one. 
For instance, Bian's traditional Vietnamese áo dài referential jacket features raw-edged patches of cracked eggshells with loads of tally marks etched into the interiors (above and zoom in! Not all the numbers equal five.) "The chick was counting her days until she was hatched," hints Kasperlik. Birth did play heavily in this episode, which began with literal broken eggs, so ...

While you ponder on that, let's jump an episode back to when Laurie Blake (Jean Smart), superhero-turned-FBI agent, flew into Tulsa. The former Silk Spectre turned in her supersuit for a plainclothes law enforcement uniform of billowy trench coats and longline pantsuits.
"This was a woman who wore a sexy costume 30 years ago and now she's retired and in the FBI and she takes herself more seriously," explains Kasperlik. She looked at '90s style silhouettes for inspiration to custom-design all of Laurie's pantsuits.
"We gave the leg a little bit of a flare, so it had an interesting design line to it, versus being a straight pin-leg suiting," says Kasperlik. She bought Laurie's below-the-knee black trench (above) from Sui Studio because the weighted jersey draped and flowed so "beautifully" on camera. 
Related Articles:
Superhero Costume Design is Finally Getting the Recognition It Deserves
The Complete Breakdown of Brie Larson's Costumes in 'Captain Marvel'
How Costume Helped Jason Momoa Become an Exceptionally Badass New 'Aquaman'
Laurie's scenes with supposedly retired police officer Angela Abar (Regina King) — and her masked alter-ego Sister Night — are giving me life. ("Cool costume.") But when Angela isn't taking names in her martial arts and nun habit-inspired super-vigilante-suit, she's hiding in plain sight in a deliberate civilian disguise.
"Regina and I had a long conversation: 'how can we really make sure [Angela and Sister Night] don't look like the same person?'" explains Kasperlik. "Instantly, we both were like, 'Angela cannot wear any leather at all.'" Thus explaining why Angela wouldn't don the go-to black moto and jeans, like, Carol Danvers when she's not in her Captain Marvel space-gear or Jessica Jones in her non-supersuit supersuit. 
But a tough leather jacket makes so much sense illustrating those tough off-duty moments, like when Angela vigorously knocks on the fortified door of Looking Glass's squid attack bunker while conducting an off-the-books investigation. So Kasperlik dressed her in faux-shearling-trimmed ultra-suede jacket (above) in a deep wine hue instead.
"We needed to make her look like a cool person, without it being overly done and forced down your throat," Kasperlik explains. She also made a point to stock Angela's closet with brands that the character would be drawn to and be able to afford. Good to know that Anthropologie, where Kasperlik found the coat, is thriving in an alternative e-commerce-less retail environment. 
One person who's definitely not shopping at a mall on earth: the courtly Adrian Veidt (Jeremy Irons), who seems to be serving out some sort of home detention in a "Downton Abbey" meets Dr. Frankenstein castle lair — which is maybe on another planet? Again, so many questions. Luckily for the former-superhero-now-presumed-dead-eccentric billionaire industrialist, a bespoke tailor shop seems to be located on his grand estate-slash-prison.
And, yes, Veidt's jaunty wardrobe is a mix of Edwardian, Victorian and even Roaring '20s-era attire appropriate for the king of a manor. "His character has the biggest range of time periods," hints Kasperlik, who mostly custom-designed the Veidt's hunting, riding and formal dining jacket ensembles. A few exquisite pieces, like the embroidered silk vest (above), were sourced from costume houses for Veidt's scenes shot on location in Wales. 
Kasperlik also stayed true to authentic fashion details of each period. "[I used] color combinations that would have happened at that time — taupes, purple, plums, browns — then adding a little pop of color here or there or the riding boots. I kept it as proper as possible because Jeremy himself owns a castle," she says. Veidt's dominant purple palette is also nod to his maybe-retired gold armored Ozymandias supersuit, which briefly appeared at the close of episode three. Unsurprisingly, Kasperlik remains tightlipped on when the caped ensemble will appear again, but did drop this teaser:
"Six, seven, eight, nine: There are a lot of custom costumes in there," Kasperlik says, carefully. "Like, really, just wait for Lady Trieu."
Top image: Mark Hill/Courtesy of HBO
Never miss the latest fashion industry news. Sign up for the Fashionista daily newsletter.