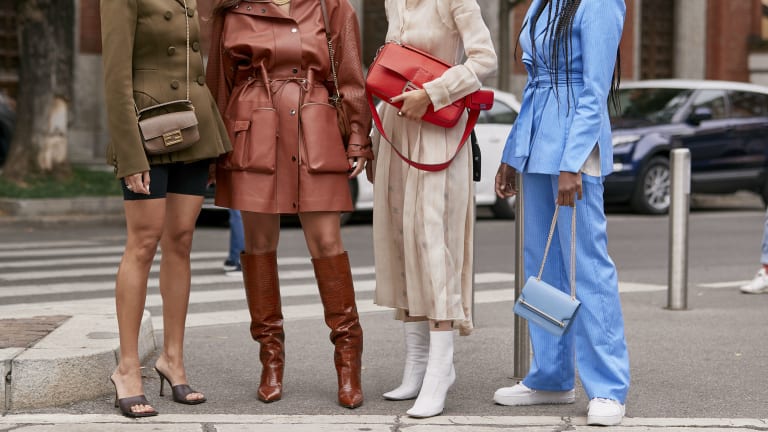 Influencing With a Conscience: How Some Influencers Are Changing the Industry for the Better
A growing cohort of influencers are prioritizing moral and ethical responsibility in their work — and it's changing the way brands do business.
They might be paid to post about clothes, but for a growing cohort of influencers, it's no longer just about the fashion. Increasingly, social media influencers are speaking out about social issues they feel passionate about, and, given their professions, it's inevitably starting to inform how they work with brands.
"We have clients that have passed on six-figure opportunities because the brand did not align with their values," Reesa Lake says. As partner and executive vice president of Digital Brand Architects, she oversees thousands of influencer/brand deals. "The trust that they have built with their community is instrumental in their success. Luckily, social causes are no longer taboo subjects; they are being highlighted and with that comes new ways for influencers to work with brands."
Nicolette Mason says no to working with any brand that doesn't share her values. She once declined an offer from a retailer that is notorious for underpaying its employees. "When they asked why, I was clear that the brand values did not align with mine and should that change in the future, I'd be open to working with them again," she says.
Brands are smart to take this kind of feedback as data to grow and improve not only on a production level, but also on a social responsibility level. Mason's opinion most likely mirrors that of many of her 180,000 Instagram followers — and potential customers.
Related Articles
Did Designers Finally Get the Climate Crisis Memo This Fashion Month?
How Katie Sturino Went From Working in PR to Becoming an Influencer-Entrepreneur
Why Does the Burden of Creating Inclusivity in Fashion Fall Largely on Marginalized Groups?
Whether or not they're paid to do so by a brand, influencers are increasingly shedding light on wasteful industry practices, unfair wages, toxic ingredients and cultural and size exclusivity (to name a few). Conscious influencers are serving as an Instagram exposé to harmful businesses. This shows other brands that these practices matter, and that the consumer agrees.
And while taking this kind of a stand might exclude some opportunities, it can also open new doors for influencers. When a brand chooses to partner with a content creator firm in their beliefs, it makes them look more credible in that space. In a challenging marketing landscape, it's more important than ever for brands to produce unique campaigns and, as we've seen on the environmental front this year, make purpose-driven commitments.
With 891,000 followers, Kristen Leanne has been leading the charge in making the beauty space completely cruelty-free. Through her platform, she highlights strong cruelty-free brands like NYX Cosmetics and Dermalogica. In 2018, Covergirl tapped Kristen to be the first influencer to announce the drugstore brand was going cruelty-free.
With over 270,000 followers, fashion editor-turned-influencer Alyssa Coscarelli has become an advocate for greener practices. "I'm far from perfect, but I have pared back a bit on collaborations with fast-fashion brands, not only because my standards are changing but because my followers are holding me accountable, too," she says. "I'm really grateful to have a vocal audience who cares about where what they're buying is coming from and the larger impact it has, and holds me to a standard of supporting brands I can truly support and be proud of."
Coscarelli recently created a "zero waste" highlight on her Instagram in collaboration with her audience to not only validate the importance of these practices but to keep the conversation sparked while action sinks in. She also placed a disclaimer in her email signature that discourages excess packaging in mailers. "It has made a significant difference in the packages and packaging I receive," she says.
Brands are noticing these conversations, realizing the demand to be better exists. Haley Boyd, who founded the successful accessories brand Marais (which she recently sold), approaches her 55,000 followers from the position of both an entrepreneur and a consumer. "I shared an Insta story about the reasons fashion brands generally package items in plastic bags. From the consumer's standpoint, it probably seems like an easy thing to eliminate, but it's actually a big challenge," Boyd says. "I overviewed why they are used, why they're hard to get rid of. [I gave] solutions about how to use less harmful plastic, and how to move away from plastic altogether. Quite a few brands contacted me, and many of them are looking to change their packaging or have already done so." 
Blair Imani identifies as a black, bisexual, muslim influencer who feels it's her duty to provide her followers with a message — not just market products and projects to them. She spends time talking about and demonstrating LGBTQ+ affirmation and anti-bullying while also asking her community to share their own experiences.
During Pride month, Imani followed a strict framework that included a cost-benefit analysis of working with a given brand. "Two major brands I decided to work with were Toms and Fossil," she says. Both companies use sustainable practices and have LGBTQ+ inclusivity as a priority. "Crucially, each brand centered LGBTQ+ staff in the creation, marketing and rollout of the activation," she says. 
The most important element for Imani was donation; Fossil donated all profits from the watch it created to the Hetrick-Martin institute and Toms worked with the Los Angeles LGBT Center as a giving partner. "I could not be content with my conscience if I worked with a company that, for example, didn't even hire LGBTQ+ people or didn't donate money back to the community they claimed to care about," she explains. "I hold myself to a high standard and I want to see other influencers follow suit."
Sarah Chiwaya of @Curvily is known for her #InTheFittingRoom stories. She gives her audience brutally honest live feedback on the ways different clothing brands fit, feel and cater to the plus-size market. She recently toured the new Nordstrom store in New York City and didn't have an overly pleasant experience, since there weren't many plus-size options on the floor, despite promises that there would be. As her Instagram stories progressed through the tour, they took a turn for the worse, ultimately leaving Chiwaya vulnerable and in tears.
This type of narrative storytelling puts anyone watching in Chiwaya's shoes, whether they are a part of the plus-size community or not. It's a genuine and empathic experience spotlighting a giant issue in the fashion industry that has been hushed because these platforms did not exist.
"The response to my disappointing Nordstrom experience was overwhelming, as if a floodgate had been opened," she says. "Over the course of one day, I received hundreds of messages from women identifying with my experience, sharing their own stories of being excluded or devalued as a customer. I already knew this type of treatment of plus-size customers was all too common, but the deluge of stories served as a sharp and heart-wrenching reminder of just how much work remains to be done to bring the plus experience to a place of parity with straight-size consumers. So many women told me they finally felt seen and heard when watching my stories."
Historically, negative commentary about a brand, whether by a journalist or an influencer can often deter that brand from working with that person in the future. However, store managers have expressed to Chiwaya that they find her feedback to be more helpful than all the official plus-size training materials they receive from corporate. Designers have even made fit and size adjustments based on her commentary. Mason and Katie Sturino are other examples of women whose honest social media commentary has had a real impact on brands' approaches to size inclusivity.
"Many of the options we have now are because plus-size women have used social media to directly tell brands what we want and demonstrate that the demand is there," notes Chiwaya. Stores like J.Crew, Loft and Anthropologie were all popular #PlusSizePlease requests four years ago, and they all offer extended sizes now. "I specifically created #PlusSizePlease as a way to amplify the voices of all different types of plus women and it makes me so happy to see companies listen and make changes accordingly," she says.
Today, the consumer has become more aware of the once-hidden harmful practices used by big businesses. The age of the influencer has only fueled these changes further, and by sparking conversations, influencers with impact are challenging larger monopolies to be better.
"We all have an ethical, social and moral responsibility, whether you're even on social media or not," Imani says. "What we put into the world, the things we say, what we purchase, and who we support matters and likewise we should be cognizant of this. As of yet, there is no way to be 100% perfect, but social consciousness is about knowing that and working toward more good than harm."
Never miss the latest fashion industry news. Sign up for the Fashionista daily newsletter.