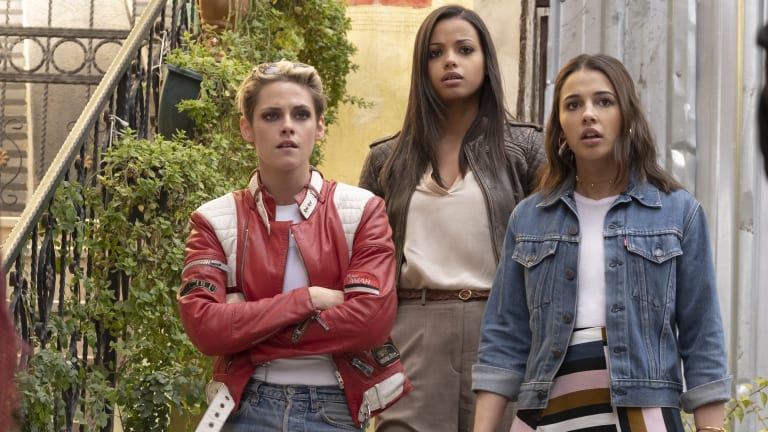 Kristen Stewart Wears a 'Leopard Print Lounging Suit' and a Lot of 'Barbie Doll' Pink in 'Charlie's Angels'
Costume designer Kym Barrett shares the behind-the-scenes details on the super-spy wardrobes of all the Angels.
You know how each of us can usually identify with — or just really want to be — a Spice Girl or a Pretty Little Liar? The same goes for the long-running "Charlie's Angels" franchise, from the O.G. TV series, which ran from 1976 to 1981, to the early 2000s big screen update with Cameron Diaz, Lucy Liu and Drew Barrymore to the latest installment, starring Kristen Stewart, Naomi Scott (Jasmine in the live action "Aladdin") and newcomer Ella Balinska. Each Angel has her own appealing personality traits, secret agent investigative skills, killer fight moves and distinctive costumes — undercover and not — which help establish even more of her aspirational appeal.
"I definitely tried to make sure each girl's niche was of a different type of strong woman, so that everyone can relate to one of them," says veteran costume designer Kym Barrett, who has dressed ass-kicking heroes across genres, from Keanu Reeves and co. in "The Matrix" trilogy to Jason Momoa and Nicole Kidman in "Aquaman" to the upcoming history-making Marvel movie "Shang Chi and the Level of Ten Rings."
Related Articles:
Superhero Costume Design is Finally Getting the Recognition It Deserves
Why the Iconic Costumes in 'The Matrix' Are About So Much More Than a 'Shiny Black Coat'
How Costume Helped Jason Momoa Become an Exceptionally Badass New 'Aquaman'
But while the trio's everyday workwear and super-spy disguises are incredibly chic and fabulously fun, the costumes were designed to support the mystery that's unfolding — and allow for the very impressive action required, stilettos and a cocktail dress or not.
"The basic tenets of the movie are every woman can be an Angel, regardless of what they're wearing, what they look like, what job they do," Barrett says. "They all have the ability to be an Angel and, in fact, are — in everyday clothes and everyday life, so it's not a surprise when somebody in high heels manages to do a crazy stunt." Although, the leads also wear a fair amount of functional flats, like Scott's smooth heel-to-sneaker change-out as Elena and Balinska as Jane's Kurt Geiger combat boots and sparkly mini-dress pairing — which, honestly, makes complete sartorial and strategic sense to infiltrate a tech mogul's blowout party.
Below, Barrett takes us through each of the Angels and their signature off-duty and spy-disguise looks, plus Townsend Agency lieutenant, Bosley, played by writer and director Elizabeth Banks.
Sabina (Kristen Stewart)
"She's a little bit of a chameleon," says Barrett, about Stewart's devastatingly cool and très blasé Sabina. "She's the one who's trying to play against type a lot of the time." Out of disguise, Sabina wears a consistent collection of retro-sporty outfits, like the vintage moto-cross jacket (at top) and a spectrum of animal prints, including a blocked Zadig & Voltaire sweater with leather pants for a motorcycle chase and the above "leopard print lounging suit" that Barrett custom-designed.
"Because Sabina is always in relaxed mode," the costume designer explains. "I wanted her to look like she's always lying around — eating bon bons and relaxing — but actually at any moment, she's ready to go." 
Sabina's mission 'fits expose and take advantage of sexist presumptions, especially those made by toxic males of the criminal and assassin variety, and make her action scenes that much more thrilling. So Barrett designed a series of '70s disco-referential, very pink sequined "Barbie Doll" mini-dresses — enhanced by wigs of tumbling blonde waves, courtesy of hair department head Camille Friend ("Black Panther"). 
For a day at the races, though, Sabina hides her punky short cropped hair under a chic riding helmet, which matches a hot pink and lightening bolt emblazoned jockey shirt, also custom-designed. "We really wanted to keep echoing the pink, because it's such a juxtaposition to the rest of her colors, which are black and white or animal print."
Jane (Ella Balinska)
Former MI-6 agent Jane makes her bombshell entrance giving Sabina, in "assassin mode," an assist. She flies in suited up in military-style weapon belts and harnesses over a sleek black catsuit, but Barrett didn't look to real life special forces uniforms for inspiration. "I wanted it to feel sporty tactical," she says. "So a lot of it is Lululemon and then I just combined it with a lot of tactical gear."
At first, Jane's no-bullshit, lone operative approach clashes with Sabina's nonchalant effortlessness, as also illustrated in their outfits. "[Sabina's] like, 'Who's this person? I just managed to pull it all off while looking like I'm not doing anything much and Jane comes in with full metal jacket on' and that's stealing her thunder a little bit," explains Barrett. "So it's nice to have a counterpoint to Sabina's casual chic meets the hardass real deal."
While Sabina wears distressed sporty gear to a team meeting, Jane shows up in a tailored black Topman pantsuit with athletic stripes up the side. Her racing day disguise elevates her business cool to ultra-glam undercover operative. "She's disguising herself as a horse trainer," explains Barrett, who bought the Veronica Beard shimmery purple pantsuit and tailored it for Balinska's stunt requirements. "We wanted it to have that South of France feel; a very kind of high-end horse trainer, who's flown in with the Arabian to the race tracks. It was just really nice to play with each character and design a disguise, but not a corny disguise."
Elena (Naomi Scott)
Systems programmer Elena, who also conveniently takes Krav Maga classes in her spare time out of the lab, is about to blow the whistle on a glitch in a clean energy Alexa-esque device. So before her shopping spree in the Angels' double-walk-in closet, she wears her start-up uniform of floral-printed dresses, patterned A-line skirts, faded denim jackets and opaque black tights.
"Elena should be a symbol of every woman," says Barrett. "When you're young and starting your first job, usually you're shopping at H&M, Topshop or Urban Outfitters — and a lot of her clothes were from those places. She's an 'always plays by the rules'-type person, who then gets thrust into this other world where she can wear Prada."
But Barrett custom-built the bold green and fluted sleeve dress for the races, again, to allow for Elena to put those weekend self-defense courses to use. She also designed the red corset-topped dress (above) and added a gold collar-like choker for a climactic moment in captivity.
"So it's a dress she wouldn't ordinarily choose for herself and the collar is kind of a bondage collar. [The villain is] trying to intimidate her and trying to almost taunt her with the fact she's being put in these clothes that she knows she can't really carry off," explains Barrett. "Then the payoff for us is that she does go through that next part of the sequence and pulls it off."
Bosley (Elizabeth Banks)
Former Angel and now super-spy wrangler and mentor, Bosley wears an unpredictable and never-repeating array of natty outerwear and accessory flourishes, especially a series of different scarves on her lapel. "I wanted her to feel like our chic favorite aunt, who's beautiful and stylish and put together and you never quite know what she does," says Barrett.
During the final days of shooting in Istanbul, she and her team connected with local artists, who supplied notable pieces for Bos, including Istanbul- and Miami-based jeweler Sevan Biçakçi. Barrett met stylist and designer Tuğba Kuzdere, whose scarves under her line Tukutukum, also caught the attention of Banks. "She was like, 'I love them. I want to use them,'" says Barrett, recalling the director's request. "So I just figured out a way to give her a scarf 'corsage,' I suppose I could call it. Each time I'd tie a different way."
Top photo: Chiabella James/Courtesy of Sony Pictures Entertainment
Never miss the latest fashion industry news. Sign up for the Fashionista daily newsletter.