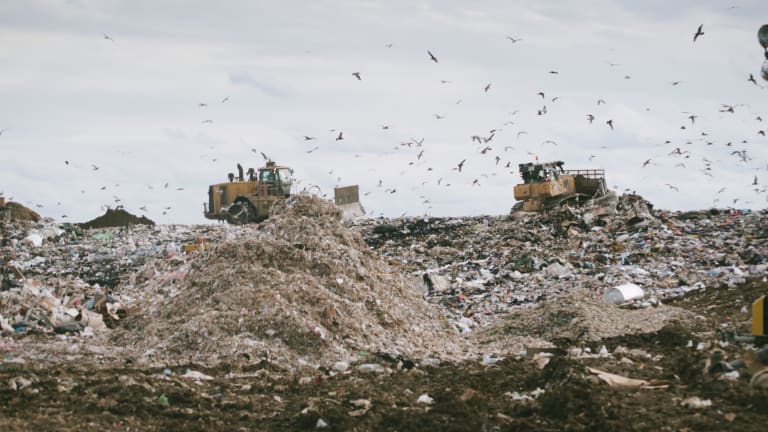 Could Visiting a Landfill Transform Fashion Students Into More Sustainable Designers?
That's the hope behind Slow Factory's unusual new "Landfills as Museums" initiative.
Waste Management veteran Bobby Jones once saw a whole whale delivered to a landfill.
It reads like something out of an absurdist novel, but it's true: An actual, from-the-ocean whale was delivered to a landfill on two separate trucks. Surreal as it may be, it makes a kind of sense once you think about it — after all, if a dead whale washes up at a port in New Jersey, that whale has to go somewhere. 
Jones and his colleagues are the people in charge of that somewhere, which in this case is the Fairless Landfill in Morrisville, Pennsylvania. Fairless isn't just a final resting place for washed-up whales (or live alligators, which Jones has also seen delivered via dump truck). It's where all kinds of waste is sent, produced by the 15 million people living in a 90-mile radius of the landfill — a radius that includes New York City and Philadelphia.
Among all that waste is a fair amount of trash that originates with the fashion industry. And while some people prefer not to think about landfills and what they might say about the societies that fill them with garbage, sustainability advocate Céline Semaan thinks that having designers visit landfills could actually transform their outlook so they can create fashion in a way that reduces waste by designing things differently before those things ever reach a landfill.
"It's about gaining information and knowledge through an empirical gathering of data, and you have to experience it," Semaan said on a recent visit to Fairless. "It's a very important part of the educational process."
That's the idea behind Museums as Landfills, a new initiative Semaan launched through Slow Factory, the sustainability-focused design lab that she co-founded with her partner Colin Vernon. The initiative's pilot trip last week, which was sponsored in part by Adidas, involved bussing a load of fashion students from FIT and Parsons, along with a couple of their professors and a few working designers, to Fairless. Days later, attendees also participated in a workshop on "waste-led design" to further digest what they'd learned.
For any visitor expecting to find, essentially, an open dump, the Fairless landfill might have come as a bit of a surprise. Described at one point in the visit as the "Rolls-Royce of landfills," the facility is a display of modern science and engineering. 
Engineers and "lifetime landfill guys" like Jones explained to the aspiring designers how they line each landfill with a plastic bladder so that contaminants from the garbage can't leak into the ground, how they clean the rainfall that filters through the landfill before it ends up in a nearby river, and how the landfill is carefully covered every night with a layer of soil so that it's never sitting open and unattended. They also talked about how they capture methane, a potent greenhouse gas released by the breakdown of the landfill's contents, and convert it into fuel that provides electricity to more than 8,000 nearby homes.
The students and designers were invited to visit two different sites on the Waste Management Fairless campus. First was a closed landfill site, which looks like a giant grass-covered mountain with far-reaching views of the surrounding countryside. The second was a currently operational site, which looks like a dirt-covered mountain with a patch of garbage and heavy machinery on one side and an almost impenetrable carpet of live seagulls on the other. The seagulls, explains a Waste Management employee, like scavenging for food amongst the refuse.
Other than the operational landfill site, much of the Waste Management campus is surprisingly idyllic — the company has a wildlife certification for the area and a couple thousand people pay to camp and fish there every year. Wild deer and a heron could be spotted from the bus as it wound its way through the campus. Still, visiting the currently-operating landfill, not yet closed up and covered with grass, was sobering for many attendees.
Related Articles
Most Fashion Brands Don't Know Enough About Their Carbon Footprints to Actually Shrink Them
Inside a Global Beauty Brand's Mission to Invest in the Workers Who Make Plastic Recycling Possible
Is Your Greta Thunberg T-Shirt Contributing to Climate Change?
"My first reaction is I never want to throw anything away ever again," said Deanna Hutchinson, a design student at Parsons. "I don't wanna fill that landfill any faster."
Hutchinson, who's been involved with the American chapter of Fashion Revolution in the past and who currently works on sustainable strategies for designer Jonathan Cohen while finishing her degree, is the kind of student who's already deeply invested in the sustainable fashion conversation. But even for someone like her, visiting a landfill was impactful.
"Seeing things in person brings a sense of the reality of the situation," she said.
Hutchinson was invited on the trip by Brendan Christopher McCarthy, program director of the Systems and Materiality program that's part of the Fashion Design BFA at Parsons. McCarthy's hope is that experiencing a landfill firsthand might shift how his students think about waste, no matter where they are in their sustainability journey.
"It's easy to abstract these things. Film after film of a landfill could show you one thing and that certainly is helpful," he said. "But to step on it, and smell it? You'll never forget that."
In a debrief after the visit, many students seemed struck by how far the problem extended beyond the boundaries of their own industry, seeing plastic food cartons and automotive parts scattered across the top of the operational landfill. But evidence of fashion's impact was in plain sight, too: a discarded bra or a dismembered shoe was all it took to remind visitors that fashion and its current mode of creating disposable commodities is deeply implicated in these mountains of trash.
Meeting the people who have built their careers managing other people's waste also seemed to nudge students and their sense of responsibility in a new direction. While it's not uncommon to see landfills and the people behind them painted as villains in environmental narratives, many students came away with the sense that the folks at Fairless are just trying to manage a mess they're not responsible for creating.
"As designers we have a responsibility," said FIT student Lisa Deurer. "We're not working in the waste management industry, but we have a responsibility to those who are." 
Deurer dreamed aloud about her and her peers becoming designers who would work with "similar or like materials" that can be recycled all at once rather than using blends that are hard to separate for reuse, and imagined using design to make "ugly concepts beautiful and an object of desire."
It's this kind of dreaming that fuels the Slow Factory team. Just by posting about this pilot trip on social media, Semaan says, they've received an influx of invitations to visit landfills in other countries and requests that they bring the program to other schools. More trips are tentatively planned for next year, and their hope is to create a sort of free online archive based on the Landfills as Museums program so that it can become an educational tool available to all. 
As for Jones, witness of the landfill whale delivery and Waste Management employee for over 30 years? When he started at the company, he says, there was just one landfill "mountain." Since then, he's helped build three more.
"I enjoy working for the company and I like what we do — I think we do it the best, and we're gonna do everything we can to protect the environment," he says. "But the solution lies before us. I want to hear more people talking about building solutions up front so that Bobby Jones doesn't have to build another mountain."
Homepage photo: Whitney Bauck/Fashionista
Stay current on the latest trends, news and people shaping the fashion industry. Sign up for our daily newsletter.