Meet Roma Uvarov, the 'Crazy' Designer at the Forefront of Russian Fashion
The 22-year-old with no formal fashion training is upending the industry.
No one complained that it took two days to be rid of Roma Uvarov's confetti. Mere moments after a pistol-brandishing bride closed the Russian designer's runway in wedding-wear that would put "Like a Virgin"-era Madonna to shame, the show had become folklore. "Did you go to Roma?" quickly became Mercedes-Benz Fashion Week Russia in Moscow's most pressing question. As for the glitter jubilantly flung onto unsuspecting audience members by models as they left the runway, well, that was a badge of honor that read: I sat front row at Roma Uvarov's show.
"I'm only 22," shares Uvarov in the show's aftermath. Our translator sputters upon the revelation — even he imagined the designer older. Uvarov offers his age as half-explanation, half-apology in response to why Russian culture is so clearly communicated in his clothes: He's a 22-year-old who has never left his homeland, and so, it's all he knows. As such, each of his collections is closer-to-home than the last. The latest — his favorite — is both dedicated to and narrativizes the time he spent living in a Romani community, known colloquially throughout the country as 'gypsies' (a term which, depending on the context, can cause offense). As such, Roma Uvarov attendees would be participating in a 'gypsy wedding.'
"The gypsy woman is the Roma Uvarov woman," claims Uvarov. "She's major, she stands out from the crowd. The gypsy community is the star of this collection, and I wanted people to feel like they were at an actual Romani wedding."
It's perhaps because Uvarov has no formal fashion training — he can't even sew — that his output feels so free. For our interview, Uvarov sits in the lobby of Moscow's Metropol in a secondhand suit jacket (he's a thrifting devotee). With one ear decorated with the type of vintage clip-on traditionally favored by wealthy older women, it's easy to see him finding his feet as a 17-year-old fashion aficionado with a dream. The designer is adamant that every element of himself he inserts into his work, be it cultural or habitual, feel absolutely authentic. And he's not afraid to speak his mind. The rise of the Cyrillic alphabet in street style, ushered in by Georgian designer Demna Gvasalia for Vetements, doesn't feel "modern" to the newcomer, so don't expect to see it in his collections. "I don't like it," he adds simply. 
"Any collection I create connects with some elements of what actually happened in my life," he explains. "It needs to have a connection to me. I always want to do something unique, something epic."
"Epic" is right. Fall 2020 saw models in wide-brim hats made entirely of hair extensions. Lace gloves were paired with patchwork. There were bubble-skirted gowns, riotous prints, beaded helmets and flower-embellished suits. As a final flourish, Uvarov joined his bride on the catwalk in a cream, rose-adorned suit — in perfect harmony with the off-the-shoulder top-skirt set constructed from thousands of white petals. The accompanying revolver, shooting blanks into the air, served as citation to Uvarov's favorite films with powerful women at the helm. Models stood mere inches away from onlookers, playing accordions and dousing the duo with celebratory rice as they made their way down the runway. It was, without question, the standout moment of MBFW: Russia in Moscow.
"This brand is not just about fashion shows or collections," Uvarov says. "I don't know how it works in other countries, but us designers have to work together here, we have to be close — and we all are — because we're building this industry. We're changing Russian fashion."
But that has proven to be an uphill battle. After securing stockists around Europe as well as shows in Paris, Uvarov has been forced to acknowledge his designs are probably better suited to an international audience. 
"Russia isn't yet ready to experiment so much in wearing my clothes; they're too dramatic," he explains. "It's easier for the Russian customer to buy from Zara than find something of higher quality from a young designer, but it didn't matter to me whether the clothes sold here or not. I needed to do it for me. When I started, Russian fashion looked all the same; I wanted to present what we don't get to see in real life."
As such, each of the designer's decisions has proved riskier than the last when it comes to maintaining commercial viability in the local market. Still, there was nowhere else he would want to create a label. Whether he shows in Paris, Milan or never leaves Moscow, Uvarov's primary motivation comes from motivating others, and it's working.
"I want to help people through my art," he says. "I want other designers to feel empowered, and then Russia will open up."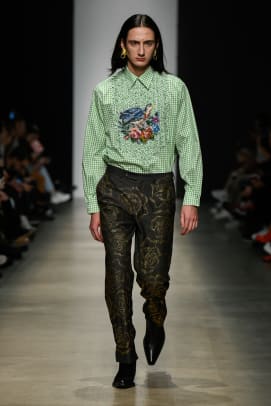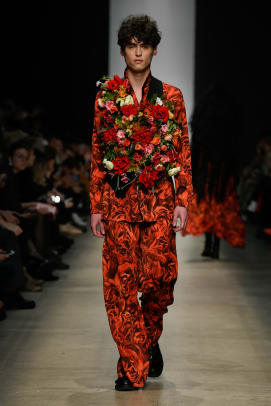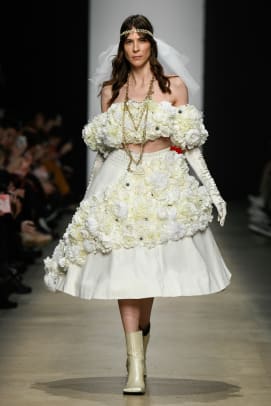 Want the latest fashion industry news first? Sign up for our daily newsletter.