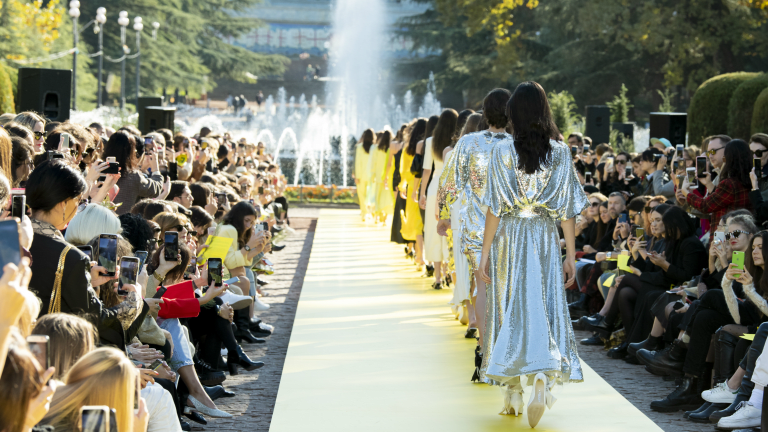 12 Designers From Mercedes-Benz Fashion Week Tbilisi to Put on Your Radar
Meet the labels that presented the most noteworthy Spring 2020 collections.
After tackling the Spring 2020 shows in New York, London and Milan and Paris, we've kept the sartorial train rolling all the way through to Tbilisi, where several up-and-coming designers are out to prove that Georgia is the world's most exciting fashion destination. Afterall, ever since Georgian local Demna Gvasalia took hold of the global fashion conversation — first with Vetements, then of course, with Balenciaga — attention has crystalized on the post-Soviet city. 
Read on to find out about our favorite collections, and their designers, from the latest season of Mercedes-Benz Fashion Week Tbilisi. 
Anouki 
The wife of the Mayor of Tbilisi, influencer and mom of four, designer Anouki Areshidze is as close to Georgian royalty as it gets. She studied fashion design, styling and consulting at Istituto Marangoni and Accademia del Lusso before launching her eponymous label in 2013. Her Spring 2020 range was chock full of oversize suiting done in both subtle checks and look-at-me neons. She also served up her signature sequin embellished off-the-shoulder midis, along with leather trench dresses and floral-printed frocks in sophisticated silhouettes.   
Bessarion 
Bessarion Razmadze of Bessarion always holds the closing show of fashion week in Tbilisi. The season, the Moscow-based designer ended the sartorial festivities with neutral-toned androgynous suiting, sharply cut denim and shiny, performance-ready leather looks. Menswear-inspired blazers and trousers were cut loose but still had sex appeal, thanks to styling that showed plenty of skin underneath; and statement outerwear came in the form a utilitarian trench and a "Matrix"-style coat. Silky garments closely resembling the iconic Phoebe Philo-era Céline drape cape shawl dress lent an unexpected softness to the intense lineup. 
Dalood 
Tbilisi-bred and Central Saint Martins-trained Maka Kvitsiani ran a boutique in Moscow that sold Georgian designers before launching her own brand Dalood in 2014. Her latest offering came with an '80s twist, courtesy of strong-shouldered power blazers and puff-sleeved blouses. The color palette was vibrant — think bright reds, bold fuschias and a punchy shade of cobalt blue — and the aztec patterns covering fuzzy knits were equally as loud. 
Datuna 
Datuna Sulikashvili made his design debut in 2005 while he was a student at Tbilisi State Academy of Arts. Known mainly for his black eveningwear, the best pieces in his most recent collection had a dollop of contrast. A satin cream-colored, dramatic sleeve couture-like concoction, for instance, stood out among an orchestra of gothic tulle. Three eye-catching hot pink looks — a finely tailored cape dress, a belted flared mini and a top with a ground-grazing train — were also highlights and are likely to make a splash on a red carpet very soon. 
George Keburia 
George Keburia, a self-taught designer raised in Tbilisi, founded his namesake label in 2010 when he was only 20 years old. In under a decade, he's turned tiny sunglasses into a full-blown obsession and made headlines for celebrity placements that include everyone from Solange Knowles to Rihanna. His Spring 2020 runway show brought '80s Soap Opera characters back to life — big hair, big collars, big personalities and all. The bunch of badass models sported a mix of slick leather looks and more feminine pastel sets. In the accessories department, oversized square-framed shades replaced his super-futuristic ones, and the designer introduced satchel and shoulder bags adorned with rose details. 
Ingorokva
Veteran Georgian designer Tamuna Ingorokva (her brand's been around since 2002) takes a minimalist and modern approach to design. Using rich-looking fabrics — which she imports from Japan, Italy and France — and high-quality tailoring, her collections are all about clean lines and understated elegance. This season, Ingorokva continued down a luxurious cool path lined with bleached speckled denim, loose-fitting pants and graphic leatherwork. Contrast stitching and differently-shaped pockets proved to be small, yet impactful details that helped elevate the warm-weather range. 
Janashia 
Gvantsa Janashia refined her design and styling skills at the Paris American Academy before moving back home to Georgia in 2002 to become a pioneer of the Tbilisi fashion scene. Her Spring 2020 presentation showed off her styling skills: cotton candy ombré mini dresses and plain white tulle frocks were unexpectedly paired with bedazzled fishnets or tights with iridescent green scales. The suiting, which made up most of the collection, was far from boring thanks to large gold buttons, circular cut-outs and bishop sleeves. 
Mach & Mach
Founded in 2012 by sisters Nina and Gvantsa Macharashvili, Mach & Mach is Tbilisi's most famous Instagram brand — and with good reason. The labels specializes in ultra-shiny, party-ready pieces beloved by Kylie Jenner and Gigi Hadid. For spring, the sibling duo showed silks adorned with diamanté details, white blazer dresses with feather cuffs and pearls, '90s-inflected skinny strap column dresses, deep V-neck metallic midis steeped in disco and puffed tulle cropped tops. They also debuted faux leather. 
Matériel 
From a business perspective, Materiél has become one of the most successful labels to come out of Tbilisi. Farfetch, Browns, Ssense and Net-a-Porter carry the brand, which offers clothes that veer commercial but with a hard Georgian edge. There was an emphasis on faux leather this season, as well as luxurious ruched silks. A soothing shade of periwinkle and calming green tea hue made for a fresh spring selection that is destined to be a hit among consumers. 
Lado Bokuchava
In just three years, designer Lado Bokuchava has established his namesake label as a sophisticated ready-to-wear brand. Bokuchava himself is a key player in the burgeoning Tbilisi fashion scene, as he currently serves as a co-designer at Matériel and he previously headed up Georgia's knitwear-focused label Atelier Kikala. His own brand is rooted in underground '80s music and a love of science fiction, and typically features skillfully cut pieces with couture-level draping. Highlights for spring include a cropped corset-inspired blazer, cinched-hem pants, a satin scarf-effect bra top and a voluminous bubble hem dress. 
Situationist
Situationist designer Irakli Rusadze held his Spring 2020 show at an abandoned building filled with old cables, making it somewhat of a safety hazard. To make matters worse, the makeshift catwalk composed of glass nearly shattered with one of the model's heels and it later cracked while guests were exiting. But everyone seemed more than willing to risk a limb to see the latest wares from the three-year-old brand, because it is just that good. Rusadze's work is simple yet refined, and subversive yet powerful. He often looks to Georgian culture and heritage for inspiration and the result is an authentic line of genuinely cool clothes that aren't trying too hard. His latest collection offered a contemporary take on classic suiting, embracing clean cuts, versatile fabrics and dynamic silhouettes.
Tatuna
Tatuna, a 16-year-old label, is lauded for its opulent fabrics and minimalist-leaning silhouettes. The brand opted out of a runway show for Spring 2020 and instead displayed its covetable separates above a restaurant, allowing guests to take in the high-quality construction of each garment. The tight spring edit consisted of camel trousers, off-white wardrobe staples and a supple hazel brown jacket that would make a fine addition to any closet. 
Homepage photo: Ik Aldama
Disclosure: Mercedes-Benz paid for my travel and accommodations to attend and cover the event.
Sign up for our daily newsletter and get the latest industry news in your inbox every day.