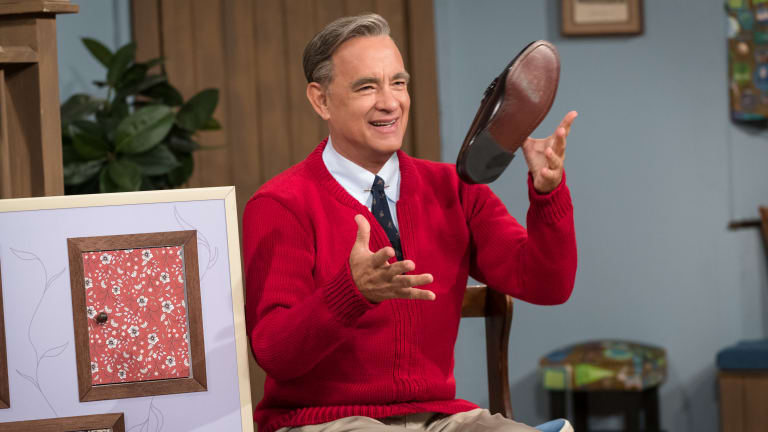 Tom Hanks Wears Some of Mister Rogers' Actual Clothes in 'A Beautiful Day in the Neighborhood'
"Everything just became doubly meaningful because it was actually his," says costume designer Arjun Bhasin.
Cue up the familiar song "A Beautiful Day in the Neighborhood" and guaranteed, America's Dad, Fred Rogers, and his seminal children's show "Mister Rogers' Neighborhood" will spring to mind — and bring all the warm nostalgia with it. The nationally beloved daily public-television series, which ran from 1968 to 1976 and then again from 1979 to 2001, always began with Rogers performing his time-honored ritual: entering the living room in his educational, puppet-inhabited neighborhood and changing from his outdoor blazer and leather dress shoes into a cozy cable-knit cardigan and rubber-soled sneakers.
The cherished routine also preceded Rogers's consistent message to young viewers: practice empathy and forgiveness while treating others with respect, kindness and decency — seemingly forgotten traits these days. Naturally, America's other Dad, Tom Hanks, plays the venerated Rogers in the movie "A Beautiful Day in the Neighborhood," and inhabits the host's legendary and very recognizable aesthetic — which brought comfort, hope and inspiration to so many generations. (And apparently, the two are actually distant relatives.) Rogers, who passed away in 2003, is survived by his wife of 50 years, Joanne, who contributed to the film.
"Joanne was an incredible resource because she really led us into her home," says the film's costume designer Arjun Bhasin, who previously collaborated with director Marielle Heller on last year's Melissa McCarthy-starring film "Can You Ever Forgive Me?" "We had family photos. We could talk to her directly about him. I got to rummage through his closet and look at his actual pieces of clothing."
Inspired by a 1998 Esquire cover story and the ensuing friendship between the subject and reporter Tom Junod, the film highlights the direct impact Rogers made on the cultural fabric of America, as well as on individual people, like the fictional Hearst staffer Lloyd (Matthew Rhys). He's a grizzled investigative journalist, who's dealing with daddy issues and "doesn't do puff pieces" — nor believe in voice recorders.
To research, Bhasin binged reruns of "Mister Rogers' Neighborhood," which he viewed for the first time through an adult lens. He also studied the host's other TV appearances throughout the decades, as well as Rogers's powerful testimony before the U.S. Senate in 1969 to secure — and continue to maintain — funding for public television when then-President Richard Nixon proposed cutting it. Bhasin also visited permanent exhibits to view first-hand iconic sweaters, sneakers, puppets and mementos: the Heinz History Center and the Children's Museum of Pittsburgh, where the original series and the movie was filmed.
The costume designer, who's currently in India finishing up the BBC adaptation of Mira Nair's "A Suitable Boy," shared heartwarming and nostalgic behind-the-scenes anecdotes about replicating and reimagining treasured moments, as well as flexing creative muscle — and meticulously shopping vintage, as he loves to do — to bring Lloyd into "Mister Roger's Neighborhood."
Recreating the Celebrated Mr. Rogers Red Sweater


"It's so iconic in people's minds," says Bhasin about the vibrant cardigan, one of which is housed in the Smithsonian. "It's burned into people's consciousness, so it was important to me to make it really meaningful and honest to what it was."
In real-life behind-the-scenes footage, the signature sweaters, in a spectrum of solid colors, became a costume-design endeavor in its own right. Each Christmas, Rogers's mother Nancy hand-knit and gifted him a sweater, which became an integral part of his daily show. Rogers continued to wear the warming layers after she passed away in 1981. By the '90s, his collection began showing signs of wear and tear. The show's art director Kathy Borland eventually tracked down and replaced his stash with similar zip-ups worn by postal workers, but with clever customizations: removing the collars, hand-dyeing them to match the original hues and patch-coloring spots with permanent marker. In short, there's a lot of history to distill into a cable-knit cardigan.
"The challenge was making them look like they were worn and used and had a bit of life to them, and not have them just be new things that we manufactured for the movie," explains Bhasin, who found a knitter in New York to replicate the pieces. "I wanted them to be slightly ill-fitted. It's seen wear. It's seen life — like someone had put love into making them. We didn't want a finished product that was like perfect."
Another fun fact: Initially, Rogers's mom knit button-up cardigans, but pivoted to zippers for ease of change during the intro. Seasoned designer Bhasin, of course, ensured functionality for smooth takes, but the rest was up to Hanks. "That was all Tom," explains Bhasin. "He had done so much work on that and we had a few laughs on set where he was struggling to get the zipper done and the shoes on, and struggling to pass the shoe from one hand to the other. He made it look so effortless by the end."
Borrowing From Mr. Rogers's Closet for Tom Hanks


Even though Rogers changed into his more relaxed uniform for the show, he always wore his proper and clipped-in neckwear. Bhasin and his team heavily researched and then replicated and silk-screened exact prints for Rogers's ties.
"Then I get to Pittsburgh and I go to see Joanne and she was like, 'I think I have those ties somewhere in a box. I was going to give them to Salvation Army,'" recalls Bhasin. "It was just hilarious and I was like, 'Oh my god, here's this tie we spent two months copying and it's right here in this box because he never threw it away.'" Joanne Rogers was "thrilled" to share the sentimental accessories, and Rogers probably would have approved, too. 
"Fred was such a Tom Hanks fan," continues Bhasin. "So [Joanne] was very excited to let us use and borrow things. Then everything just became doubly meaningful because it was actually his."
As an investigative journalist does (or should), Lloyd immerses himself in research prior to meeting his subject. He watches — on VHS tape — footage of Hanks as Rogers interspersed into real footage, including a 1985 visit to "The Oprah Winfrey Show" and a 1993 appearance on the "Arsenio Hall Show," when Rogers wore a leather-blocked varsity jacket matching Hall's.
"We had started to build it, based on research, and then we were like, 'Wait a second. I think I know where that jacket is.' We found it [from his son]," says Bhasin. "So Tom is actually wearing Fred's jacket. It was pretty special."
Dressing Lloyd as a Cynical New York Journalist


"I always thought of him as this hip New Yorker," says Bhasin of the character, a new dad who lives in a Manhattan loft and is married to Beth from "This Is Us." "He was very entrenched in New York and everything that New York had to offer. He'd run away from New Jersey." 
Along with Heller, Bhasin imagined a backstory of Lloyd "escaping" — and continuously avoiding — his bridge-and-tunnel roots, which were exemplified by his father Jerry's (Chris Cooper) "The Sopranos"-meets-Rat Pack silvery-white "smoking jacket" (above), worn to his sister's wedding. "Jerry probably wore it to her last wedding," says Bhasin, adding, "The sister's wedding dress was just a little bit tacky. We just had a lot of fun with it."
Related Articles:
Sarah Jessica Parker Doesn't Wear Any 'High-End Fashion' in Her New Show, 'Divorce'
Paul Tazewell Tracks His Career From Midwestern Theater Student to Costume Designing 'Hamilton' and 'Harriet'
Timothée Chalamet Wears the 15th Century Version of a 'Cool Denim Jacket' and Real Armor in 'The King'
When we see Lloyd in his natural habitat, he's stomping through the bustling Esquire magazine floor in a tweedy blazer, button-down shirt, tie and jeans. His no-B.S. editor Ellen (Christine Lahti, in '90s power-blocked silk shirting) tasks Lloyd with a 400-word profile on "the hokey children's show guy," which he reluctantly accepts.
"All his fabrics were kind of bristly and scratchy feeling, like him," explains Bhasin, who enjoyed shopping '90s vintage for Rhys. "It was the heyday of Armani and we wanted very '90s light-colored jeans, loafers and the mock turtleneck. There's also an 'I don't give a shit' kind of vibe about him. He was too cool for school, almost." Also, like many of his New York media cohorts, he rarely veers from his established uniform — at first at least.
"We didn't give him heaps and heaps of clothing. He was like, 'This is my look; This is my style.' But once he meets Fred, Fred turns his world upside down," says Bhasin, who transitioned Lloyd into more casual long-sleeved T-shirts and, of course, cozy sweaters. "He starts to unravel and get softer. He gets more comfortable in himself and his mind."
Homepage image: Lacey Terrell/Courtesy of Sony Pictures Entertainment
Never miss the latest fashion industry news. Sign up for the Fashionista daily newsletter.