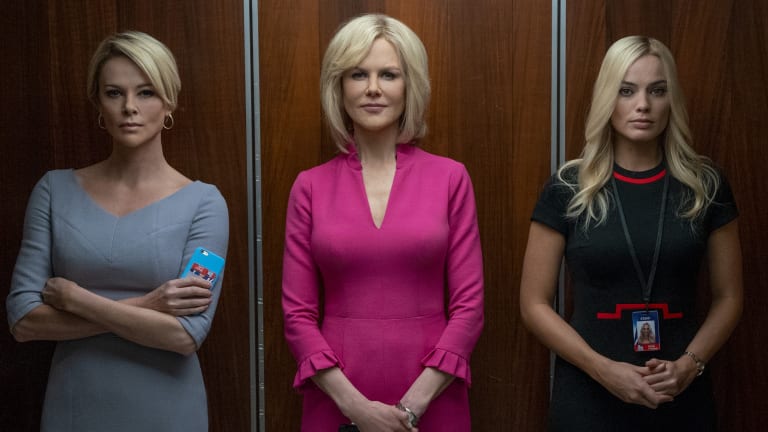 How Charlize Theron, Nicole Kidman and Margot Robbie Transformed Into Their Award-Nominated Roles in 'Bombshell'
The also-award winning costume, makeup and hair designers share all the behind-the-scenes details.
The lead actors of "Bombshell" are already cleaning up during the initial awards season nominations spree. 
In the Jay Roach-directed film chronicling the takedown of sexual predator and chairman and CEO of Fox News Roger Ailes, Charlize Theron and Nicole Kidman nearly disappear into the roles of Megyn Kelly and Gretchen Carlson, respectively, the former anchors of 45's go-to "news" network. Co-star Margot Robbie, meanwhile, goes through the wringer as a fictional newbie staffer and Ailes target named Kayla. All three actors have received 2020 Screen Actors Guild award nominations; Theron and Robbie nabbed individual 2020 Golden Globe and Critic's Choice award nominations, too. 
Behind-the-scenes, the costume, hair and makeup pros played integral roles in helping the leading ladies immerse into their characters. There's four-time Oscar-winning (and overall 12-time nominated) costume designer Colleen Atwood, Emmy-nominated Hair Department Head Anne Morgan and Emmy-winning Makeup Department Head Vivian Baker, who worked closely with special effects makeup artist Kazu Hiro, who won the Academy Award for "Darkest Hour." And their work in the film is getting industry attention as well, earning 2020 Critic's Choice and Make-Up Artists and Hair Stylists Guild Award nominations. 
Below, Atwood, Morgan and Baker talk us through the leads' stunning transformations, which support their character stories and bring down Ailes.
Related Articles:
Saoirse Ronan and Timothée Chalamet Swap Civil War-Era Costumes in 'Little Women'
Kristin Stewart Wears a 'Leopard Print Lounging Suit' and a Lot of 'Barbie Doll' Pink in 'Charlie's Angels'
The 'Maleficent' Sequel's Battle Costumes Include 'Hundreds of Thousands' of Swarovski Gems
Megyn Kelly (Charlize Theron)
Theron's near-complete transformation for the film is so spot-on, it even confused Kelly's six-year-old son in real life, the former anchor told Deadline. That was party thanks to facial prosthetics — Hiro designed heavier eyelids, contact lenses, a nose tip and jaw pieces for Theron. He also created delicate hi-tech 3-D printed nose plugs by taking and scanning casts of the inside of the actor's nose. "This took awhile to settle because we wanted to keep it as comfortable as possible and we didn't want it to affect her voice," he said in a video. "So it ended up really small, but still effective because Megyn Kelly has bigger nostrils and Charlize has really tiny nostrils."
Baker worked closely with Hiro to create concoctions of bases and foundations to seamlessly blend makeup with the expertly-designed prosthetics. (Apparently, flawless skin, like Theron's, actually makes the job even more challenging.) Baker relied on Lashify eyelash extensions of varying lengths to also help "force" and "change" the eye shapes — not just for Theron, but also for fellow cast members also playing real-life figures. Of course, maintenance in between shoots were essential, so Baker credits an "arsenal of serums" by La Mer and Dr. Barbara Stürm in healing and protecting the lead's porcelain skin.
For the opening and imagined narration sequence, Theron, as Kelly, wears a custom-designed red, white and blue color-blocked body-con dress (above), which Atwood describes as "the most Fox News thing we see her in." Her coif — very 'early Megyn' — is one of four wigs with a smattering of long, weft extensions that mimic the "thin," fine and color-treated hair Morgan observed from viewing old footage of Kelly.
Atwood worked closely with Theron (who is also a producer on the film) to meticulously recreate the outfits Kelly wore during famous — and infamously offensive — on-air moments, like the hot pink dress worn to insist that Santa Claus (and Jesus Christ) can only be caucasian and the neckline- and shoulder-baring Ralph Lauren dress that scandalized viewers during the 2016 Republican National Convention. "I had a multi-layered process with getting the spaghetti straps to hit [at the exact location] on the dress, and Charlize really wanted to be as accurate as possible," she explains. The character's bold colors evolve to more muted neutrals — similar to what the real Kelly wears — in an effort to "separate her from the environment a little bit," as the anchor decides to join the suit against Ailes.
The wigs worn by Theron in the film also mimic Kelly's real-life hair journey. After she's attacked on Twitter by then-primary candidate Donald Trump and before the second Republican primary debate in 2016, she cut her long, bleached-blond waves into a more naturally highlighted crop. That's when Theron, as Kelly, transitions into a third wig with softer waves, as the character makes her climactic decision. But Morgan had to adjust it to a slightly longer length than in the real timeline because the effect ended up more Theron than Kelly — even with the prosthetics. "Is this possible that Megyn Kelly took a photo of Charlize into the hairdresser and was like, 'I want my hair to look like this?'" Morgan jokes.
Gretchen Carlson (Nicole Kidman)
Kidman as Carlson serves as a striking centerpiece in the wordless elevator scene (top), which almost broke Twitter as a teaser. Atwood based the design of the fuchsia v-neck dress, complete with pleated cuffs, on the on-air aesthetic of the former "Fox & Friends" co-host. The costume designer — who also created the body padding for John Lithgow's metamorphosis into Ailes — also padded Kidman's silhouette to mimic Carlson's "voluptuous" and "curvy" shape. 
Atwood didn't design each individual character's look with the other two in mind — or as a "composition," in costume designer speak. She did, however, focus on the individual character stories, taking inspiration from Fox News women's dress code, which allegedly actually existed. And Atwood wanted Kidman as Carlson to wear that specifically-vibrant shade of pink: "[The dress] had a little bit of character with the ruffles," explains Atwood. "[Carson] wasn't quite as refined tastefully as Megyn Kelly."
Morgan worked with director Roach to reimagine and recreate Carlson's hair on Kidman. But the actor brought her longtime hairstylist Kim Santantonio on board to design and "morph" just one wig to transform her into the more "golden blonde" style of the Fox News old guard. 
Her hair look subtly evolves from sprayed on-air "helmet head" — as compared to Kelly's sleeker waves — to softer layers when she's at home waiting out the results of her lawsuit. She also wears more vulnerable neutral cashmere knits and high-collar pussy bow blouses, which Atwood says she based on interviews Carlson did while at home.
According to Hiro, Roach wanted to keep Kidman as Carlson "very simple" — plus, the Oscar-winning actor wasn't too keen on long hours in the makeup chair. So, he kept the prosthetics to a "minimum" (nose and chin), even though Carlson's face has a rounder shape than Kidman's. To create the "mad scientist" foundation mixtures to properly blend real skin — especially complexions as flawless as the lead actresses' — with prosthetics, Baker even experimented with pancake bases from brands including Armani, Clé de Peau, By Terry and "all the Kryolan" ones. She also relied on Sonia Rosselli's cleansing and skincare products: "It's like a drink of water," she says.
Kayla Pospisil (Margot Robbie)
Unlike her co-leads, Robbie's newbie staffer Kayla is fictional character representing a composite of career-focused young women who were victimized by the unequal power dynamics and deep-seated cycle of sexual harassment and abuse at the network. 
"I went and hung outside of Fox News in New York a little bit watching people — just the worker bees — come and go and I took it from there and made it up to be honest," says Atwood about her inspiration-gathering process for Kayla's costumes. To represent the character's Florida "weather girl" roots, Baker similarly looked to "small market" newscasters and weather forecasters for beauty inspiration.
Atwood, Morgan and Baker worked in tandem to first establish Kayla's wide-eyed enthusiasm, first as she leaves Carlson's team to advance into what she sees as a more opportune role on Bill O'Reilly's. For her first pitch meeting, she tries to impress in an intentionally Chanel-esque pink and black sweater set (above). "I liked the idea that it was fake Chanel," says Atwood. "That was her idea of being sophisticated and part of that world, but still having a little bit of youth-like, young femininity to it, as opposed to being like a really tailored — man-tailored suit." 
Atwood evolved Kayla's look into a more New York City-influenced and possibly-employer-mandated body-con dress and leg-elongating heels: "Suddenly she was Megyn junior."
While Robbie didn't undergo prosthetic makeup application to play Kayla, her character's beauty evolution, charting her journey through the Fox News machine, is just as radical. She goes from "sweet" fresh-faced makeup, which intentionally looked self-applied, to "that Fox thing: lashes and eye makeup and lips and glossy lips and the hair," says Baker, adding: "It becomes a mask. It becomes that Fox kind of look, but I also wanted it to be the mask that she's hiding behind."
Baker also kept an arsenal of high-end mascaras, "from Dior to Armani," on hand for all her leading ladies, selecting the formula based on the scene. Plus, to highlight the gross Ailes-encouraged emphasis on (a figure-hugging and short) wardrobe, body makeup was also in order. "These dresses were tight and many of them were white," Baker points out. Westmore Beauty's body makeup line provided thorough coverage and that bronze-y effect, without risking transfer onto the body-skimming sheaths.
For Kayla's specific "head-turner white blonde" shade of long waves, Morgan also looked to a real-life inspiration that is both high-profile and incendiary: Tomi Lahren, whom the "evangelical millennial" (as Kayla describes herself) would probably aspire to be. "When she arrives [with a] sweet look, she's doing her own hair and then you see her get blow-outs when she moves onto Bill O'Reilly's department to try to get noticed more," Morgan says. To create the voluminous and barrel-curled waves, the hair stylist added "two entire packs of extensions, like 24 of them [into her wig]. It's insane, no one puts that many in her hair."
As Kayla gets pulled into the toxic and destructive cycle, then finds her way out, her costume, makeup and hair come full circle. "Then she definitely ends in a place that's just more natural and true to herself," says Morgan.
Never miss the latest fashion industry news. Sign up for the Fashionista daily newsletter.