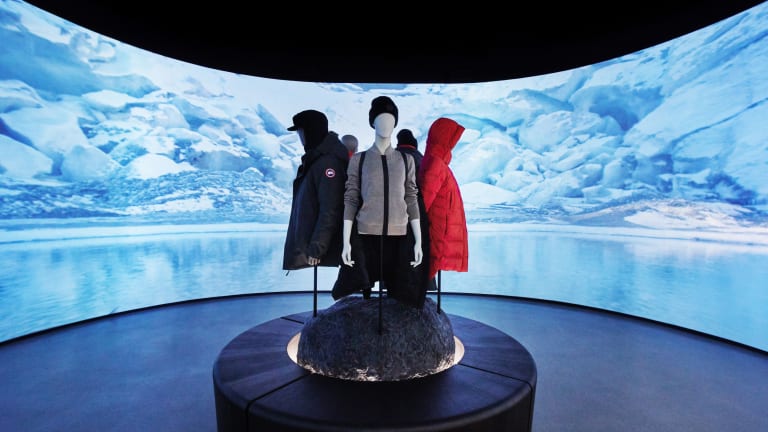 Will Canada Goose's Latest 'Experimental' Concept Attract the Next Generation of Luxury Shoppers?
The Canadian brand just unveiled The Journey, an immersive concept featuring real snow, the scent of the wintry outdoors, Instagrammable content... and no inventory.
Last week, Canada Goose unveiled its a new multi-room retail concept dubbed "The Journey" in its hometown of Toronto. The choose-your-winter-adventure experience checks all the buckets to reach the younger generation of shoppers: It's immersive and highly Instagrammable. But there's not any actual product to try on. 
After making an appointment via a "virtual queue," guests escape the commercial frenzy of the festively decorated mall, enter a towering glacier facade and walk across a "crevasse," with the sound and imagery of ice breaking under their feet. Then, surrounded by dizzying aerial video projections of sweeping British Columbia landscapes — and taking in the aroma of "the Canadian outdoors" — they learn the history behind the brand's hero Snow Mantra parka via interactive red laser target "hotspots" on the coats (below). At the end of the guided tour, a Brand Ambassador can help with sizing and styling and purchasing Canada Goose via kiosk — but only if you want, no pressure. 
"This is an experiential — and experimental — moment for us," Chief Marketing Officer, Penny Brook, says to Fashionista, as we sit in the the "Elements" room (above), taking in a bouquet of Canadian fir trees, cedar bark and angelica flower (and as I felt a bit lightheaded at one point from the video projections). 
Related Articles:
How Canada Goose Became the Movie Industry's Outerwear of Choice: Both On- and Off-Screen
Tiffany & Co. Courts Millennials in China With Massive, and Strategic, Exhibition
The Business and Evolution Behind All Your Favorite Performance Fabrics
The brick-and-mortar-meets-digital venture comes at a timely moment for Canada Goose, which filed for IPO in March 2017. The brand released its second quarter earnings last month, surpassing analyst estimates with an increase in revenues of 27.7% (about US$165.7 million) with a 47% increase in direct-to-consumer revenue, largely driven by sales in new stores. Although, due to shipping much of the fall/winter stock earlier, growth for fiscal 2020 is estimated at 20%. (This figure is also affected by political unrest in Hong Kong, where the brand has two storefronts.)
Since establishing the Toronto flagship in 2016, Canada Goose has been on an international opening frenzy. It has 20 stores worldwide, including a New York flagship and three in mainland China. (Up next: Paris.) But right now, Canada Goose is playing with the inventory-less The Journey, which is located in the very local — and not very international tourist trafficked —  CF Sherway Gardens in the western part of the Greater Toronto Area. 
CEO Dani Reiss explains via email that the location is a "natural fit" to reach homegrown "fans" in Toronto, plus to discover what works within an "experience-first" and inventory-less retail environment — which touches on buzzy concepts like accessible research, brand immersion, authenticity, and relationship building — before considering whether to take it elsewhere. 
Canada is the heritage brand's largest market, followed by U.S. and a rapidly growing Asia. (Hey, experiential exhibits by luxury brands play really well with the millennials in mainland China.) Staying close to home also makes sense for Canada Goose as it experiments with innovative ways to build relationships with budding luxury customers through direct-to-consumer retail. Because, while born into a digital world, the discerning Gen Z prefers the brick-and-mortar shopping experience over online — and by a long-shot.
Matt Powell, Sports Business Analyst at NPD Group (and resident "Sneakerologist" seen on the Supreme episode of Hasan Minhaj's "Patriot Act"), explains, on a call, that focusing on DTC via storefronts and e-commerce is a no-brainer. Beyond "double-dipping" on the retail and wholesale margins, brands can then control, maintain and communicate "the essence of the brand" via its own website and marketing. He also thinks an immersive component to retail is "a great idea" for Canada Goose: "That's part of the direct-to-consumer story that you have a shop that really illustrates the values of the brand," he adds, who especially recommends retail experiences for Millennial shoppers.
Founded in 1957 as Metro Sportswear Ltd in Toronto, Canada Goose has maintained its roots as its public perception evolved from high performance outerwear maker to luxury purveyor of $1,000-plus parkas. It has consistently highlighted the high-tech functionality of its garments in extreme elements, keeping scientists in Antarctica warm in the '80s and outfitting Laurie Skreslet as he made history as the first Canadian to summit Mount Everest in what's now dubbed the "Skreslet Parka" decades later. Sure, Kate Upton wore a white Chilliwack bomber (and not much else) on a 2013 Sports Illustrated Swimsuit Issue cover, but we know she was staying warm.
"We're ultimately a storytelling brand, so our story gets told through other people, and through the use of the product, and that breathes life into our brand. Then we continue to tell those stories," says Brook. 
Jacob Chang, Director of Insights for Gen Z marketing agency, Juv Consulting, describes Canada Goose as "having a very low-key marketing strategy. They don't really go and blast advertisements everywhere." He cites word-of-mouth, strategic product placement and visibility in creating such strong brand awareness, especially with his peers. He referred to Canada Goose's signature parkas and puffers as an "omnipresent" sight at the University of Chicago, where he's also a junior. 
Canada Goose remains selective in choosing their influencers, so to speak. It has featured synergistic social media presences, like adventure travel vloggers Kara and Nate, and distinguished figures within the exploration, athletic and Canadian communities, such as four-time Iditarod champion and cancer survivor Lance Mackey. (He's collaborated with the brand on product design and a namesake parka, plus narrated a video featured in The Journey, alongside indigenous activist and artist, Sarain Fox.) The brand's longtime support of the film and entertainment industry includes seeding practical parkas to talent and crews spending extended hours filming in extreme weather, and also sponsorship of film festivals like TIFF and Sundance — which also makes for optimal street style and paparazzi photos featuring the recognizable circular logo. 
Canada Goose also has what it calls its Basecamp community, which encompasses email subscribers, social followers, consumer-facing events and video content — all of which disseminate its messaging. "So much of it's really been done by peer-to-peer influence, and that is the single most effective marketing tool that's out there," says Powell.
The brand also recently launched its blog, Beyond. "It's purposely called 'Beyond' because we're not specifically talking about product," explains Brook. "We're talking about all the associated stories that people are living around our products."
Powell credits Canada Goose for utilizing its own website as an effective marketing tool, which also proves key in managing the messaging behind another core facet of the brand's DNA and its "function first" mantra: the use of goose down and coyote fur.
A long-running and growing list of fashion brands have gone fur-free in recent years, including, Gucci, Versace, Burberry, Ralph Lauren and Lacoste. Macy's and Bloomingdales will phase out fur February 2021. In October, California became the first U.S. state to ban the manufacture, sales and distribution of new fur. Of course, millennial and Gen Z audiences are distinctly socially conscious in their purchasing decisions, while the latter is embracing the vegan lifestyle in droves.
Canada Goose's website features a prominent "Fur and Down" tab at the top, which leads to a page detailing its trademarked "Transparency Standards" for sourcing by-product down in accordance with established Canadian Agreement of International Humane Trapping Standards and, in the U.S., the Best Management Practices guidelines.
"Ultimately, [Canada Goose] can tell their story and the consumer can decide whether or not they agree with its positions," says Powell. "But at least [the brand] told it in the way that they see it and the way that they run the business." 
While Chang acknowledges the Canada Goose's transparency efforts, especially via its website, he's still skeptical: "They've made a big effort to emphasize that, but it hasn't really resonated because Gen Z still deeply cares about the environment, having sustainable practices and an ethos that does good with the world," he says. "You can't just write that out, you have to show us in some other authentic way." 
When asked about utilizing The Journey as a platform to address concerns about fur and down, Brook pointed me to Canada Goose's philanthropic efforts for the environment and the local community. As also highlighted on the website and within the experience, the brand has supported Polar Bears International (PBI) for over a decade, plus indigenous communities in the North through the Canada Goose Resources Center Program and Project Atigi.
But, like its predecessors, Gen Z is, well, complicated. "Canada Goose has just built up such a brand and reputation through its success and its marketing that Gen Z — the ones who can afford to purchase [a coat] or whoever's family can afford to purchase one — are going to do that. Even though inside it might not be the most ethical decision for them," says Chang. He noted that "half the student body" already broke out their circular logo-ed and goose down-filled outerwear once the Chicago lakeside temperatures dipped. 
Plus, there's another factor for the brand known for $1,000-plus parkas to reconcile: the avoidance of open displays of wealth practiced by Gen Z and Millennials. "In some sense, some people consider Canada Goose that. Yet, again, a lot of people still own the jacket and wear it," says Chang, analogizing to the AirPods "flex."
"When I came to Canada Goose [seven years ago], we were an outdoor brand," says Brook. "We have evolved over that time into performance luxury brand, but it's really important that no matter where we're worn — and whoever we're worn by — we still remind our consumers of the functional basis for the brand." 
Chang agrees that the brand "toes the line between luxury and utility," adding that the lure of Canada Goose to the non-brand-sensitive Gen Z really ties back to the proven functionality: "What's important is that it works well and that it looks good and it does what it needs to do. Therefore, the brand just comes second to all the other things. To me, Canada Goose actually fulfills its purpose well." 
The final experience within The Journey gives potential customers the chance to personally test-drive the functionality of the Canada Goose Aldridge puffer, in bright red for optimal #content creation and minus the detachable fur-trim (which this very allergic writer appreciated). Within the Cold Room (above) — the brand's 10th, following the Boston location — visitors immerse themselves in a snow-filled arctic environment set to a frigid 10.4 degrees Fahrenheit. Another floor-to-ceiling original film of mountainous Arctic landscapes plays on two walls, while a very social media-friendly mirror lines another. (According to Forbes, Canada Goose stores with a Cold Room have experienced a "spike" in conversion rates.)
A visit to The Journey would cost $0 for younger consumers not in the position (yet) to invest four figures in a Canada Goose coat. But there's another very clear takeaway, which also ties into the brand's proven cycle of "organic"-feeling marketing.
"They can still Instagram it," says Brook.
Full disclosure: Canada Goose paid for my flight and accommodations in Toronto to cover the opening of The Journey.
Never miss the latest fashion industry news. Sign up for the Fashionista daily newsletter.