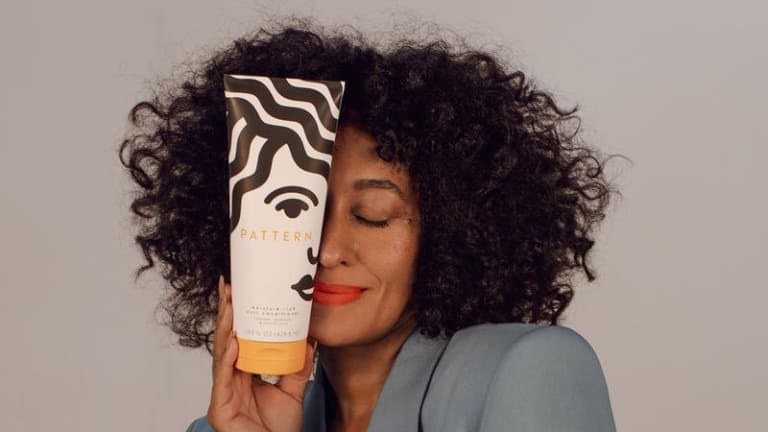 2019: The Year in (Oh, So Many) Celebrity Beauty Launches
Old-school endorsement deals don't seem to satisfy celebs anymore.
In 2019, Americans ceded all control to celebrities. "Dress me," we begged, and Rihanna gave us Fenty. "Make me smell good," we demanded, and Michelle Pfeiffer, Lionel Richie and J.Lo heeded the call. "Wait, would you… register me to vote?" we asked, and Ariana Grande actually did it. "Run for president!" we begged Oprah and Kanye and Dwayne "The Rock" Johnson. No luck there, which is fine, since we already have a reality TV star for president and it's honestly not going great for him.
Then there's beauty — an area of our lives that's always been dominated by celebrities, traditionally via endorsement deals. But "face of" situations don't seem to satisfy celebs anymore. They want creative control, a bigger piece of the profit pie, a platform from which to pivot out of entertainment. (Remember when Victoria Beckham was most famous for being a Spice Girl? Me, neither.) They want to launch their own beauty brands. 
The first few times it happened — Kylie Cosmetics, Fenty Beauty by Rihanna, KKW Beauty — beauty lovers couldn't get enough. "Teach me how to over-line my lips!" we cried. "What's my one true foundation shade?" But with every brand new brand launch foisted upon our faces, squeals of excitement eventually turned to sighs of exasperation. "More celebrity makeup?" we eventually scoffed as Millie Bobby Brown introduced Florence by Mills. "Just... why?" we whispered in mild horror when Kylie Jenner revealed that Kylie Skin would include — wait for it — a walnut face scrub.
Of course, there were bright spots, like Pattern Beauty from Tracee Ellis Ross, a hair-care company that caters to the underserved curly and coily market; and Henry Rose from Michelle Pfeiffer, the first fragrance line certified by the Environmental Working Group and Cradle to Cradle. Both demonstrate that there's still a good way to do celebrity-backed beauty: by using said celebrity to advance the industry when the industry refuses to advance itself. I mean, a 40-shade foundation range is now the norm thanks to Fenty Beauty. Inclusive hair care and safer scents might be next.
Ahead, 15 major moments from what we can only hope will be remembered as The Year of the Celebrity Beauty Brand. (Because I don't know if we can take it if 2020 tries to come for that title.)

Lady Gaga: Haus Laboratories
Haus Laboratories from Lady Gaga launched in September 2019 proclaiming, "This is not just another beauty brand." It's since introduced lipstick, lip gloss, eyeliner and an eye-shadow palette, all available via Amazon. See? Totally not another beauty brand.
Michelle Pfeiffer: Henry Rose
The Food & Drug Administration's fragrance guidelines have so many loopholes that Michelle Pfeiffer 1) stopped wearing perfume for 10 years, just to be safe, then 2) founded Henry Rose, the first fragrance brand to be certified by the Environmental Working Group and Cradle to Cradle for safety and sustainability, in July of 2019.
Jennifer Lopez: Promise
This year also marked a milestone for one of the most well-known celebrity fragrance faces: Jennifer Lopez, who revealed Promise, her 25th scent, in September. 
Tracee Ellis Ross: Pattern Beauty
Tracee Ellis Ross' September 2019 launch, Pattern Beauty, may be the single most important celebrity beauty brand to ever exist, for the simple fact that it exists for a reason (beyond banking on celebrity, that is): It caters to a severely underserved market and inspires women of color to celebrate their "juicy and joyful" curls and coils.
Millie Bobby Brown: Florence By Mills
I'm going to go out on a limb here and say that no one has ever actually used a Florence by Mills product, not even Millie Bobby Brown herself, who was caught pantomiming her skin care routine in an ill-advised YouTube tutorial in September. She gets a pass and a second chance for being a literal 15-year-old.
Kylie Jenner: Kylie Cosmetics and Kylie Skin
It was a big year for Kylie Jenner: In May, she boldly launched Kylie "F*cking" Skin with a Walnut Face Scrub that will haunt my middle school flashbacks forever. In November, Coty acquired a 51% stake in Kylie Cosmetics for $600 million, with the intent to help Jenner go global.
Victoria Beckham: Victoria Beckham Beauty
I expected a series of smoky eye products from Victoria Beckham Beauty. I did not expect them to be 100% "clean," with attention to reusable packaging, minimal single-use plastic and streamlined, intentional launches. Props to Posh for doing her part to push the industry forward.
Kim Kardashian: KKW Beauty
For KKW Beauty, 2019 was a year of Konstant Kollabs: with sister Kylie Jenner, with model Winnie Harlow, and with longtime makeup artist Mario Dedivanovic.
Kourtney Kardashian: Poosh Collabs
The eldest Kardashian launched Poosh, a lifestyle site centered around healthy living and clean beauty, in April 2019. She's since dabbled in "Poosh x" product partnerships with collagen brand Vital Proteins, hair-care brand Aquis, and skin-care brand Hora.
Kendall Jenner: Moon
Not to be outdone by her sisters — or, of course, her sock entrepreneur brother — Kendall Jenner managed a truly minimal effort in the beauty space with Moon, an "oral care" company backed by the Beach House Group, which is also responsible for Florence by Mills. (Your move, Khloé.)
Rihanna: Fenty Beauty
Fenty Beauty is perfect. Its industry-defining shade range is perfect. Even its April apology for appropriating Asian culture by naming a highlighter shade "Geisha Chic" was perfect. But where's the album, Ri? (Sorry.)
Justin Beiber: Schmidt's Deodorant Collab
In the most random beauty collaboration of the year, Justin Beiber partnered with natural deodorant brand Schmidt's on a formula that urges us all to "be kind, stress less and hug more." Sure, why not?
Lenny Kravitz: Twice
When rock legend Lenny Kravitz learned that 35% of Americans don't actually brush their teeth twice a day, he launched the passive-aggressively named toothpaste brand Twice, seemingly out of sheer disgust.
Kesha: Kesha Rose Beauty
The latest celeb to try their hand at the whole beauty thing? Kesha, who revealed her vegan, '70s-font-adorned makeup collection, Kesha Rose Beauty, with Hipdot in December.
Lionel Riche: Hello
Lionel Richie has apparently been working on his November 2019 fragrance release, Hello, for five years. Five years! In 2016, Richie told W that body lotions and home fragrance would follow, and they would smell "not like a hotel room." This is the only celeb-produced product we need in 2020, thanks.
Please note: Occasionally, we use affiliate links on our site. This in no way affects our editorial decision-making.
Never miss the latest fashion industry news. Sign up for the Fashionista daily newsletter.