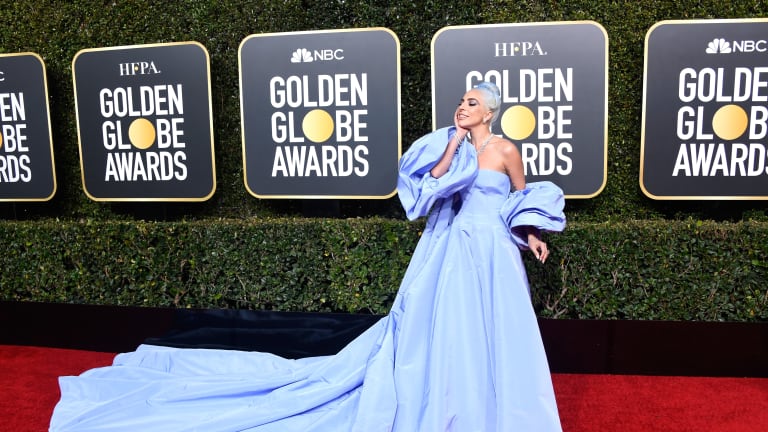 In 2019, the Red Carpet Was on Fire. What Does This Mean for 2020?
There were a lot of memorable fashion moments this year — and they set a a new standard for the red carpet in the new decade.
When it comes to the biggest red carpet events each year, many celebrities are set up to succeed in a similar way: They'll have access to beautiful looks with the help of stylists, close relationships with some of the biggest fashion houses in the world and a budget that's sometimes non-existent. Watching it unfold from home, anyone can appreciate the glamour and specialness of an intricately-beaded mermaid gown or a tuxedo that makes a leading actor look like James Bond. Still, 2019 felt different. 
This year's red carpets set a new standard and tone — one where beautiful dresses were not exclusive to those who identify as female, walking the red carpet was a choreographed performance unto itself and celebrity-stylist teams were the new "power couple." It was exciting, evocative, and good as hell. (Yes, that's a Lizzo reference.)
Consider 2019 a culmination of a decade's worth of history-making looks: Lady Gaga's meat dress circa 2010, Angelina Jolie at in that high-slit Atelier Versace gown at the 2012 Oscars, Rihanna in a near-naked Adam Selman dress to accept her CFDA Fashion Icon Award in 2014 — followed by countless Cate Blanchett, Zendaya, Bella Hadid, and Tracee Ellis Ross looks that deserved their own standing ovations. 
In some obvious ways, some red-carpet outfits this year honored the past (Elle Fanning reimagining the Dior New Look at Cannes or Lily Collins recreating Priscilla Presley's wedding-day ensemble at the Met Gala, for instance), but it also hinted at what's to come in 2020. Generally speaking, it's fashion that continues to break with conformity and take up space — literally and figuratively.
"Volume played a huge role," says Cherie Balch of Shrimpton Couture, a premiere vintage destination that's worked with stylists such as Karla Welch and celebrities including Rosie Huntington-Whiteley. "I had more requests this year for big and unique details than I have ever had before." 
Of course no one exemplified both volume and vintage like Cardi B did at last January's Grammys. Over the last few years, her fashion choices have evolved as she continues to work with stylist Kollin Carter to create a portfolio of outfits that speak to the many facets of her personality. However, nothing Cardi B wore prior to this year could compare to the Thierry Mugler clamshell dress plucked from the label's archives. 
Aside from the size of Cardi's clamshell dress — or her duvet-like Thom Browne creation at the Met Gala, for that matter — the entire effect also claimed space for the hip-hop artist and breakout actress within the world of luxury fashion. Case in point: She ended the year as the first female rapper to ever appear on the cover of Vogue.
Similar parallels can be drawn to actress Gemma Chan, who chose a tented, tiered Valentino Couture gown to make her Oscars debut with the historic 'Crazy Rich Asians' cast. Lizzo also owned her space as an artist and champion of self-love and body positivity on the red carpet, specifically by wearing dramatic, voluminous feathers on custom creations by Marc Jacobs and Moschino.
More seasoned red-carpet walkers belong in this category, too. "Lady Gaga at the Golden Globes was pretty phenomenal," says stylist Micaela Erlanger of the puffed-sleeved Valentino Couture gown with a massive train that the A Star Is Born actress wore in January (pictured at the top). "That was the definition of a 'moment.'"
According to Erlanger, whose clients include Lupita Nyong'o and Constance Wu, "there will be a renaissance back to all things classic and glamorous," in 2020, citing one major reason why: "The world is looking for beauty in an otherwise challenging and dark climate."
However, it's varied interpretations of beauty that has brought about the most excitement to the red carpet. That includes everything from Billy Porter in a Christian Sirano tuxedo gown at the Oscars to Gwendoline Christie in a regal Gucci robe dress at the Emmys to Lena Waithe and Kerby Jean-Raymond in coordinating zoot suits at the Met Gala.
"People are becoming more accepting and more open to what is different," suggests Shutterstock photographer Chelsea Lauren, who's at the front line of all the major red carpet events. "Besides the fabulous Billy Porters and Jonathan Van Nesses of the world, I saw ladies like Olivia Wilde rocking pantsuits, men like Timothée Chalamet and Nick Jonas in vibrant printed suits, Billie Eilish doing her thing while exuding confidence in baggy clothing."
Related Stories:
The Big, Bold Year That Men's Red-Carpet Fashion Got Fun
What Does Diversity in Magazines Mean in 2019?
2019 Was the Year Sustainability Finally Burst Into the Fashion Mainstream
Stylist Chloe Hartstein shares a similar sentiment: 'Menswear is becoming just as important as womenswear on the red carpet and I think we will see more and more daring dudes in 2020."
With clients including Glenn Close and Melissa McCarthy, Harstein also acknowledges increasing high-fashion options available for people of all sizes, affording them the freedom of expression that actors sizes two or four have always had. "More and more designers and brands are expanding their size runs to accommodate women of all shapes and sizes" she says, shouting out 11 Honoré for its work with designers like Siriano and Brandon Maxwell to make this a reality.
As for what is to come in 2020, the bar is set high. But there's also not exactly a specific goal marker. Like this past year, it'll be the range of expression that makes the red carpet more entertaining than ever to watch.
"I just can't wait to witness the further evolution of the trends we've seen beginning," says Lauren, calling out men's use of daring colors (see: Chalamet in a raspberry-colored Stella McCartney suit at the 'Little Women' premiere or Lil' Nas X in electric green Christopher John Rogers at the AMAs), as well as greater representation for all members of the LGBTQ+ community. "I think styles will become more dramatic and more free-flowing than ever as people become more celebratory of what makes them unique."
Balch predicts vintage will become even more intertwined with the red carpet as celebrities and stylists prioritize creating fully unique and personal moments instead of one that's simply pretty. "The thing about vintage is that you know that you are going to be the only girl wearing it on the carpet over the course of the season. You know that it is special and magical," she says. 
It also doesn't hurt that increased use of vintage sets an example for how the red carpet can promote sustainability, arguably a theme that will be increasingly relevant across industries in 2020. "As a society we all somehow got it into our heads that we can only wear something once, especially if we are photographed in it," Balch adds. "When a celebrity wears a piece of archival or vintage they are saying that it is not just okay to re-wear a look but that it belongs on a red carpet."
We don't have to wait that long to see what the red carpet will look like in 2020: Awards season kicks off on January 5, with the Golden Globes. There may or may not be one internet-breaking moment akin to Cardi at the Grammys or Lizzo with a teeny-tiny Valentino bag, but if 2019 is any indication, there will definitely be several of them by this time next year.
Want more Fashionista? Sign up for our daily newsletter and get us directly in your inbox.