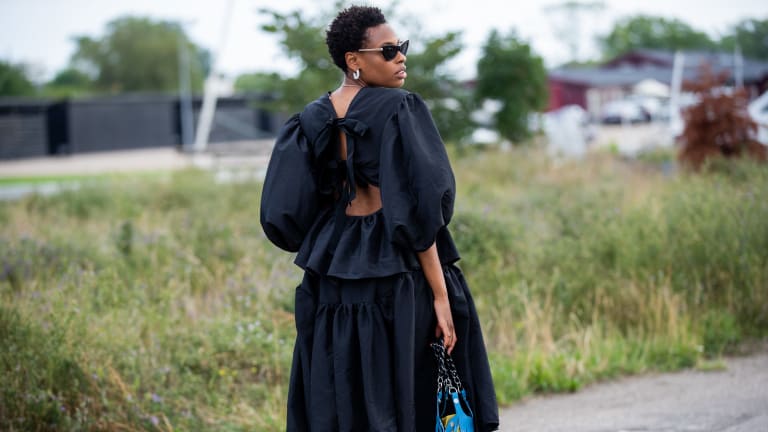 Cecilie Bahnsen Dresses, Telfar Bags, Bottega Veneta Anything: These Were the "It" Items of 2019
We asked the experts to share their thoughts on the most talked-about pieces of the year.
Every year — every fashion week, even — there are a handful of pieces that catch the collective eye of the fashion crowd. They are deemed "it." People start wearing them, writing about them, Instagramming them, buying them or putting themselves on waitlists for them in droves.
"It seems like every season, there's a brand transforming into something that everyone is wearing and buying," says photographer Lee Oliveira. "In 2018, it was a cross between Gucci and Balenciaga. This year, in my point of view, it came to be a lot of Bottega Veneta, which I hadn't seen in a very long time."
According to Roopal Patel, SVP Fashion Director at Saks Fifth Avenue, the process of identifying what will become an "it" item starts the moment it hits the runway. "A great piece is a great piece. You know that if you're getting that sense of emotion and excitement from seeing it up close and personal, it's going to resonate with the customer," she says.
Nowadays, many "it" pieces are born outside of the spring and fall fashion weeks, with pre-seasons and special collections and drops disrupting the traditional calendar. What makes something cut through all the noise, Patel says, is a point of view: "Each brand has its own sensibility and signature style. When you're looking at collections and you're looking at pieces in particular, what are they offering that's different and unique, that you're not seeing from anyone else?"
Related Articles:
'Sustainable Sneakers' Were Suddenly Everywhere in 2019
An Investigation Into the Influencer Frenzy Around 'New Bottega'
How to Get Shot for Street Style, According to a Professional Photographer
They also can happen outside of the traditional four fashion capitals. Take the rise of Danish brands — the Gannis, the Cecilie Bahnsens, the Stine Goyas. In 2019, they were omnipresent: in street style, celebrity style, Instagram and retail (and some started putting down more permanent roots stateside). Alyssa Coscarelli, a freelance fashion editor and digital consultant (and Fashionista contributor), thinks it has to do with their fresh take on design: "Their use of prints, their ability to make clothes that you want to take pictures in — it's so of the moment," she says. "They really nail it."
There is a downside of this kind of mass popularity, according to Oliveira. "I think when a brand is really engaging on social media, it seems like a lot of people want to wear that brand, because they wanted to be a part of that tribe, especially during fashion week," he says. That can result in a feeling of monotony — of people wearing something because they want to be photographed, versus actually liking something or wanting to bring their own personality to a look. "It loses the sense of originality," he adds.
When a piece reaches peak "it," it can also make it less attractive to some shoppers. "Once everyone's knocking something off and it's kind of everywhere and you show up at a show and someone's wearing it, it almost loses its appeal for me," says Coscarelli. "Then I'm like, 'I'm going to try and find the next thing.' Which sounds so ridiculous, but it's the honest truth."
Ahead, see the pieces we couldn't stop talking about, photographing or buying in 2019, according to the experts.
Anything Bottega Veneta by Daniel Lee
"When I think of 2019 and the breakthrough brand that really took the fashion industry by storm, I think Daniel Lee's debut collection for Bottega Veneta. It caused quite a frenzy, even before it hit the shelves in the shops. When it went viral on Instagram, with all the influencers wearing that signature strappy square-toe sandal, it was starting to create pandemonium and waitlists across the globe. Then, we started to see the pouch — not only on social media, but we started to see women wearing it, we started to see waitlists, we started to see it selling out in stores and online. Daniel Lee's take at Bottega Veneta is to pare things down. Understated luxury. Chic minimalism. Clean lines. I think coming from a place in fashion of 'more is more' and of decadence, a lot of women find it quite refreshing. Logo-free, hardware-free, in some cases. It had a real signature sensibility to it." — Roopal Patel, SVP, Fashion Director at Saks Fifth Avenue
Prada's Derby Shoes
"A brand that has stood out for me — because I personally like to photograph it and think it's so cool when people wear it — is Prada. Not everyone will look cool in Prada. You can look expensive, but if you don't have a great personality and a way to show off your style… During the summer in New York, I was shooting a lot of Prada derby shoes. Prada, to me, has stood out as being a brand that's not trying to please every single person out there." — Lee Oliveira, photographer 
Staud's Moon Bag
"It comes in a few different sizes — I personally carried the larger one last season in New York. It's the epitome of a street-style statement bag. It photographs so well. Kendall [Jenner] wore the smaller one. A bunch of celebs have worn it, too. It's one of those bags that's accessible enough for a normal person to afford — but the celebrities love it, too. It felt like it was everywhere because it was both your micro-influencer and your mega-influencer wearing it. Everyone is looking for that photogenic bag and [Staud] has totally mastered that idea. I like it because it's not branded, per se; it's not in your face with a logo or buckle that's identifiable in that sense — but it's the style of the bag itself, where you see it and you know it's Staud." — Alyssa Coscarelli, freelance fashion editor and consultant
Cecilie Bahnsen's dresses
"You definitely can't click through a street-style slideshow without seeing those. It just goes to show how much Copenhagen designers are really on the map now, between Saks Potts and Stine Goya and Baum und Pferdgarten. But I think Cecilie Bahnsen was the iconic fluffy street-style dress of the year. Even though the price point is really high and somewhat prohibitive, people can't resist them. It's interesting to see how she has continued to evolve, but really stuck to that aesthetic and been able to maintain it over a couple of seasons now. It's so identifiable. And now there are knockoffs everywhere." — Coscarelli
Telfar's T bag
"It's been coined Brooklyn's Birkin — everybody has it, from the mini to the large. You see celebrities with it, you also see college kids with it and people in the industry with it. I think it's the fact that it came in every single color, pretty much. It came in a size range. The mini was my favorite — I have the red one, but I definitely wanted the burgundy one and definitely wanted the yellow. It's still a classic bag. It feels approachable but also has a luxe feel to it, which I think made it really cool this year. And I feel like everyone wears it so differently. So many people that aren't in the Telfar world would still be buying and purchasing these bags. It went across so many different communities in the fashion world." — Mecca James-Williams, stylist and contributing senior style editor at The Zoe Report
Bronx and Banco's Hanna gown
"Last March was when it first went live [on Revolve]. We've been selling out of it ever since and have continued to reorder the style for our customer. This dress is a true showstopper. All of the details, from the padded shoulder down to the cascading ruffles, make this a must-have. You're bound to receive compliments all night in this. This is a great standout dress for any wedding or occasion." — Lauren Yerkes, VP of Buying and Merchandising at Revolve
The exclusive statement sneaker
"Sneaker brands have been releasing limited-edition designs and collabs for years, but the fashion industry has never embraced them with the fervor it has as of late. Personally, I've never been as into sneakers as I was in 2019, either. The first iteration of the Yeezy in 2015 and Virgil Abloh's refashioning of ten Nike classics in 2017 are among releases that led to a clamoring for styles such as the Sacai x Nike LD Waffle, Travis Scott's Jordans, Reebok's Experiment 4 Fury Trail by Pyer Moss, and most recently, the Melody Ehsani Jordan 1 (which I'm very sad about not being able to get). In many cases, brands have tapped emerging talents in various creative fields for collabs, which is great. Also great? Uncomfortable and impossible-to-walk-in heels no longer being the fashion editor footwear standard." — Leah Faye Cooper, Editorial Director at Coveteur 
The puff-sleeved blouse
"Puff shoulders have been gaining traction since 2018, but I never really saw them become the norm until early this year when I went to a few market appointments post-fashion week and literally every person I saw was sporting them. I'm a long lover of the feminine, whimsical and at times silly puff shoulder trend. I had to have the Nina blouse by Khaite, the brand that has mastered of the puffy sleeve, in the most perfect poplin, which I grabbed on sale. I think stand-out sleeves can be a bit scary at first, but they truly add such a beautiful, whimsical flourish to a look." — Emily Sanchez, celebrity stylist
By Far's Minis
"By Far really nailed the easiest mini bag. The whole trend came to a head with it. It comes in a bunch of cute colors. There's a croc version, a leather version, a sparkly version. It feels like everyone wore that to at least one event, one show. It's funny: I feel like the mini-bag trend memed itself. Everyone was just trying to one-up each other — even recently, Lizzo carrying that tiny Valentino bag. The mini bag itself is like this Internet sensation and every brand feels like they have to have their take on it. It's so buzzy and so viral." — Coscarelli
Nina Ricci's Parasol hat
"Those hats are such a statement. Editorially, I feel like every brand wanted to shoot them. The Parasol Hat was such a hit for the Nina Ricci rebrand, with their two new creative directors. The shape is beautiful, the color is beautiful — it's definitely an editorial piece, but I could see the everyday people wearing it. I can see the woman on the Upper West Side really loving that hat and also the women in Brooklyn who are going to church loving it as well. I think it has its own life; even as an item on a table, it stands out." — James-Williams
Fendi's Western boots
"The boots walked the runway in Fall 2018 in a slew of colors. Come chilly February fashion week, it was officially the cool cold-weather shoe. I was still spotting them this fall paired with leather trousers and exaggerated culottes. The wedge heel and effortless slight slouch at the ankle make it super wearable. These boots became a stand-out to me because they have converted hundreds of people into wearing a style that always seemed really tricky to pull off—including myself! I bought a pair from Marc Fisher at a super reasonable price point as a trial, and soon ended up with the short cream Fendi pair and another version in rich brown from Ganni." — Sanchez
AGOLDE's Jaden short
"We launched the style last January and we knew within the first few days we were going to have a best-seller on our hands. These shorts tick all the boxes: They're an all-around classic, easy cut-off in the perfect spring to summer wash. This pair has been a best-seller because of the great fit and quality — and they're comfortable! What more could you ask for? I got these right before #REVOLVEfestival last April. Once you put these on, you'll want to wear them every day." — Yerkes
Shop the "it" items of 2019, below.
Please note: Occasionally, we use affiliate links on our site. This in no way affects our editorial decision-making.
Want more Fashionista? Sign up for our daily newsletter and get us directly in your inbox.