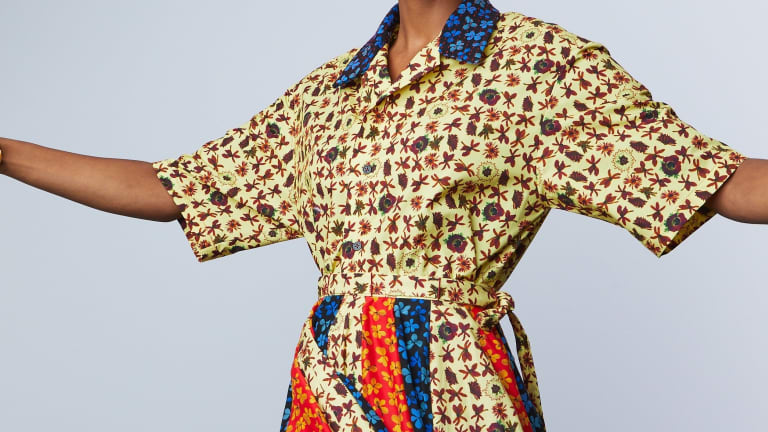 Designers Are Repurposing Leftover Fabric Into New Collections
The practice isn't new, but brands like Jonathan Cohen, Tanya Taylor, and others have gotten more vocal about their efforts to address waste in the fashion industry.
In 2019, as the climate crisis weighs more heavily on consumers globally (and Jane Fonda is arrested almost weekly for protesting lawmakers' lack of action on the matter), designers are thinking more critically about their own impact on the environment and coming up with creative solutions for excess fabrics. Over the past few weeks alone, a handful of brands have announced new products — and, in some cases, full-fledged collections — that are made from materials left over from past seasons.
It's not a new solution to the issue of excess fabrics post-production runs. Alexander McQueen has been repurposing scraps and extra material into runway collections for years; many indie brands have been built on this concept; there are organizations dedicated to collecting and recycling textile waste. What has changed is the scale: More high-profile designers have not just started to factor this into their creative and manufacturing processes, but they've gotten a lot more vocal about it.
When Prabal Gurung released images of his pre-fall 2020 collection to press, he shared a note explaining how the 10-year anniversary of his brand and growing concern around climate influenced the design. 
"Looking to reduce waste, patterns and fabrics have been repurposed and our overall fabric use has been cut in half," he wrote, adding that consumers can find "recycled hand-pleated taffeta made from recycled plastic bottles" as well as "our signature cutout dress made from upcycled materials" among the product offerings.
In November, Tanya Taylor dropped a limited-edition "remixed and restitched" sleep collection, featuring pajama sets and accessories crafted from fabrics left over from various 2019 collections, including resort and pre-fall. It's an evolution from the scrunchies she'd already been making and selling — quite successfully, the designer says — using scraps left over from previously-produced prints.
"We're such a print-focused brand, and sometimes, it's hard to address the excess fabric that we sit on because a lot of it feels so specific to a time and place within a collection we sold," Taylor tells Fashionista. "At the end of the year, we would always tally up what prints we had. This time, we had I think 180 yards of various prints." The solution? Silk pajamas made using bulk yardage leftover from 2019, retailing for just under $200 and available in sizes XS through 3X — plus a sleep mask and scrunchie set sold for $60.
"I think this could be a really easy, repeatable thing that we offer in November of each year. By September, we've already shipped fall, so you kind of have a read of a full year of fabric that you can work with, and we already have the patterns. It's a really sustainable, easy way of creating new product that's based off of things we already own," she says.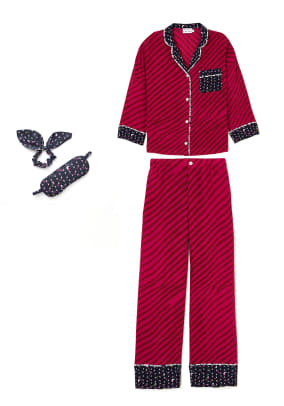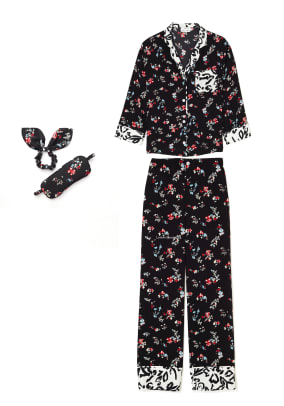 Similarly, Jonathan Cohen is addressing his brand's impact on the environment in a more permanent way: This month, he introduced The Studio, a whole new line within his company. It's direct-to-consumer and made with excess fabrics from past production runs. There's no set schedule for it: "We basically look at what we have left over in waste and scrap and kind of go from there," he tells Fashionista. There are scarves made from prints dating back to fall 2015 (which start at $95) alongside a one-of-a-kind coat that's the result of literal scraps from various seasons that were sewn together (at $3,225, it's the most expensive item in this first drop).
The Studio was born out of Cohen's concern about the waste created in the process of making clothing, something he and business partner Sarah Leff have been conscious of for years, he says, by virtue of how the company is run — "being made in New York, knowing the workers, [doing] two collections a year because we never want to overproduce." The Studio not only gives Cohen a solution for what to do with all the unused fabric sitting around his factories, but also an opportunity to have a direct-to-consumer arm to the business.
The excess material that comes with creating a collection is something Cohen knows intimately: Before the team got a studio, the designer worked out of his apartment. "I keep saying I was living in the waste of it," he says. "I'd see how much fabric we had because I was sleeping around it." They realized they needed to make some changes; these started out small (switching from paper to digital sketches, for example, or changing the sourcing of fabrics to upcycled or recycled alternatives) and eventually led to the team "not just thinking about [waste]," but "[putting] metrics to it."
Last year, the company put together a case study by tracking a single dress through a full production run, to better understand what waste it caused and how they could reduce it. Through it, Cohen says, they estimated that "$14,000-worth of scraps" were going to landfills, as opposed to being repurposed in some way. This exercise helped them change their own production cycle to become more circular, finding new uses for leftover running yardage and other waste from muslins, samples and production — one of which is The Studio.
"Not to get political — I guess this is political — but in the elections, I felt like our government wasn't going to do anything about this issue. So I felt more responsibility to take it into my own hands, which I think is very empowering, to be honest," Cohen says. "I realized I can't wait for anyone to solve this problem. I have to make these changes on my own."
Taylor believes designers should be reflecting on the waste they produce through their work "and think about big or small ways they can be leaner and be more thoughtful as organizations." Her pajamas and scrunchies were born out of that kind of exercise, and she says her customer has been really responsive to it, since it also presents an educational opportunity for the consumer about what goes into creating a product. 
"I think there's something really beautiful when it comes to print, that there are ways to give a longer life cycle to the art that we create," she says. "We create new art often and I think that it's nice for us as a team to see more purpose to it."
Want more Fashionista? Sign up for our daily newsletter and get us directly in your inbox.