Meghan Markle Wore So Many Things: The Duchess's Year in Fashion
2019 was all about ethical fashion, affordability and custom designer pieces for the stylish royal.
Ever since announcing her engagement to Prince Harry, the world's eyes have been fixed on Meghan Markle — and her style. We'll be following the Meghan Markle Effect™ with our column, "Meghan Markle Wore a Thing."
2019 was a busy year for the Duchess of Sussex Meghan Markle, as well as for the writers of our column "Meghan Markle Wore a Thing." The first half of the year brought us her ultra-chic and sophisticated approach to maternity wear, followed by the birth of her baby boy, Archie, in May. During the Duke and Duchess of Sussex's royal tours of Morroco and South Africa, Markle played up her casual wardrobe but maintained her stylish and polished personal style. And in between her royal duties and goodwill work, the Duchess found time to let loose at sporting events like the U.S. Open, Wimbledon and London Series. Through it all, she always looked stylish enough for a run-in with Anna Wintour or Beyoncé. 
Markle wore a lot of things this year, so today, we're breaking down the best of those sartorial moments before we move into a new decade of royal style.
Our Ethical Fashion Queen
While ethical fashion is a murky area, the Duchess has been taking significant steps towards being a more conscious fashion consumer, such as shopping sustainable brands, opting for pre-loved pieces and getting more use out of her clothing. This year, Markle wore two black vintage coats: a silk trapeze coat by Courrèges from the '60s to her baby shower, as well as this cape-esque black coat that featured a bejeweled collar and buttons. Markle also wore a black belted dress from Stella McCartney, a brand that has been paving the way for sustainable and environmentally-conscious fashion since 2001 (and the designer of her wedding reception dress last year). Additionally, she wore a leopard print dress from African label Mayamiko, a brand that is Fair-Trade certified, zero waste, solar-power run and uses organic materials.
The Duchess has also found a few pieces that she loved so much that she wore them twice, such as an Everlane black jumpsuit, a Veronica Beard blue button-up dress, a Nonie trench dress and a Martin Grant maxi dress. In a time when throwaway clothing culture is at an all-time high, we are all for breaking the stigma of being an outfit repeater. Plus, investing in staple, high-quality pieces that will last for years is better for the environment than rebuying cheap, trendy fast-fashion items.
Princesses, They're Just Like Us
This year, the Duchess proved that you don't need to spend heaps of money to look royal, even if you'll be in front of Queen Elizabeth II. Aritzia seems to be Markle's budget-friendly store of choice for simple and well-made pieces. While in Morocco, Markle wore a Babaton for Aritzia white lapel-less jacket that was effortlessly chic. Her purple midi dress from Aritzia practically broke the internet when it went on sale from $138 to just $50, and the brand's indigo button-front midi dress that she wore in South Africa is still available for $148. 
The Duchess regularly sports J.Crew and Madewell, too. Markle wore a J.Crew belted denim dress to the U.S. Open where she ran into Anna Wintour, so it's safe to say that the brand is Wintour-encounter-approved. In the same denim vein, the Duchess has also worn a Madewell denim jacket, which will run anywhere from $60 on sale to upwards of $170. She also wore a $130 J.Crew knit midi skirt, a now sold-out J.Crew khaki green jacket and a $139 trench dress from Banana Republic. Of course, we cannot forget the Duchess's $35 maternity dress from H&M — she's a true bargain hunter.
The Bespoke Moments
While Markle may love affordable clothing on the daily, she does have custom designer pieces at her disposal. For baby Archie's christening, she wore a custom Dior dress and hat in white. In another moment of monochromatic dressing, Markle took a break from maternity leave to show off this custom navy Givenchy ensemble that included a cape, cocktail dress and gloves. Clearly, the Duchess loves a good cape, as seen in this amazing bespoke Valentino red capelet dress, complete with a matching Valentino handbag. She followed up that look with a custom Dior cream cape gown with bejeweled details. And when the weather gets too chilly for a cape, Markle has this custom Erdem green coat with beaded floral embellishments to casually throw on.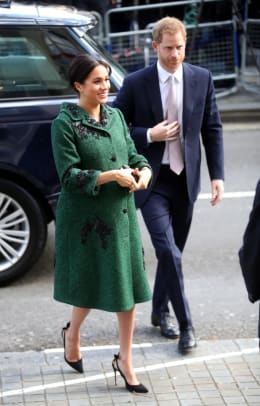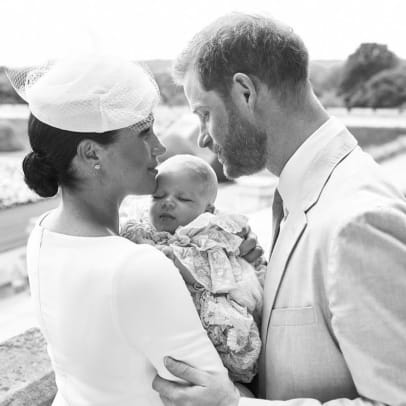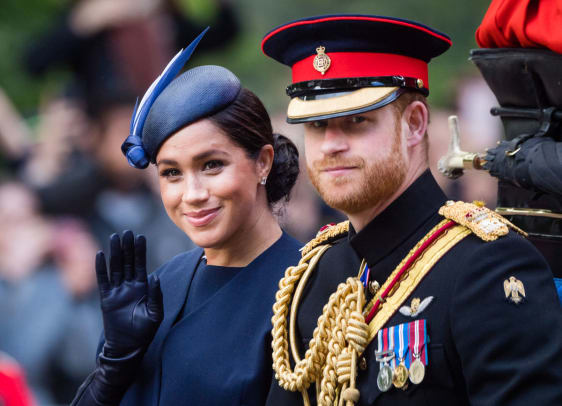 See everything the Duchess of Sussex wore this year in the gallery below: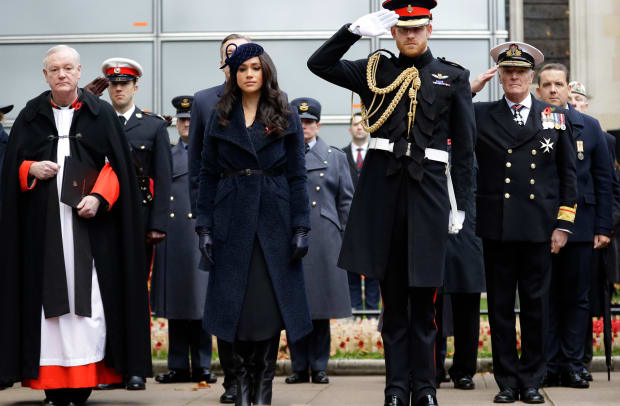 Please note: Occasionally, we use affiliate links on our site. This in no way affects our editorial decision-making.
Stay current on the latest trends, news and people shaping the fashion industry. Sign up for our daily newsletter.