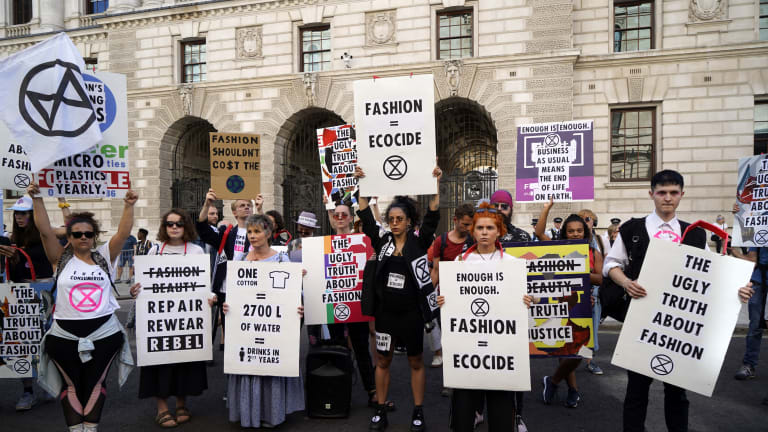 2019 Was the Year Sustainability Finally Burst Into the Fashion Mainstream
As the conversation moves from the margins to the mainline, we consider what's next for the movement.
From impeachment hubbub to TikTok's rise, from fires in the Amazon rainforest to the final season of 'Game of Thrones,' 2019 will be remembered for many things. In fashion, though, this year has been marked perhaps most significantly by one thing: the sustainability conversation moving from the margins to the mainline.
There's long been a group of people writing, designing and advocating for a more planet-friendly fashion industry, but 2019 saw that vocal minority joined by many of the biggest players in the game. Gucci and a host of others said they were going carbon-neutral. Kanye West announced that he was making Yeezy more sustainable. And luxury conglomerates like LVMH and Kering began to compete for who could be (or at least seem) like the most responsible company.
The trajectory toward a more environmentally-conscious industry has been slowly building for a long time, but this year it was forced into sharp focus by events outside fashion's purview. Global climate strikes, viral images of fires in Brazil and California, videos of wildlife battling plastic litter and teen activists' impassioned speeches made climate breakdown harder to ignore. Fashion entities responded, albeit with varying levels of depth and commitment.
Related Articles
Fashion Brands Are Claiming to Be 'Carbon Neutral' — but Is It Greenwashing?
The Next Wave of Sustainable Fashion Is All About Regenerative Farming
Do We Really Need Any More Sustainable Fashion Brands?
That response came to a head most tangibly during the Spring 2020 season of fashion shows. While much of the usual pageantry (and wastefulness) prevailed, there was also a new undercurrent in the air: More designers than ever addressed, in large ways or small, what they were doing to minimize their impact on the planet. 
Some of the gestures felt like a drop in the bucket, like when Dior and Louis Vuitton promised their sets wouldn't end up in landfills. Others felt more meaningful, like when Marine Serre and Collina Strada used both the medium of the clothing they made and the message of their shows to talk about climate breakdown. What was true across the board — and what felt new — was the simple fact that so many labels felt the need to engage the conversation explicitly at all. 
Beyond the glitz and Instagrammability of Fashion Week, there was also plenty going on in retail. As awareness of the glut of existing clothing grew, so did interest in nontraditional ways of getting access to new clothing. The best-known fashion rental service Rent the Runway was valued at $1 billion (despite some expansion-related hiccups), and a host of younger rental services cropped up in its wake. Secondhand shopping saw a bump, too, as evidenced by the ongoing growth of resale companies like ThredUp, StockX, Depop and (sometimes-troubled) The RealReal. And the surge of upcycling meant that more and more brands were creating "new" clothes from old fabrics.
Many of the industry's worst environmental offenders saw as great of financial returns as ever, but iconic mall brand Forever 21 declared bankruptcy in what some saw as a symbolic blow to fast fashion. And while environmental advocates might label their efforts "greenwashing," the fact that companies like Nike and Zara unveiled big sustainability campaigns proved that their executives at least believed there to be customer demand for environmentally-responsible products. Meanwhile, companies like Madewell and Burberry tried to beef up their sustainability chops in an effort to attract investors and reform their public image, underscoring the growing consensus that doing right by the planet makes good business sense.
Other headline-making news revolved around plastic (in hanger, microplastic and polybag form); the ongoing garment labor abuses happening in places like Bangladesh, Malaysia and India; and the need for a truly diverse and inclusive sustainability space. New books on fashion ethics by authors like Elizabeth L. Cline, Dana Thomas and Rebecca Burgess added to the conversation, as did a host of in-person conferences and events, put on by everyone from Prada to LVMH.
In short: sustainability was the inescapable buzzword du jour in fashion this year. For those invested in it, this acknowledgement leads to two questions. One, what's next in sustainability? And two, how do we turn all this attention into lasting change?
The answer to the first question might be seeded in what we've already seen this year: As more brands and consumers recognize the inherent ills of a linear, disposable economy, circular design that creates endlessly reusable products will likely continue to grow in popularity. If brands and consumers are honest with themselves, this would go hand-in-hand with an expanding conversation about whether making or buying so much stuff in the first place really aligns with a vision for planetary health. 
An increased interest in regenerative agriculture is likely to emerge, too, since it promises a meaningful role for fashion players in the conversation around climate change mitigation. As farming is already embedded in the fashion supply chain through the production of natural fibers like cotton, wool and hemp, investing in regenerative systems — ideally that draw from and pay homage to Indigenous wisdom around responsible land management — will provide a logical next step. And in a sea of greenwashing, measurable data and science-based targets will also help set the entities who use them apart.
Answering the second question, how we turn this sustainability "moment" into something that fundamentally changes the industry in the long run, is a lot harder. It's one that has plagued environmentalists every time their activism has started trending.
"In an age burdened with 'publicity,'" American environmentalist Wendell Berry wrote in 2000, "we have to be aware also that as issues rise into popularity they rise also into the danger of oversimplification. To speak of this danger is especially necessary in confronting the destructiveness of our relationship to nature."
There was no silver bullet response to this dilemma when Berry first wrote about it almost two decades ago, and there is none now. But many of the guidelines Berry suggested then, like pairing individual action (think: shopping less) with systemic pushes (think: policy that holds business accountable for its waste) might still prove useful. Wrestling with how to do that in deep, truly transformative will be the biggest challenge facing the sustainable fashion conversation in 2020 and beyond.
Stay current on the latest trends, news and people shaping the fashion industry. Sign up for our daily newsletter.