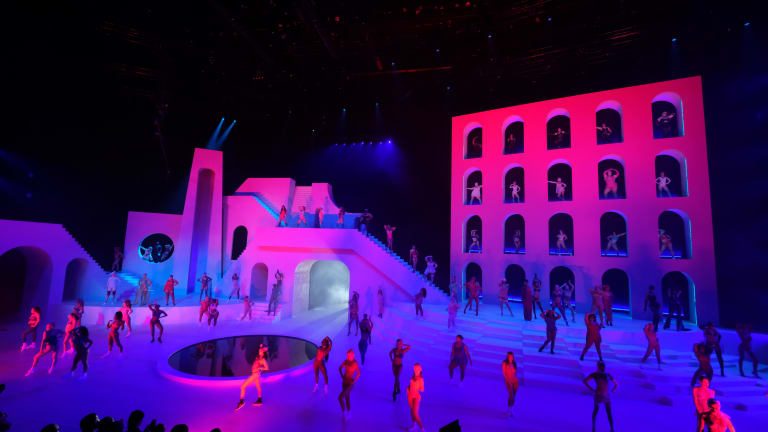 Fashionista's Favorite Stories of 2019
The best of the best, as chosen by our editors.
When looking back at 2019, it's hard to remember exactly what happened at the beginning of the year, and while reminiscing, there have been many instances of us uttering "that happened this year?" with utter shock. Perhaps that's because our small but mighty team here at Fashionista churned out an enormous amount of #content that could very well have covered an entire decade.
From extensively researched stories to introspective essays and entertaining news, we've covered it all. We've traveled across the world for sought-after fashion shows in Milan, Paris and Tbilisi. We stayed up way past our bedtimes to review red carpet looks from some of our favorite awards shows. We attended press previews and product launches to bring you the best new items on the market. And the best part of it all? We enjoyed every single moment because it meant sharing the latest and greatest with you. 
So, we've assembled our favorites below in hopes that they'll spark something within you as well. If you find yourself in search of some vacation reading this holiday, consider the below — listed in no particular order — your go-to. See you in the new decade! 
Fashionista's 5 Most-Read Stories of the Year
1. Victoria's Secret Newly Chosen Angels Prove the Company Really, Truly Doesn't Get It
2. These Classic Skin-Care Products Are Becoming Increasingly Polarizing 
3. Meet the Instagram Account Calling Out Celebrity Pastors for Their Expensive Sneakers
4. Kylie Jenner-Approved Designer Kim Shui Is Accusing Fashion Nova of Copying Her Designs
5. The Best-Dressed Celebrities at 2019 Met Gala
8 Must-Reads on Diversity, Inclusivity and Equality
1. The Backstage Beauty Experience Is Still Lacking for Black Models 
2. These Women Are Working to Modernize The Wig and Hair Extensions Industry 
3. Golde Founder Trinity Mouzon Wants to Bring Inclusivity and Accessibility to Wellness
4. Up-and-Coming Model Haatepah is Using Fashion to Advocate for Indigenous Rights 
5. As Brands Cash In On Cannabis, Are They Working to Dispel Racial Disparity That Exists Behind It? 
6. Does the Ethical Fashion Community Have a Diversity Problem?
7. Why Does the Burden of Creating Inclusivity in Fashion Fall Largely on Marginalized Groups?
8. It's Time to Rethink the 'Trend' of Burning Sage on Instagram
11 Can't-Miss Career-Centric Stories
1. This Is What Fashion Jobs Really Pay in 2019
2. The Top Fashion Schools in the World: 2019
3. How Rachel Antonoff Became a Famously Creative Fashion Force Without Ever Losing Her Way
4. How Dr. Simon Ourian Became the Biggest Cosmetic Dermatologist on Instagram

5. How Nikki Ogunnaike Went From the Fashion Closet to Shaping Culture at Top Fashion Titles
6. How Vanessa Friedman Became One of the Foremost Critics in the Fashion Industry
7. How Jason Rembert Became One of Hollywood's Most Thought-Provoking Celebrity Stylists
8. 7 Fashion Jobs That Didn't Exist 5 Years Ago
9. Fashionista's New Survey Suggests That Bullying Is Still Alive and Well in the Fashion Industry
10. From Beauty Editor to Brand: Why I Made the Jump
11. Here's How to Make a Living Off Resale Sites
10 Deep Dives Into the Fashion Biz
1. How Do You Responsibly Close A Diamond Mine?
2. The Complexities of Pricing Responsibly Made Clothing
3. What Small Brands Can Learn From the Barneys New York Bankruptcy
4. As Lab-Grown Diamonds Near Mainstream Acceptance, the Entire Industry Is Changing
5. Hey, Quick Question: Has 'Store' Become a Dirty Word in Retail?
6. Why Womenswear Brands Are Getting Into Menswear — and Whether It's a Good Thing
7. Are These Soho Billboards the Most Coveting Advertising Spots in New York City?
8. The Line Between Social Media and E-commerce Is Beginning to Disappear
9. Royally-Beloved Brands Can't Rely on the 'Meghan Markle Effect' Forever
10. Cannabis Companies Are Taking Cues — and Employees — From the Fashion Industry
The Inaugural 'Fashionista Five'
1. Gabriella Karefa-Johnson Wants to Change What Fashion Editorials Can Look Like
2. With Aerie, Jennifer Foyle Has Revolutionized the Lingerie Industry
3. Prabal Gurung Created His Own American Dream
4. Nate Hinton Is Not Just a Publicist, He's a Chamption of Your Favorite Emerging Designers
5. Makeup Artist, Model and Muse Raisa Flowers Is Bringing Her Own Brand of Weirdness to Beauty and Fashion
3 Introspective Essays 
1. How Moving to L.A. Helped Me Finally Feel Confident In my Personal Style
2. A Review of "Chiara Ferragni: Unposted" by a Chiara Ferragni Superfan
3. How a Self-Imposed Shopping Ban Gave Me a Sense of Control in a World Full of Chaos
The Stories That Made Us Laugh
1. 17 Luxury Handbags That Look Exactly the Same but Prove You Know How to Read
2. What Olivia Munn Got Wrong in Her Rant About The Fug Girls
3. Hey, Quick Question: Are Tiktok Egirls the New Scene Queens?
...and the Story That Made Us Cry
All Things #Influencer
1. Is It Even Possible to Be a Sustainable Influencer?
2. Is It Possible to Become a Mega-Influencer Anymore?
The Beauty Top 8
1. Le Labo Santal 33: The Scent That Went From Ruggedly Cool to Utterly Basic
2. The Burgeoning Field of Psychodermatology Explores the Link Between Mental Health and Skin
3. How Daniel Martin Went From Working at a Mac Counter to Doing Meghan Markle's Wedding Day Makeup 
4. What It's Like to Be an Accutane 'Success Story'
5. A Complete Guide to All the Non-Surgical Cosmetic Procedures People Are Getting for 'Instagram Face'
6. This Trendy Natural Beauty Ingredient Has a Major Counterfeiting Problem
7. It May Be Time to Reconsider All That Glitter in Your Beauty Products
8. What Happens When a Plastic Surgery Trend Dies?
6 Sustainability Standouts
1. Fashion Brands Are Claiming to Be 'Carbon Neutral' – But Is It Greenwashing? 
2. The Next Wave of Sustainable Fashion Is All About Regenerative Farming
3. Inside the Denim Factory Your Favorite Sustainable Brands Use Loyally 
4. Meet the 'Knitting Monk' and Others Using Slow Fashion as a Spiritual Practice 
5. Do We Really Need Any More Sustainable Fashion Brands?
6. Is Your Greta Thunberg T-Shirt Contributing to Climate Change?

5 Memorable Fashion Show Reviews
1. Rihanna's Savage X Fenty Show Was Everything Victoria's Secret Wishes It Could Be
2. Philipp Plein's Fall 2019 Show Was Just as Tragic as the Kanye West Scam That Surrounded It
3. Editors Were Seriously Annoyed at Christian Siriano's Fall 2019 Show
4. A Moment of Silence, a Standing Ovation and Plenty of Tears for Karl Lagerfeld's Final Chanel Collection 
5. Victoria Beckham's Fall 2019 Collection Is Here to Fill the Old Celine Void in Your Heart
5. Gigi Hadid Acted as a Bouncer When Confronted With a Catwalk Crasher on the Chanel Runway
The Best of Costume Design
1. The "Stranger Things 3" Costumes Include Eleven's '80s Mall Rat Makeover and Steve's New Sailor Outfit
2. Ali Wong Wears The Row, Isabel Marant and Michael Kors in "Always Be My Maybe" on Netflix 
3. How Costume Designer Heidi Bivens Captured Gen-Z, Cool Teen Style in "Euphoria"
4. The Costumes in the Live-Action "Aladdin" Include Authentic Middle Eastern References and Modern Day Streetwear Influencers
5. All of the Creepy Cues to Spot in the Traditional Swedish "Midsommer" Costumes
6. How Costume Helped Jason Momoa Become an Exceptionally Badass New "Aquaman"
7. The "Hustlers" Costumers Pay Homage to 2000s-Era Britney Spears, Paris Hilton and, of Course, J.Lo
8. All of the Costume Cues to Spot in Jordan Peele's Terrifying Film "Us"
Homepage photo: A view of Rihanna's Savage X Fenty show during New York Fashion Week. Photo: Courtesy of Savage X Fenty
Sign up for our daily newsletter and get the latest industry news in your inbox every day.