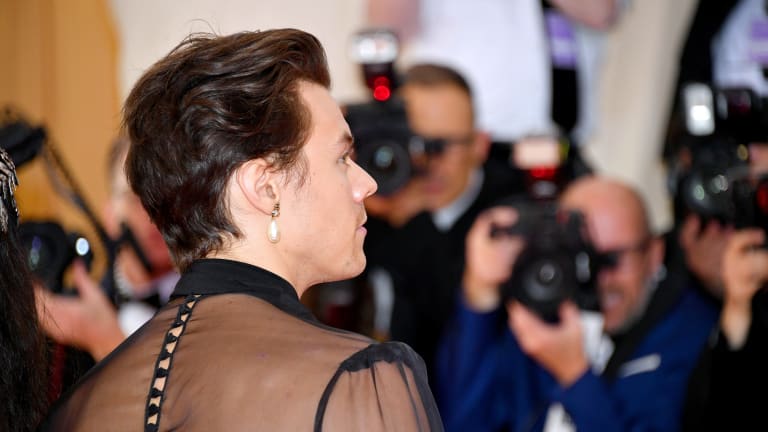 Harry Styles's 'Fine Line' Era Is High-Fashion Lightning in a Bottle
Expect the unexpected during the next 10-plus months of this big, funky album cycle.
The last time I saw Harry Styles perform, on a sticky Saturday night smackdab in the middle of a heat wave, my group spent most of Kacey Musgraves's opening hour placing bets on his outfit. With the same gusto that some might gamble on horses or cars or the names of royal babies, we wagered on the following: whether he'd be wearing Option A, those kicky bell bottoms he likes so much or maybe B, a more tailored trouser. That he'd soon enough materialize on stage wearing a fantastic suit was a given. The true element of surprise remained in the cut of his hemline. (Indeed, they were bell bottoms, and indeed, they were fantastic.)
Today, that suit and racks of others are allegedly living out their post-rock god glory days in an undisclosed "frozen vault" somewhere in London. And that same discussion — what Harry Styles will be wearing to bewitch his crowd of 20,000 — has gotten a bit more open-ended. With his sophomore record, "Fine Line," arriving on Friday, that's an apt way to go into his most vulnerable musical era yet.
Since Styles all but evaporated from the public eye last year to camp out in Malibu and make new music (and frozen margaritas), his style hasn't changed, per se. It's still the same, and I quote GQ's Rachel Tashjian here, "unstoppable fashion force." It's only gotten bigger, saucier and brasher, with nary a fuck to be given. It doesn't get much bigger than co-chairing this year's Met Gala with Lady Gaga and Serena Williams or fronting a brand-new Gucci fragrance campaign or sneaking one of Christopher Kane's "SEX" shirts onto national television.
His long-time stylist and collaborator, Harry Lambert, has been teasing us with as much since May, when Styles showed up on the steps of The Met in a slinky lace jumpsuit and a single, Vermeerian pearl drop earring. "It's time to try something new and hopefully shock and inspire in a different way," Lambert told Miss Vogue at the time. "I know the fans love his outfits, so hopefully they will love what's to come."
In all his years in fame, Styles has relied on a certain English sensibility while also paying homage to Sixties- and Seventies-era glamrock and modern-day musings of Alessandro Michele. He stamped this extravagant, easy-to-understand aesthetic throughout last album — "Harry Styles," his debut solo project, post-One Direction — and subsequent world tour with a uniform of sorts: a flamboyant two-piece suit, often blanketed in rhinestones or bedecked with florals and almost always accessorized with heeled Beatle boots. It was our first honest taste of the blurred gender lines he favors in his closet and advocates for societally.
"The new album title 'Fine Line' is kind of befitting," says Dometi Pongo, an MTV News correspondent. "Harry's new looks are blurring the fine line between masculine and feminine energy. As gender-bending looks have become more common, though, it's not so much the 'shock' value that's pulling people in. It's the way Harry, in particular, puts his personal spin on this aesthetic that makes all the difference."
Related Articles
Harry Styles's New Gucci Uniform Makes a Very Specific Point
The Big, Bold Year That Men's Red-Carpet Fashion Got Fun
The Next Generation of Menswear Designers Might Be on YouTube
The dude has a knack for rendering even his more throwback pieces — flared sailor pants, newsboy caps, suspenders — as contemporary staples, like pairing that baa-baa-big-fit-sheep sweater vest with elegant patent loafers and simple, billowy dress pants.
"It's all in his attitude: He can pull these things off because he believes he can pull them off, and he can," adds Vogue's Fashion and Style Writer Christian Allaire. "This shift marks his evolving freedom and creativity as an artist, I think. You can see that he's making his own artistic decisions more than ever before, and that's clearly reflected both in his clothes and his music."
Raves for his new record claim it to be both "audacious" and "naked, emotionally and physically" — big news for a musician often keen to worship boundaries and anonymity. In the lead-up to "Fine Line"'s release day, the balladic "Cherry" was singled out again and again for doing more than just alluding to a relationship spoiled.
"He's taking more risks with his looks and in his music, giving us a lot more honesty this time around," says Pongo. "He's in a space where he's being free and transparent — even at the risk of being off-putting. He doesn't care. His style right now is reflecting that same energy."
So the pressure cooker might not be totally off, but it is turned down a few notches. In a recent interview with Zane Lowe on Apple Music's Beats 1 radio, Styles noted that, "When I listen to the first album now, I can hear all of the places where I feel like I was playing it safe, because I just didn't want to get it wrong." Was his fashion was occupying the same headspace?
"He seems more willing to go a little more out there this time around," says Esquire's Style Director Jonathan Evans. "Maybe that's just him knowing that he's got less to prove now. Clearly, fans are into what he's putting out there, so he's even more free to experiment."
For years, Styles went through stretches defined by a singular designer, Saint Laurent and Gucci being the premier examples. In his last go-around, we saw the occasional Alexander McQueen, Calvin Klein and Central Saint Martins wunderkind Harris Reed tossed into the mix, but with his blue-chip Gucci contract, the Italian house still dominated his tour wardrobe. By 2019, he seems to have expanded his comfort level and his Rolodex along with it.
New York City darling Bode, by CFDA winner Emily Adams Bode, is the first such label that comes to mind. Styles has appeared in her vibey, handcrafted garments more and more frequently, like on "Saturday Night Live" or in the lush landscape of his "Adore You" video. Marni — closer in nature to his Milanese standby — too has been a repeat favorite, with plenty of quirky knitwear and pleated trousers. And at last week's Jingle Ball in London, his highest-octane look of late came via emerging Spanish designer Archie Alled-Martínez: a down-to-there glittered denim shirt and matching jeans.
"Leaning on a single designer's aesthetic is a safer play, because ultimately if people aren't responding to it, then, well, it's just the designer, right? Bringing in a bigger range of ideas and synthesizing them into something cohesive, that's much more personal," says Evans. "So it's a more vulnerable place to be, but it also signals a sense of confidence in his aesthetic."
Fashion thrives in those vulnerable nooks and crannies. And right now, in light of, uh, everything, fashion also thrives in that joie de vivre-inspired thing Styles masters. In the dark, designers turn to the light. It's why his whole aesthetic — gracefully funky, wickedly charming — feels a little like escapism and a lot like lightning in a bottle.
"I think people simply love watching someone who's having fun with what he's wearing, but doing it in a way that still feels considered," adds Evans. "Harry seems genuinely enthusiastic about how he's putting things together, because he's pushing the envelope almost to the point of breaking, but reins it in just enough to show you that, yeah, he also wants to look good."
On the cusp of one mammoth of a world tour, we already know he's going to give us some stuff to talk about. Allaire, for one, is prepared to see a custom dress thrown into the mix. ("With Ezra Miller and Jared Leto repeatedly wearing them on the carpet, I feel Harry is next," he says. "It's his time!") Prepare for more above-the-navel pants, more big collars, more groovy prints. But we should also prepare to expect the unexpected, to sit back and simply delight in some fashion that makes us feel joyful, inspired, awake. That all of the above will make for some excellent pre-concert conversation is just the frosting.
Never miss the latest fashion industry news. Sign up for the Fashionista daily newsletter.