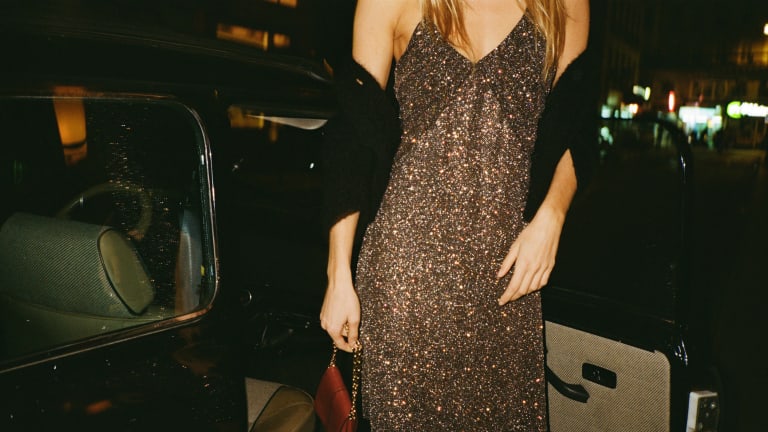 The Twinkling Psychology of the Holiday Party Dress
All that glitters is...sold?
I have no more than one (1) holiday party every year. And yet despite my a) not-insignificant amount of festive attire and b) growing dedication to shopping sustainably (buying less, if anything at all), I get roundhouse-kicked by a twinkly case of the shoppies by the time mid-November rolls around. In fact, I almost never actually get that special something for that my one single holiday party. But I moodboard about it on Instagram constantly, just dozens of pictures of overflowing champagne coupes and Studio 54-level eyeshadow.
So I must admit: I am part of the problem. Like much of the holiday season to begin with, the party-dress complex and its correlating party-dress economy are firmly rooted in consumerism. But deep down, it has a glimmery heart of gold that kind of represents what the season is all about. Or is that just the mulled cider speaking?
Before we take this any further down the cozy-beverage rabbit hole, it's important to delineate what exactly falls into holiday-party-dress domain. As you and I both know, the holiday party dress is not just a regular party dress. It's not something you could wear to your husband's colleague's Labor Day wedding in Denver. What makes the holiday party dress so elusive is that it's sometimes not even a party dress at all. Sometimes it's just...a feeling.
"The ultimate holiday party dress doesn't need to be defined by a certain fabrication or silhouette," says Moda Operandi's Lisa Ruffle, a senior buyer of power designer, resortwear and ski. "It's about pieces that make you feel amazing. It's a mood."
Ambiguous, yes. But you know what she means, of course: It's slicking on glossy red lipstick while listening to Ella Fitzgerald, or it's Faye Dunaway at the Paris premiere of "Bonnie and Clyde." And that's because, in a season steeped in traditions both personal and cultural, the very act of shopping for a holiday outfit has become a tradition in itself — even if you don't end up purchasing anything.
"People want to feel good. Most people purchase fashion because it's an emotional high — they're not buying it because it's a necessity, and this time of year in particular, people are celebrating," explains Shawn Grain Carter, an associate professor of Fashion Business Management at the Fashion Institute of Technology who also spent years in luxury retail across the likes of Bloomingdale's and Macy's. "In order to get into the spirit of the season, whether you're religious or secular, it doesn't matter. This is the season of giving, of sharing, which you would like to last all year long."
It doesn't, though, and that's all part of the ol' razzle-dazzle. For 31 days out of the year, customers have a long-awaited opportunity to "pull out all the stops," as Carter says, within that month's glamorous framework. And historically, that was outlined by aristocrats and the first lady. Carter offers the example of Mary Todd Lincoln, who, during the winter social season of 1861 and into 1862, famously wore a purple velvet gown designed by Elizabeth Keckley, an African-American dressmaker and First Lady Lincoln's personal modiste and confidante. It is this garment, now on display at the Smithsonian's National Museum of American History, that Carter claims set the tone for how traditional first ladies dress for winter occasions for decades to come — and which then set the tone for the rest of the country. 
That Keckley used velvet for such a pièce de résistance is no small coincidence. The fabric that today contributes to piles of Reformation's slinky holiday inventory dates back to Egypt in 2000 B.C. Always woven from silk, velvet has long denoted power, luxury and elegance quite simply because it was costly to source, yet alone produce. It became an expression of wealth during the Renaissance, with patrician families like the Medicis using it to bulk up their family crests or coats of arms. By 1985, Princess Diana even danced with John Travolta in it at the White House. That navy, off-the-shoulder dress, designed by her go-to couturier Victor Edelstein, just recently sold at auction for $290,000 (about £220,000) to Historical Royal Palaces, where it is likely to go on exhibition.
If velvet had a more-downtown sister, one who zipped into Frankie Shop rather than booked a personal appointment at Fivestory, it's all that glitters or sparkles or whatever metallic lamé does. Psychologically speaking, this is the stuff that shines in intense stretches of upheaval.
Related Articles:
Fashion History Lesson: The Origin and Escalation of Holiday Shopping Season and Black Friday
The Psychology Behind Fashion's Current Obsession With Sparkle
2019 Was the Year Sustainability Finally Burst Into the Fashion Mainstream
"A lot of people like sparkle, particularly if you look at the political climate, not just in America, but throughout the world," adds Carter. "In a world of chaos, people search for some traditional festive glamour that gives them an emotional uplift."
It may explain why this season, the folks at Moda Operandi are doubling down on what Ruffle calls "Eighties-influenced bold glamour" — which is about as emotionally uplifted as one can get while still appearing sophisticated. She name-checks Paco Rabanne's now-ubiquitous paillette dresses, only to be worn with less-flashy accessories than, like, Sophia Webster crystal pumps or Roxanne Assoulin clip earrings. 
For those looking to get even more uplifted, could we fancy you in a complete rebellion against clothes altogether? "There's a huge emphasis on skin," says Ruffle, noting a spiked interest in waist cut-outs and open backs. She deemed the latter the "exit dress," the most iconic version of which was perfected by actress and model Vikki Dougan in the late Fifties.
As with all of retail, platforms like Moda Operandi are catering to consumer desire, however subconscious those inklings may be. And apparently, we either want to go all-out "Flashdance" or just damn naked. But if retailers miss the mark, how critical is the season for their business?
"This is an important time for the industry in terms of sales," says Dr. Carolyn Mair, a behavioral psychologist working with the fashion industry and author of The Psychology of Fashion. Dr. Mair discusses British fast-fashion e-tailer Boohoo.com and its sub-site Nasty Gal, which grew its e-commerce revenue by 47.8% for the year ending February 28.
Black Friday adds to this, particularly as millennial- and Generation Z-aged consumers are shopping more intentionally with, and not from, brands with which their values align. There's also the issue of price: Carter adds that with technology comprising a higher and higher number of gifts each year, shoppers are budgeting less and less for apparel. Consumers just don't want to spend all their money on just one outfit, nor do they find that to be a responsible mode of consumption anymore — for the most part. No matter our resolve, the holidays still have a shimmery power over many of us.
"Targeted advertising and marketing, click-and-buy e-commerce, pressure from peers and the habit that we buy something new every season all drive us subconsciously to shop for something new," says Dr. Mair. "If we disrupt these influences, we might see we already have the 'perfect' item."
Today's fleet of rental and second-hand models have installed options for shoppers looking to wear something new and "social media-friendly" with a reduced environmental impact. At Moda Operandi, consumer behavior also dictates that shoppers aren't actually afraid to wear that special holiday piece more than once. It's about investing in pieces you will indeed wear multiple times, but also pieces you just genuinely and deliriously love. That is just what the season is about, after all — joyous enthusiasm, a prosecco-sprinkled reprieve from everyday monotony — even if you (aka I) have but one party on my social calendar.
"People still want to have the fantasy of kissing under the mistletoe, of being in an environment that celebrates life, celebrates giving, celebrates the humanity in all of us," says Carter. "That's what the fourth quarter represents. It's the magic of what could be. It's the magic of the fantasy. It's the magic and the hope of everything being right and good in the world."
Never miss the latest fashion industry news. Sign up for the Fashionista daily newsletter.