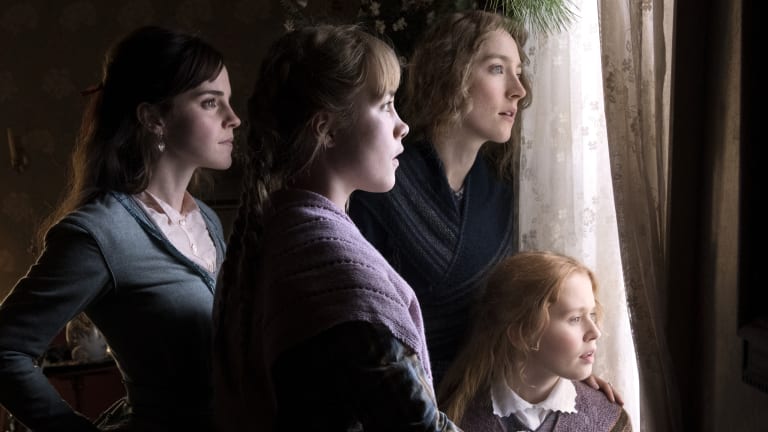 Saoirse Ronan and Timothée Chalamet 'Swap' Civil War-Era Costumes in 'Little Women'
Costume designer Jacqueline Durran also discusses Florence Pugh's Parisian fashion, Laura Dern's 'Victorian Hippie' paisley prints and more.
Warning: Spoilers below for those who haven't studied the classic novel, seen any of the many film adaptations or watched the "Friends" episode in which Joey reads the book.
For her big-screen adaptation of "Little Women", writer-director Greta Gerwig stayed true to the original source material by author Louisa May Alcott to deliver a clever, funny, moving and refreshingly contemporary-to-2019 vision of the 1860s classic. 
Similarly, the Civil War-era costumes by Jacqueline Durran also give a subtle update to the time-honored, enduringly relatable and ultimately feminist story of the March family: Headstrong writer Jo (Saoirse Ronan); traditional Meg (Emma Watson), who secretly wants to be an actress; quiet pianist Beth (Eliza Scanlan); and aspirational baby of the family Amy (Florence Pugh). They navigate the joy and struggles of daily life in genteel poverty, determine their futures in a world where women have limited career and economic options and, of course, find and lose love. As for that last part, enter wealthy, sweet neighbor Laurie (Timothée Chalamet), who's understandably enamored with the entire March family.
"It had a modern twist to it really," says the Oscar-winning costume designer — because the March sisters' and Laurie's distinctive Victorian aesthetics also express a convention-bucking quality that's relatable in any century: the free spirit. 
"Laurie, because he's a natural bohemian and the others, because that's how they're being brought up," Durran explains. "It was just all about establishing a different way of looking at Victorian life in a way that's not the one we normally see." 
The storytelling through costume beautifully supports the acclaimed direction and the profusion of acting talents, including lead Ronan, who earned her second Oscar nomination for Gerwig's also-lauded "Ladybird." "[Gerwig has] such a fresh and new, exciting way of looking at the material and making films about women in a vibrant way," says Durran about her collaboration with the writer-director. "I really wanted it to be part of that and I'm so pleased to have worked on it."
Below, she takes us through each of the beloved characters and their costume highlights.
Jo (Saoirse Ronan)
Restless Jo (short for Josephine and based on the novel's author Alcott) rebels against convention in what could be considered a menswear-inspired wardrobe. "She wanted to go and fight in the Civil War. She wanted to be a boy. She wanted the advantages that being a boy brought you in life," explains Durran, about the "strong theme" of vests, blazers, button-down shirts and neck-scarves — and no corsets — that span Jo's teen years to young adulthood. 
But look closely because "she swaps clothes with Laurie," explains Durran, about metaphorically illustrating the connection between the two teen soulmates. "We made duplicate costumes for them to wear in parallel, as if they were wearing each other's clothes." Certain pieces were replicated to fit each actor, like romantic white puff-sleeve Victorian shirts and a boy's work jacket in earlier sequences that was probably "left lying around" the March household. A yellow and red paisley vest (above) proves especially meaningful, as Laurie wears it in an early moment in the timeline and Jo dons it when she turns down his heartfelt proposal.
Each sister wears a color palette referencing a part in the novel when their mother gives each a different hued book for Christmas. Jo's red neck scarves depict hers, in coordination with indigo blue. "The combination ties up with the workwear and menswear idea," says Durran. The movie opens with a grown Jo in New York pitching a story to an editor — on spec, so it seems — in a more "proper and grown-up" version of her aesthetic. 
After successfully selling her work — albeit while facing pay non-parity — Jo excitedly runs through the Manhattan streets with her checked Victorian skirt flying up to reveal a more emancipated trouser-version of women's bloomers from the period. Durran did take "creative license" in reimagining an authentic pattern of thin cotton undergarments, but in Jo's signature blue and red, instead of traditional white. The look subversively continues her menswear-influenced theme without having Jo actually wear pants — also because "trousers in the 1860s were pretty ugly," per Durran. 
Amy (Florence Pugh)
Gifted painter Amy exhibits her creativity and affinity for the finer things in life through her sense of style, despite the March family's limited funds. "She always wanted to be as pretty and fancy and fashionable as possible," says Durran about her aspirational dressing, even in her pre-teen years. The costume designer points to the checked fit-and-flare suit-dress (bottom) worn to the early Christmas gathering, which is the "most Victorian" out of her sisters' looks. 
"The print, the check and the style is taken straight from the fashion pages of La Mode Illustrée, which was a book I used a lot to find current fashions for the girls," explains Durran. Amy is also the only March sister to consistently wear the proper corset, especially notable when she's the chosen one to accompany wealthy Aunt March (Meryl Streep) to Paris to refine her ladylike painting skills — and find a husband to replenish the family funds. 
"Once she got money in Europe — or once she got Aunt March's money — she just has as many costumes as she can," says Durran, who continued Amy's elegant pastel blue palette into grand, luxurious gowns at the height of Parisian fashion, with elaborate tabs at the waistline, the finest silk and delicate seersucker piping.
Meg (Emma Watson)
For the eldest Meg, who does long for the traditional married-with-children life, Durran looked to retro-romantic Gothic Revival, medieval-referential pre-Raphaelite and Brit William Morris's textile designs for inspiration. The eldest March's palette largely consisted of rich greens and lavenders.
But for a fancy debutante ball in high-society Boston, the Concord, Massachusetts-appropriate gown Meg brought isn't quite up to par. So she borrows another attendee's fairytale-like pink dress with copious ruffles and lace trim (above). She essentially becomes another person for the evening (and Laurie accuses her of doing so) — people also keep calling her Daisy.
To illustrate the Boston ball as representing "the best and chicest look in America," Durran designed a composite of pastel gowns for all the debs while screen-testing Watson — whom she dressed in an also-specific yellow 18th century-inspired ballgown in "Beauty and the Beast" — in various shades of pink. "It's completely out of step with anything else in her wardrobe, but it's her aspirational dress for Boston," says Durran. "Those dresses are pretty much of the fashion of the 1860s, but not too extreme fashion, and as pretty as we could make it."
Beth (Eliza Scanlen)
"She's a homebody," says Durran, about the second-youngest Beth, whom the sisters — and kindly neighbor Mr. Laurence — consider the comfort of the family and, as Amy says, "the best of us all." 
"She's quite just neutral. She doesn't want to be fashionable. She doesn't particularly grow up. She stays pretty child-like, most of the time. She has simple home dresses that aren't really designed for anyone [outside of the house] to see," continues the costume designer, who dressed Beth in soft and soothing pinks and browns. 
Although, for Meg's wedding to Laurie's hot tutor John Brooke (James Norton), Beth, along with her sisters, enjoy the opportunity to don elevated versions of their daily looks. (Also, it's not the first time we've seen Scanlen and Pugh in statement flower crowns, but thankfully in much less terrifying circumstances.) Durran points out this is the first time that the girls all splurge on, or ask Aunt March for, silk dresses for the special occasion — until Amy hits Paris, of course.
Beth's understated wardrobe also plays a subliminal role in depicting the family bond. When Jo takes an ailing Beth to the beach, the younger March is wearing her older sister's previously worn clothes. After Beth's passing, Jo wears Beth's longline jacket to write her heartfelt letter to Laurie, who's returning with Amy from Paris. "I really had [the characters] all sharing things all the time, which was quite complicated, because everything would end up in the wrong place," says Durran. "But I really felt that Jo wearing Beth's jacket would be a thing that she would do to to keep Beth close to her."
Laurie (Timothée Chalamet)
Yes, Laurie and Jo share wardrobe staples, but lest we forget he is of a different class than the Marches. "I was just trying to dress him as a child, a really proper Victorian boy, but with money," says Durran, who elevated his youthful pieces with genteel linen fabrics and courtly white shirts and cravats. "He was just living in a different economic band." 
Durran also admits she "cheated" a bit with the fashion timeline for boho Laurie. "More like 1840s and his adult clothes were late 1880. The earlier [style] made him look younger and more childlike. Then the later period would make him more sophisticated," she says, about refining his flourishes when, during his brief party-bro dilettante phase, he reconnects with Amy in Paris.
"Timothée Chalamet wears clothes so beautifully. He is actually extraordinary in how beautifully he wears things," says Durran. She especially notes the "extra frilly" white Victorian blouse with exaggerated cuffs and a neck flourish that he wears to crash the March girls' — adorably dressed in men's high-waisted trousers, suspenders and bowler hats — Pickwick Club meeting in the attic. 
"He's a just a clotheshorse. He can wear anything," she says.
Marmee (Laura Dern)
"Marmee was a free thinker and a radical herself," says Durran about the matriarch of the cash-strapped March family, who instills altruism and selflessness in her daughters. She even asks them to donate their much-anticipated Christmas breakfast to an even poorer family in need and gives a warm scarf, literally off her neck, to a needier war veteran.
"She was slightly like a Victorian hippie," continues Durran, who landed on a theme of paisley for Marmee, but a specific one. The print helped support Laura Dern's vision of her character, who openly admits her quiet dissatisfaction and longtime anger about her life turning out not quite as planned, but still treating the world with grace and benevolence. "The Eastern connotation of the paisley really worked for Laura and her interpretation of the character. It was something that really chimed with her. It has the spirit of Marmee — the Marmee that Laura wanted to find."
Related Articles:
See What Laura Dern, Emma Watson and More Wore to the 'Little Women' Premiere
How the 'Beauty and the Beast' Costume Designer Worked With Emma Watson to Bring a 'Modern, Emancipated' Belle to Life
The 'Ladybird' Costume Designer Looked to 'Dawson's Creek,' '90s-Era Kirsten Dunst and Chloë Sevigny For Inspiration
Aunt March (Meryl Streep)
"She was 100% Victorian and her clothes were the most accurate of accurate of everybody," explains Durran about the proper, wealthy and intimidatingly sharp-tongued Aunt March. "She had the bonnet, the flowers, the trimming and authentic jewelry from Fred Leighton. She had everything we could do to make her as Victorian as she could possibly be."
Her period-authentic and very Queen Victoria black-filled wardrobe served a purpose in distilling her character in Aunt March's regalia. But it also helps hint at the potential of each of the March girls, especially highlighted in the scene when Jo exasperates the elder March, once again, when she's supposed to be reading to her napping aunt.
"So you get a contrast between the established and the conforming world [of Aunt March] and the girls who are rebels," Durran says.
'Little Women' opens in theaters on Wednesday, Dec. 25.
Top photo credit: Wilson Webb/Courtesy of Columbia Pictures
Never miss the latest fashion industry news. Sign up for the Fashionista daily newsletter.