Finding the Method Inside Jeremy Scott's Madness at Moschino Pre-Fall 2020
Look past the armchair-sized backpacks and cartoon-shaped baseball hats and you'll find some of his most wearable designs to date.
To say that Jeremy Scott loves a theme is like saying fish love to swim or that birds love to fly: It's a foregone conclusion, a part of his nature probably hard-coded right into his DNA. And nowhere has that fact been more evident than his work at Moschino, where he's tackled everything from "The Price Is Right" game shows and Hollywood horror movies to high art — and literal trash. But it's all done with his signature over-the-top, nod-and-a-wink sense of humor.
All of this to say that when Moschino announced that it would throw a pre-fall runway show at New York's Transit Museum, set amongst vintage subway cars, it didn't take a psychic to guess that the collection would likely be centered around Scott's vision of real New Yorkers — the kind whose Metrocards get more action than their Uber apps. 
The soundtrack opened with the familiar sounds of the subway (the screeching of a train pulling in, the recording announcing the station, "Stand clear of the closing doors, please") and it was off to Moschino HQ with hip-hop music blasting on the speakers.
According to show notes, the Pre-Fall 2020 collection is meant to hit all points of Big Apple life, from the Bronx to Williamsburg, from the Upper East Side to the East Village. The prevailing motifs of Moschino's Pre-Fall 2020 collection, in brief summary: gold jewelry piled on so thick you could hear it coming, cozy sweats, moneyed details like fur stoles and gold watches, platform utility boots that laced up the thigh, colorful tweeds, sleek trench coats, wildly patterned silk scarf fabrics, denim overalls and bustiers, slinky tracksuits, leather (real and trompe l'oeil), punk safety pins and ripped-up suiting. 
Oh, and oversize everything. You name it, Scott blew its proportions up to cartoonish sizes: knit turtlenecks, patchwork bomber jackets, baseball caps, gold chains, hoodies, bags. (One backpack took up roughly the same space as an armchair — definitely not rush-hour friendly.) 
It's hard to imagine a customer wanting to wear a baseball cap the size of a small gym bag. It's less difficult to picture, however, one of Scott's customers picking up one of those clever faux-fur stoles or the Baroque-print puffer jacket. And underneath all that piled-on styling — by longtime collaborator Carlyne Cerf De Dudzeele, who else? — were some downright wearable pieces, even for those not devoted to Scott's more-is-more philosophy. He knows his way around a khaki trench coat, making the staple feel sexy. And at the end of the show, there was a suite of red-carpet-ready beaded gowns, waiting to be worn by one of Scott's (many) famous friends.
To appreciate Scott is to know that, for him, the runway is about the fantasy version of his world. He knows that an embroidered vest blown up to impractical proportions is going to make a statement in pictures — but scaled back, it's going to sell at retail. Maybe the fashion establishment won't buy evening bags shaped like Bic lighters, but Scott's fans probably can't get their hands on them fast enough.
Where Tom Ford's own subway-set Spring 2020 presentation was a sort of luxury-meets-grit imagining of what fashion might wish people wore on the subway, Scott's take was a turned-up-to-11 tribute to what people are already wearing. The Moschino Pre-Fall 2020 collection felt like a love letter to NYC, albeit one of those super-oversized cards that play music when you open them and that cost $5 to send in the mail. Still, who doesn't want to get mail like that?
See every look from the Moschino Pre-Fall 2020 collection in the gallery below.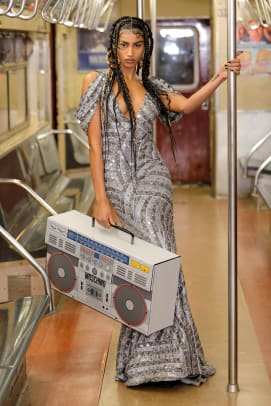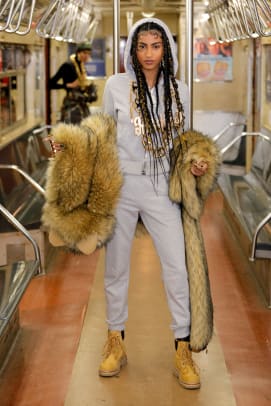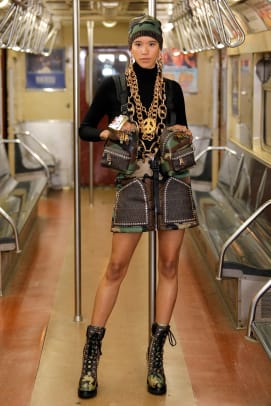 Want the latest fashion industry news first? Sign up for our daily newsletter.