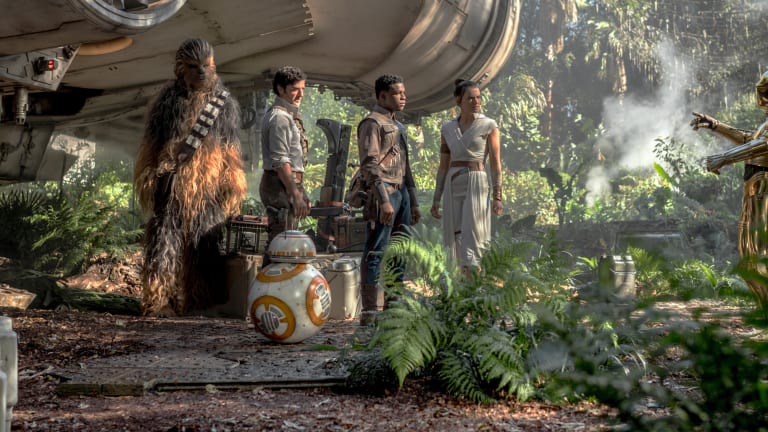 'Star Wars: The Rise of Skywalker' Costumes Pay Homage to Princess Leia and Han Solo
Plus, behind-the-scenes details on Kylo Ren's restored helmet, Poe's intergalactic Old Hollywood swagger and Zorii Bliss (Keri Russell)'s pure-fire space-suit. Spoiler-free!
So you may have heard: "Star Wars: The Rise of Skywalker" is finally here. Director J.J. Abram's second contribution to the franchise, following 2015's "The Force Awakens," marks an emotional time for fans (ahem), talent and crew alike: Episode IX brings 40-plus years of the "Star Wars" saga to a close.
Fittingly, the costumes designed by Michael Kaplan finish out not just the characters the director helped establish, but also celebrate the series' original icons, including the late Carrie Fisher's beloved General Leia Organa, Harrison Ford's Han Solo and intergalactic playboy Lando Calrissian (Billy Dee Williams), who returns for "The Rise of Skywalker."
The Emmy-nominated designer created the looks worn by scavenger-turned-Jedi Rey (Daisy Ridley), former stormtrooper-now-Resistance soldier Finn (John Boyega), cocky fighter pilot Poe Dameron (Oscar Isaac) and patricidal emo-baddie Kylo Ren (Adam Driver) when audiences were first introduced to them in "The Force Awakens." (#TeamStormPilot, btw.) With "The Last Jedi" in 2017, Kaplan lead the new heroes, anti-heroes and villains into their intermediary stories through costume. The final installment brings the beloved characters into their final chapter (maybe?) — plus, welcomes a few new ones, including masked outlaw Zorii Bliss (Keri Russell, whose work with Abrams dates back to his late-'90s/early 'aughts TV series, "Felicity"). 
"It's such a bittersweet time saying goodbye to my crew and everyone at Pinewood Studios," says Kaplan, over the phone, from a press day in Los Angeles. "I know our paths will cross, but just having worked on these three films together was an extraordinary experience that I won't forget."
Below, Kaplan answers our burning questions about the poignant tribute in Rey's updated Jedi ensemble, the cultural inspiration that helped bring back Kylo Ren's shattered helmet and the reason Zorii's supersuit-esque onesie embodies the scrappy essence of "Star Wars." 
What are the inspirations and meaning behind Rey's white, pleated and draped update of her Jedi training outfit?
The white was just my desire to have her close the entire story in the same way that Carrie Fisher began it — all dressed in white. I liked that full-circle feeling. I had mentioned it and J.J. and Kathy [co-producer Kathleen Kennedy] thought that was a good idea. Even though we did play around with a few different colors that people suggested, we kept coming back to the white. 
Initially, we were designing a totally new costume for a totally new movie with different adventures and different environments. Because J.J. was there when the first [Rey costume for "The Force Awakens"] was developed and just felt it described Rey so much — and it was such an iconic image — he didn't want to lose it. So he wanted to end it the way Rey started. I did feel it was nice for her to wear a hood, which she does in different environments. 
But, basically, the costume is similar [to her first outfit]. It's not exactly the same, but the pleated fabric and cross in the front is very similar to what she had done in Episode VII and I liked the movement of the flag that comes down on her side. It just looks great when she's in action and there is so much action in this movie. It was just continuing the iconic costume that J.J. and also the fans found quite beloved. I remember, a couple years ago, J.J. said, 'Oh my god, all of your costumes are coming to my door this Halloween!'
General Leia Organa's costume feels more "Force Awakens" than her more regal indoor capes in "The Last Jedi," but also speaks to the environment she's in for this movie. How did the process of creating that costume work?
Although they were using footage that had already been shot for Carrie, she did need a new costume. We didn't want her to wear what she was wearing in that [previously shot] footage. So I actually made a new physical costume. I designed for Carrie in the same way that I had for the other films and I bought the fabric and made the costume to her measurements. Then, it was handed over to the CG technical people to actually put on her. So it is original footage of Carrie, but the costume is new and it boggles the mind they can do all that. But anyway, they did.
Related Articles:
The 'Star Wars: The Last Jedi' Costume Designer Looked to Queen Elizabeth II to Dress Carrie Fisher
The Hardest Moments to Costume in 'Game of Thrones,' 'The Crown,' 'The Alienist' and More
Inside the Costume Design Process For Disneyland Park's 'Star Wars: Galaxy's Edge'
Poe Dameron looks especially dashing this time. What are the inspirations behind his linen shirt, scarf and boots, plus the rugged styling?
Oscar Isaac is a really handsome, young, sexy guy. Why not put that forward? And Poe runs into an old love interest. So we gave him a little — I don't want to say cleavage, but his [v-neck collar is] a little further down. I wanted him to feel more of swashbuckler. The scarf, the shirt and his leather pants — this time his pants are made out of leather — and his high knee boots, when we tried it on him, he looked very dashing and I think it actually changed the way he moved. He really liked the change and he had a little swagger in his step once he started wearing those leather pants and the open shirt and the scarf. It was very cool. I was thinking about Gene Kelly when I was dressing him for some reason. 
Finn isn't wearing Po's repaired fighter pilot jacket anymore. He has a new vest. Tell me about that.
I really loved the way that Harrison Ford [as Han Solo] had this simplicity. This masculine simplicity that felt very "Star Wars," but also a little bit Western. So that's what I was after. I liked that part of "Star Wars" and I thought it would be good for Finn. And it just made sense. He wore the vest and those gauntlets, which also acted as a device where he could tele-connect with people. And I gave him additional color: the two-toned pants. I just wanted to give him a change because he'd been in the same outfit for such a long time with Poe's jacket. It was time.
And Kylo Ren: How did you make his helmet look like he's wearing the one he broke in a rage in "The Last Jedi"? 
Kylo destroyed his helmet by bashing it against the wall — that was something Rian [Johnson, who directed Episode VIII] had him do. J.J. comes back and says, 'No, I want the helmet. I think he should have his helmet.' So since it was destroyed, we needed to add that scene, where he's putting it back together again. J.J. liked the way — and the message how — the Japanese repair their pottery with a special gold lacquer [with a technique called Kintsugi]. It becomes very obvious that it's repaired, but it's more valuable because of the gold. But instead of using gold, we used red. All the red vein work of all the pieces put back together really works well for the character. There's something a little bit mad about it and it reflects what he's going through. You can see his blood pressure in the veins.
Keri Russell said she loved her Zorii helmet so much that she didn't take it off for two days. What was the design process like in making her sleek costume? It's almost superhero-like. 
J.J. wanted her to be totally concealed, but also he wanted it to be obvious that she wasn't a bot — that she was flesh and blood and had a relationship with Poe in the past. So he wanted that sensuality and sexuality. It's not like a Marvel suit that's like a vinyl second skin or something like that. It's more of a denim fabric that's just skintight, which is much more in the realm of "Star Wars." There's a roughness to the fabric and the suit. We didn't want it to be like a comic strip character from one of the other types of movies they're making now.
Also, I wanted the helmet to have a beauty and femininity to it. Even though you don't see her face, there is something lovely about it and the rose gold is something that I felt was we haven't used before in "Star Wars." All the metallic, the leather bits and her double gun holster are rose gold. J.J. loved that costume.
How does Lando Calrissian's [Billy Dee Williams] costume reference his character in the original trilogy and bring him forward to close out the saga?
I didn't think we wanted to go in a different direction. We just wanted to update him and keep him Lando — and very Lando. So I used similar colors to what he had worn in the earlier movies. I like to keep an actor's earlier palette throughout, otherwise it gets confusing. I like to keep things simple. 
When I met [Williams], they set up this secret meeting because his character hadn't yet been announced as coming back into the film. So I flew in from London and we had a secretive meeting a West Hollywood hotel. He walked in and he was Billy Dee all the way. He lit up the room. He had such great energy. So we dressed him with all the panache that he had in the original movies, but a little more so color-wise. He's a very bright character.
This interview has been edited and condensed for clarity.
Never miss the latest fashion industry news. Sign up for the Fashionista daily newsletter.